IF you are selected for verification by the IRS, then you MUST submit your income and tax information by means of a tax return transcript. 
IRS Tax Return Transcript
*If you/your parents are not eligible, or choose not to use the DRT, then an IRS tax return transcript MUST be requested and submitted to the CSU financial aid office.
* If you/your parents filed a joint return, AND are now separated, divorced, widowed or remarried, you/they must submit Federal income tax return transcripts as well as all W-2 forms.
* If you/your parents filed an amended tax return, you/they must submit both a Federal income tax return transcript and a signed copy of the amended tax return (1040X) to our office.
Tax Return Transcript (TRT) Steps:
Step 1 – Visit https://www.irs.gov/individuals/get-transcript and CLICK get Transcript Online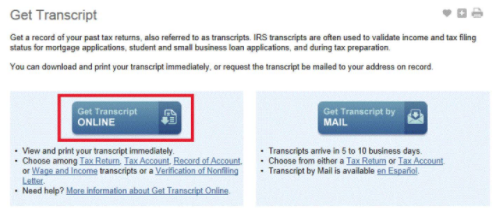 Step 2 – CLICK "Get Started", and then follow the onscreen guide to retrieve your TRT. Be sure to maintain and record your User ID/Password for future reference.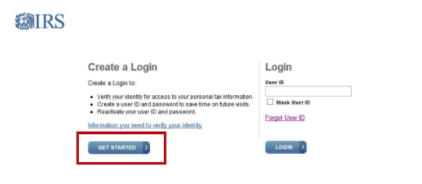 Step 3 - You must provide a reason for requesting a transcript, SELECT "Higher Education/Student Aid", and then the year under the Transcript Return option. An * asterisks beside the year means that the IRS does not have record of that transcript on file for you.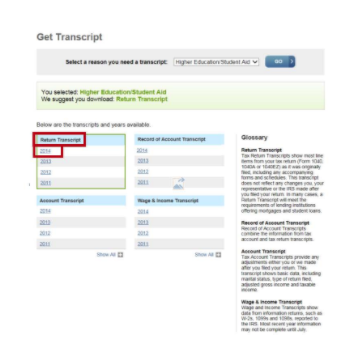 Step 4 – A PDF of your Tax Return Transcript should appear on the screen, print out a copy.
Step 5 – Add your CSU ID number to the top of the TRT, and then submit to :
Financial Aid Office
2121 Euclid Ave, Cleveland OH 44115
 Phone: (216) 687-5411 Fax: (216) 687-9247
In person inquires please see Campus 411, All-in-1, at MC116