Ultra Navigation Intro  |  Password Reset  |  System Message
Important Note: There has been a change in method of logging into Blackboard*:
Students: Login using CSUID @ vikes.csuohio.edu
Faculty: Login using CSUID @ csuohio.edu
NON-CSU ID (GUEST) accounts: Login using
guestname @ vikes.csuohio.edu
*If you have previously logged into another CSU resource (such as email), you will be automatically logged into Blackboard.
---
IMPORTANT - BLACKBOARD BROWSER SUPPORT!
Blackboard recently updated their Browser Support page to remove previously supported browsers. The following versions are currently supported (updated July 2021):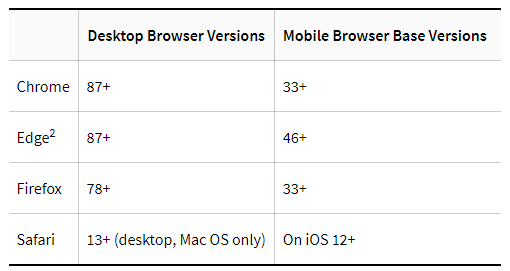 You may use Blackboard's Browser Checker to confirm that your browser is supported.
**Please Note: all versions of Internet Explorer and the standard CSU installation of Firefox (version 38.8.0 ESR) ARE NO LONGER SUPPORTED. You must use a supported alternative provided in the list above.**
If you have any questions, please email the Center for eLearning at elearning@csuohio.edu.
Ultra navigation Introduction
The following links help explain the new Ultra Navigation and features in Blackboard:
Additional information regarding our upgrade path to Blackboard Ultra can be found on our Blackboard Ultra page.
---
Password Reset
Forgot your password? To reset your password, login to CampusNet and follow the steps.
If you still have problems, contact IS&T at 216-687-5050 and select option #7.
---
System Messages
12:48 am - IS&T is still working on Blackboard authentication. Email appears to be restored.
3/5/2020 (12:45 am) - We are still waiting on an update from IS&T.
11:10 pm - IS&T is working on a solution that could be completed around midnight.
10:30 pm - IS&T is currently investigating. We do not have an ETA.
3/4/2020 (9:10 pm) - Single sign-on is currently down. You will not be able to authenticate into Blackboard or email. We have made IS&T aware of the issue. We will post updates as we hear them.
Course Availability
If you have recently registered for a course you may not see it in your Blackboard account for up to 24 hours. If after that time, you cannot access a particular course site, check with your instructor to see if the course will have a Blackboard site, and whether or not it has been released to students. 
Academic Integrity
Students taking courses using Blackboard are expected to adhere to the 
CSU Student Code of Conduct
. Please be advised that instructors may use practices and technology tools in addition to Blackboard to ensure the quality and acaedmic integrity of online courses and courses with online components. 
Student Orientation Course in Blackboard Learn
The online student orientation course is for students who are interested in learning more about Blackboard Learn and learning online. If you are taking an online course or program, we recommend enrolling in this short course. Register today!