Beginning Fall 2022, tools that are integrated with Blackboard are being updated to conform to their latest requirements. Updates to these tools will change the workflow on how they are added to courses. Below is a list of tools that have been updated in Blackboard and an explanation of the new workflow.
McGraw Hill   |   Turnitin   |   Cengage   |   Pearson   |   Taskstream   |   Honorlock
McGraw Hill
IMPORTANT NOTE: If you have previously paired a course through McGraw Hill and copied that course into a new course, those links will no longer function. You need to delete any pre-existing McGraw Hill content.
To pair McGraw Hill to your course, click on Build Content -> McGraw Hill Connect 1.3. Below are some additional resources to better assist in the transition:
Turnitin
IMPORTANT NOTE: Existing Turnitin assignments will have to be recreated with the new LTI 1.3 tool for Fall 2022, as the existing tool will no longer function.
To create a new Turnitin assignment, click on Build Content -> Turnitin Assignment LTI 1.3. Though the process to add a Turnitin assignment has changed, the interface to create an assignment is the same.
Additional instructions can be found on Turnitin's website: https://help.turnitin.com/feedback-studio/blackboard/lti/instructor/instructor-category.htm.
New Turnitin Interface in Blackboard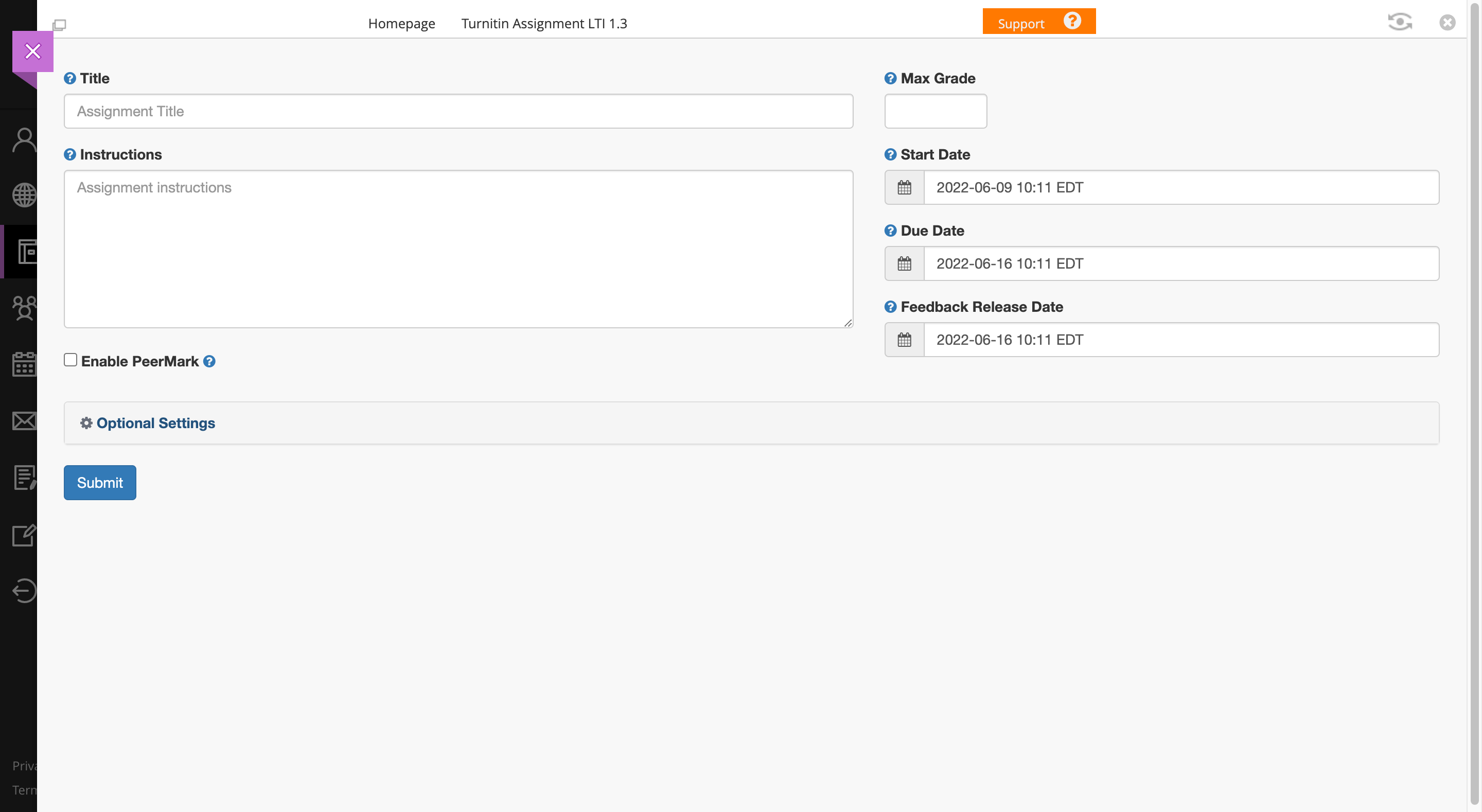 Recreating Turnitin Assignments with the new LTI 1.3 
Cengage
Cengage provided a migration tool that eLearning used on the backend to migrate existing courses to their new tool. Faculty should be able to copy courses from previous semesters without re-linking content. The new Cengage tool can be found in Partner Cloud -> Content Market.
Pearson
To add the Pearson Tool, you must first add the LTI and then add the assignments:
If your course will belong to a course group (copied from a template or a coordinator course), set up the template before creating student-use copies.

Open your Blackboard course.

You will begin by adding the Pearson LTI to your course. Click on Build Content -> Pearson LTI 1.3 to create a new link.

It is recommended you name the link Pearson. Complete any other fields and then click Submit.

Once you have deployed the Pearson LTI, you can now add links to assignments in your course by clicking on Build Content -> Pearson Links LTI 1.3 Assignment.
Additional instructions can be found by downloading Pearson's Instructor Guidance document.
Taskstream
Existing Taskstream links will no longer work. You should delete those links and use the new Taskstream assignments tool under Tools ->Taskstream Assignments to recreate the links in your course
Honorlock
To deploy Honorlock in your course, click on Build Content -> Honorlock LTI.