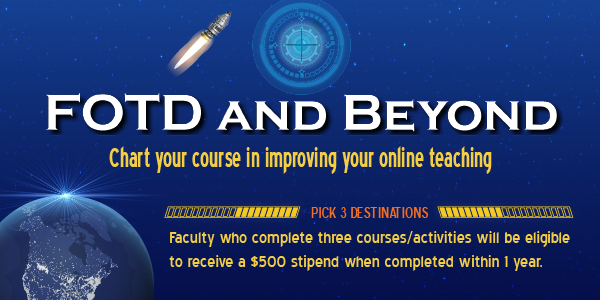 Faculty who complete three courses and/or activities will be eligible to receive a $500 stipend upon completion. Faculty must complete within one year from the beginning of their first course. Faculty may be full-time or part-time. Others with the primary role of staff or students are not eligible to receive the stipend, but are welcome to participate. Don't get stuck on the Event Horizon! Be sure to finish on time!
Once you have completed three destinations, please submit the completion form to request your stipend.
Please note: You must have completed the F.O.T.D. to be eligible for the F.O.T.D. and Beyond courses listed below.
Session Name
Session date
description
registration
Ally for Creating Accessible Documents
Monday, October 21st - Monday, October 28th (Online)
This one-week course introduces you to Ally, a new tool in Blackboard that helps you spot accessibility issues within your documents and provides alternative formats to faculty and students. You'll learn about different ways to check document accessibility and practice implementing Ally and other accessibility checker recommendations for making your Word documents, PowerPoints, PDFs, and images accessible. We'll explore some of the alternative formats Ally produces.
Best Practices in Online Teaching
Monday, November 4th - Monday, November 11th (Online)
This one-week course expands on some of the foundational best practices you learned in the Faculty Online Teaching and Design course (FOTD), namely ensuring instructor presence and establishing clear expectations. The course will also introduce you to additional best practices you may use while teaching online. We will study these best practices in terms of their practical applications to your professional practice while examining when and how to utilize them in your own course.
Register Today
Improving Your Online Course (IYOC)
Friday, December 13th, 9:00am - 3:00pm (Face-to-Face)

This workshop, sponsored by the Center for eLearning, explores the QM Rubric and provides a framework to improve the quality of online courses. Participants use the QM Rubric to review their own online courses and develop a course improvement plan.

The content is based on the essential Specific Review Standards of the Quality Matters Rubric. Participants come away with a plan for course improvement so enrolling in the workshop with a pre-developed online course is required.

Learn More
Preparing Your Course to Meet QM Standards: Internal QM Review
Dates are Determined When Contacted by Instructional Designer
This offering allows instructors to have their online or blended course evaluated in detail by an Instructional Designer in preparation for pursuing an official Quality Matters Review. An Instructional Designer will provide a comprehensive analysis of how well the online/blended course meets or does not yet meet Quality Matters standards and will work collaboratively with the instructor on how best to improve the course design. This internal review process will include face-to-face meetings and detailed written feedback on QM standards along with a timeline and plan for implementing improvements. To receive credit, the course will need to meet all of the essential standards. This will be determined by the Instructional Designer.