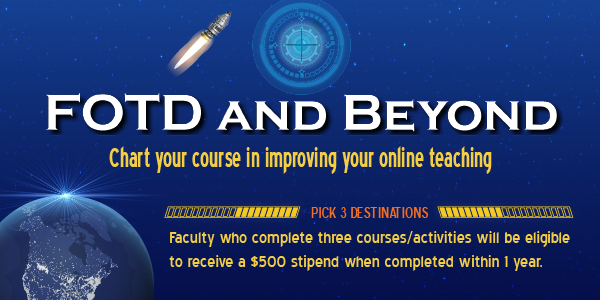 Faculty who complete three courses and/or activities will be eligible to receive a $500 stipend upon completion. Faculty must complete within one year from the beginning of their first course. Faculty may be full-time or part-time. Others with the primary role of staff or students are not eligible to receive the stipend, but are welcome to participate. Don't get stuck on the Event Horizon! Be sure to finish on time!
Once you have completed three destinations, please submit the completion form to request your stipend.
Please note: You must have completed the F.O.T.D. to be eligible for the F.O.T.D. and Beyond courses listed below.
Session Name
Session date
description
registration
Saving Time with the Grade Center
Sunday, June 6th - Sunday, June 13th

This one-week online workshop will help you save time facilitating your course by teaching you how to effectively use Blackboard's Grade Center. We will cover how to efficiently give feedback, manage columns and reports, properly design weighted grades and create SmartViews.

Register Today
Open Pedagogy and Pressbooks
Sunday, June 20th - Sunday, July 4th
Do you have an interest in writing or remixing open educational resources for courses? Or, have you ever had an idea for an assignment that could become an open resource for the world to learn from? Come check out Pressbooks and learn about other authoring technology for creating open educational resources. In this course you will design a renewable assignment, based on OER-enabled pedagogy. You'll get tips on what can help you plan an open assignment with your students and learn about open projects that other faculty have done with their students.
Register Today
Introduction to Panopto
Sunday, July 11th - Sunday, July 25th

Panopto is a lecture capture software that allows the user to include video, audio, screen capture and slides into a recording. It can be used to record lectures or presentations for your students. Panopto is integrated with Blackboard and available in all Blackboard course shells. This self-paced, two-week course will cover the following topics:

Downloading the Panopto Recorder to your computer
Create a Simple Recording (PC and Mac)
Simple Edits to a Recording
Sharing Panopto Videos
Moving Panopto Videos
Student Panopto Video Assignments

Register Today
Creating Accessible PowerPoint Presentations
Sunday July 18th - Sunday, August 1st
Do you want to help your students with disabilities, and wonder how accessible your PowerPoint presentations are? Come join us in this collaborative learning course where you will learn how to format your PowerPoint presentations for accessibility. The course will go beyond good alternative text for images and give hands on experience with many accessibility features of PowerPoint. We'll share and receive feedback in two discussion forums, in a supportive environment, before a final assignment in which you create an accessible PowerPoint presentation. Hoping you can join us!
Register Today
Best Practices in Online Teaching
Sunday, August 1st - Sunday, August 15th
This two-week course expands on some of the foundational best practices you learned in the Faculty Online Teaching and Design course (FOTD), namely ensuring instructor presence and establishing clear expectations. The course will also introduce you to additional best practices you may use while teaching online. We will study these best practices in terms of their practical applications to your professional practice while examining when and how to utilize them in your own course.
Register Today