What's in This Edition - Summer 2014?
---
Looking Ahead...
Do you prefer face-to-face hands-on training? Take advantage of the eLearning Workshops the week of July 22-28th.
Tell your students about the Student Blackboard Orientation Course. It's free and open to all students! Students can register for the course by following the link on the Blackboard Login page or visiting the Student Blackboard Training page.
---
Faculty Online Teaching and Design Course
Pilot of Faculty Online Teaching and Design Course This August!

The Center for eLearning has developed a two-week course for instructors new to teaching online. The Faculty Online Teaching and Design Course focuses on best practices for designing an online course as well as basic tool usage. It is also a great opportunity to have an experience as an online student.
We are looking for faculty to participate in a pilot offering of the course and provide feedback. The pilot will run two weeks beginning Monday, August 4th ending Monday, August 18th.
To register or find out more, contact us at elearning@csuohio.edu or 216.687.3960.
Can't participate in the pilot, but still interested? Let us know and we'll let you check out a self paced version of the course!
---
One Year Course Roll Off Policy
Courses One Year and Older Will Be Archived

With the growing number of users on Blackboard at CSU we have to make room for new courses. Course shells one year and older will be archived and rolled off of the hosted Blackboard server. This summer, courses from Spring 2013 and prior will be rolled off the server.
Individual course archives can be restored to the server when necessary. The Center for eLearning will have access to restore archives and instructors are welcome to keep an archive copy of their courses as well.
See instructions on how to save your own copy of a course archive.
---
CSU Quality Matters Template Now Available
Online Course Design Made Easier For You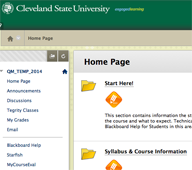 The Center for eLearning has developed a template based on Quality Matters standards that is now available to all faculty upon request. The template includes CSU resources and help links that will be beneficial to you and your students. This easy to use template comes with an instructor checklist that walks you through areas that need to be modified by the instructor.
The template is meant to make course design easier on you will ensuring clear navigation for students.
Request our course template today!
---
eLearning Quick Start Guide for Faculty
This Resource Will Set You in the Right Direction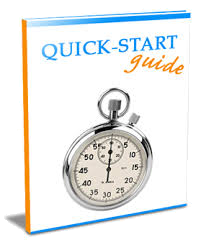 Whether you are planning to teach a fully online course, a hybrid course, or use a Blackboard course shell to enhance a face-to-face course, the Center for eLearning can provide you with services and assistance to achieve your instructional goals.
Download a PDF of our eLearning Quick State Guide or visit the eLearning Quick Start Guide webpage.