rEADING THE CITY OF LIGHT
mARCH 8- 17, 2019
Application due Nov. 15

Program Description
This a short-term faculty-led study abroad program over Spring Break 2019. It was designed to complement the Spring 2019  course ART 375/UST 375 City and Civilization, which focuses on Paris and to provide students with a dynamic field learning opportunity in the City of Lights. With this 1 credit additional study abroad component, students enrolled in ART 375/URB 375 will be able to experience the city they are studying, and gather information on site about aspects of the city that relate to material from the class. No French language background is required.
During this program, students will receive an introduction to city by seeing first-hand the design of the city, its organization, various neighborhoods, the metro system, and the many changes it has experienced over the centuries.  Students will learn to "read" the city, observing vestiges of the past that are still evident in Paris. But they will also appreciate the aspects of Paris that illustrate its constant evolution and plan to become a modern city for the future.  The group will visit many of the iconic Parisian sites such as monuments, museums and parks, but free time will also be scheduled for students to work on their "Reading the City of Light" field study projects which they will present on campus at the end of the semester.
Academic Program
Students approved to enroll in the 1 credit field studies course  (WLC 340 or FRN 340) will participate in four mandatory one hour pre-departure sessions and also meet individually with the program director(s) before and/or after the study abroad trip to finalize their specific field study project(s).  Pre-departure sessions will deal with the practical logistics of the visit such as the transportation system and the organization of the city, which  will help students to identify the sections of Paris they would most like to visit for their field study projects in order to optimize their time in the city.  Students will also learn about the intercultural skills needed for successful interaction with a foreign culture, and be introduced to concepts such as culture shock and critical incidents. No French language background is required.
Tentative class dates are from 9:00 am - 10:00 am on:
January 30
February 6
February 13
February 22
March 4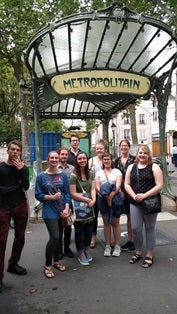 Eligibility
Priority consideration will be given to students enrolled in the Spring 2019 course, ART 375/UST 375. To be considered for this 1 credit experience, all students must submit an approval application through the link below.
Successful applicants will have a minimum undergraduate cumulative GPA of 2.0; minimum graduate cumulative GPA of 3.0. At the time of application, the applicant must have completed at least two semesters at CSU if a first year student and at least one semester if a transfer or graduate student. The applicant must not have an unpaid balance with red flag on their Treasury Services account and no infractions of the Student Code of Conduct which would prevent successful participation in the international course. All applicants must complete the application form by the deadline.
Cost
The program cost is $2,599. The cost includes:
Roundtrip tirfare
Double-occupany accommodation in the 14th arrondisement
Breakfast and dinner at the hotel
Airport transfers and in-country transportation pass
Museum entrance fees
The cost does not include CSU tuition for the required 1 credit course, WLC 340/FRN 340. To view the current tuition rates, please visit the Office of Treasury Services. The cost may change due to increases in airfare and/or the exchange rate. Students should budget an additional $250-350 for lunches, souvenirs, and sightseeing not included in the program cost. Additionally, students are personally responsible for passport,  visa fees (if necessary), and health insurance with international coverage.
Tentative Daily Itinerary
Fri. March 9                Evening departure from Cleveland
Sat. March 10             Morning arrival in Paris.  Walking tour of city to include Quartier Latin, and Luxembourg Gardens.  Visits to Sainte Chapelle and Notre Dame Cathedral.  In the evening, we will take a boat ride on the Seine
Sun. March 11            Walking tour of le Marais (medieval Paris) with "Paris Walks" guide.  Visit to Cluny Museum.
Mon. March 12           Montmartre, most of the day will be open for students to work on "Reading the City" projects.
Tues. March 13           Museum of the Arab world, Paris Mosque, Visit to an open air street market.  Optional evening visit to Eiffel Tour.
Wed. March 14            Louvre, Arc de Triomphe, Champs-Elysées. Orangerie, Tuileries Garden.
Thursday, March 15   Musee d'Orsay, Rodin Museum
Friday, March 16        Fondation Louis Vuitton or Pompidou Center
Saturday, March 17    Free day. Students may not leave France.  Père Lachaise Cemetery
Sunday, March 18       Return to Cleveland
 
Billing
After accepted, students will be billed for the remaining program fee balance on their CSU account. This balance is due when spring tuition and fees are due. Students may enroll in the Budget Payment Plan through the Office of Treasury Services to spread out the payments.
 
Financial Aid
Students may use spring financial aid to pay for the program fee, after the intital program deposit is made. Please print out a copy of your spring 2019 financial aid award notification indicating enough funding to cover all spring 2019 expenses.
If you have any questions about using financial aid toward the study abroad cost, please contact the Center for International Services and Programs.
Scholarships
The Center for International Services and Programs offers a scholarship to qualifying student on faculty-led programs. Eligible students can apply for the CISP Education Abroad Scholarship by downloading the application from the web. The due date is October 1.
The Darwin and Myra Smith Family Gift Fund may also award scholarship money for this spring break program.
Do I need a Visa?
If you are not a United States citizen (even if you are a Permanent Resident), you may need a visa to enter  France. Visit the French Consulate of Chicago's website to find out if you need a short term tourist visa to enter France. If you have any questions regarding visas, please contact us.
Application
Deposit NOW to complete your application
look for " CISP Faculty-led Program Abroad "
Application and deposit due by November 15
Contact
Dr. Tama Engelking
Professor of French
Department of World Languages, Literatures and Cultures
216 687-4647
t.engelking@csuohio.edu
Dr. Marian Bleeke
Associate Professor of Art History
Director of General Education
m.bleeke@csuohio.edu 
Julie Good
Education Abroad Manager
j.a.good88@csuohio.edu
216-687-3910
Main Classroom Suite 412