About Pay Stations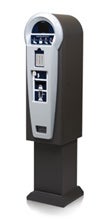 The Pay Station operates like a parking meter -- you pre-pay for the amount of time you need using a credit card, debit card or cash (exact change only, no refunds). Patrons may purchase up to four (4) hours of parking at the time of payment (once payment is submitted, no additional time can be added at the Pay Station).
Enter your parking space number into the Pay Station, request the number of hours you need and submit payment. The Pay Station issues a receipt upon payment that provides you with the time your parking expires and your space number.
CSU Prepaid permits are not valid in at Pay Station spaces except for when displayed with a disabled parking placard on vehicles parked in designated disabled parking spaces.
Pay Station Rates and Locations
The Pay Station is in force 24 hours/everyday. Pay station rate = $2 per 1 hour. Max 4-hour increments. The Pay Station does not dispense change, excess payments will not be refunded. Citations will be issued on expired spaces every four hours.
Pay Stations are available in several locations [Parking Map]:
Lot 22 (Student Center)
Lot 21 (front of Music/Communication)
Rec Garage (RG)
Lot 70 (E. 24th Street)
Lot 66 (Julka Dr.)
Lot 40 (Wolstein Dr.)
Lot 54* (Fee structure allows all day parking for $6)
How to Use Pay Stations
Touch screen to activate
Enter parking space number
Press OK
To purchase time press "1" (three hour maximum purchase)
Accepts $1 and $5 bills – (exact change only, no refunds)
Accepts Debit cards, Discover, Visa & Master Card
Pay station does not give change, excess payments will not be refunded
Please take your receipt – It shows when meter expires
If you did not purchase enough time, you cannot extend time at the PayStation. 
Adding Time
Running late and need to add time? Use the Passport Parking Mobile App System. A $0.25 convenience fee is assessed per session. Passport allows up to four (4) additional hours of added time from the initial request. Patrons who wish to park for longer periods should consider utilizing a pay-as-you-exit garage, such as the South Garage, located on E. 21st, south of Prospect or Central Garage, located on E. 21st between Chester and Euclid Avenues.