---
ENTRY TICKET OR PREPAID PARKING RECEIPT MUST BE DISPLAYED WHILE PARKED.
---
2101 E. 21st Street, Cleveland, Ohio 44115
PREPAID EVENT PARKING IS AVAILABLE THROUGH PARK MOBILE:
South Garage Daily Prepaid Parking: Click here to view daily permit options. 
Wolstein Center: Click here to purchase event parking. 
The South Garage (SG) has four levels with 611 parking spaces. The structure is located on E. 21st St, between Prospect Avenue and Carnegie Avenue.  Entry to the garage is only available from E. 21st St.; a one-way street (Southbound). Parking in the South Garage is available to Green, White, and Prospect permit holders. It is also open to public parking 24/7. SG is the only location where overnight visitors can park. This garage is staffed for special events and an event may be required when entering the facility.
SG is automated and each entry and exit machine has an intercom (HELP BUTTON) which allows parkers to call for assistance.
LED signs posted at the garage entrance indicate the status of the parking facility: OPEN means the facility is available for SG permit holders and visitor parkers. FULL means the facility is full and no additional visitors will be permitted.
SG Permit Access with Viking Card
To enter the facility, an active Viking Card is required. Green, White, and Prospect permit holders scan their Viking Card at the card reader located at the entrance machine. Permit holders must register their vehicle to their active permit. To exit, SG permit holders scan their Viking Card at the card reader located at the exit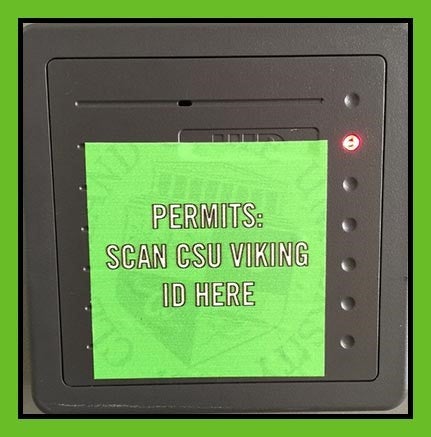 machine.
Visitor Parking & Overnight Operations
Spaces are allocated for visitor parking. Once the allocated spaces are filled, the garage status changes to full and will not allow additional visitor parking. Since the system is automated, reserved parking for visitors cannot be accommodated and visitor parking is on a first-come basis. Overnight visitors may park up to 3 days/2 nights without requiring notification to Parking Services. Day restarts at 12 am. If you need to stay in the garage longer than 2 nights, please obtain an extended overnight permit. This is available to family, friends, and MegaBus passengers. For more information about extended permits and restrictions click here. Please contact visitorparking@csuohio.edu to request an extended overnight permit
SG Daily Rates: $2 for first hour - $1 per hour after. Max $10 per day.
Visitors enter the facility by pressing the blue button on the entry ticket machine. The parker takes the ticket and proceeds into the facility to a non-reserved parking space.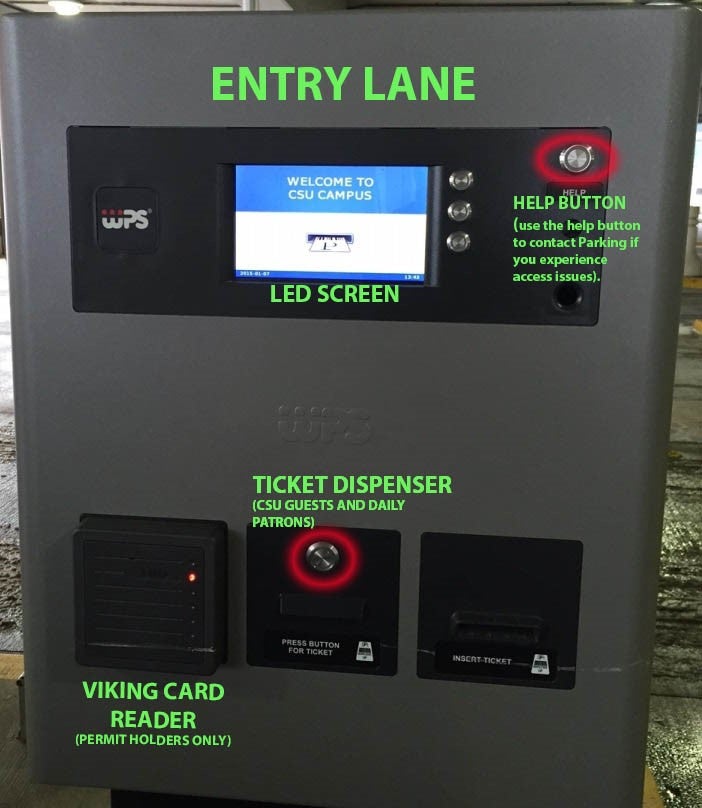 ---
ENTRY TICKET OR PREPAID PARKING RECEIPT MUST BE DISPLAYED WHILE PARKED.
---
When leaving the facility, the visitor drives to the Pay in Lane machine at the exit. The visitor inserts the ticket, and the machine calculates the parking rate and displays the amount owed. Payment can be made with cash (up to $20 bill) and credit card (Visa, MasterCard, American Express, Discover, or Debit Card). Change is dispensed and press the RECEIPT button during the transactions to acquire a receipt. No refunds are available for special event parking or lost ticket cost.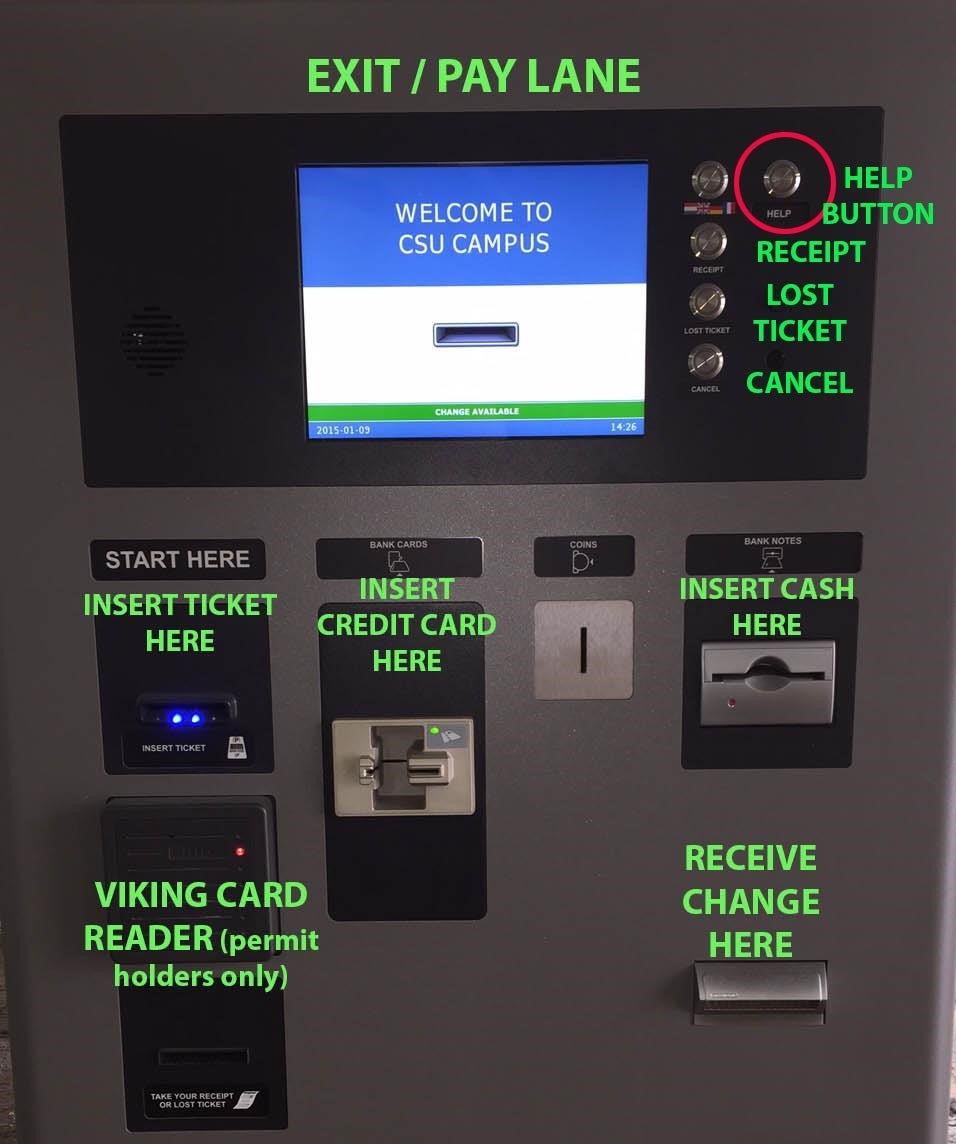 Other Information
There are several CSU Service Vehicle reserved spaces in the facility. Parking in the spaces may result in a citation. While parking on campus, the individual is required to follow all CSU Parking and Transportation Services rules and policies.
For further information about the CSU South Garage, contact Parking and Transportation Services at 216-687-2023.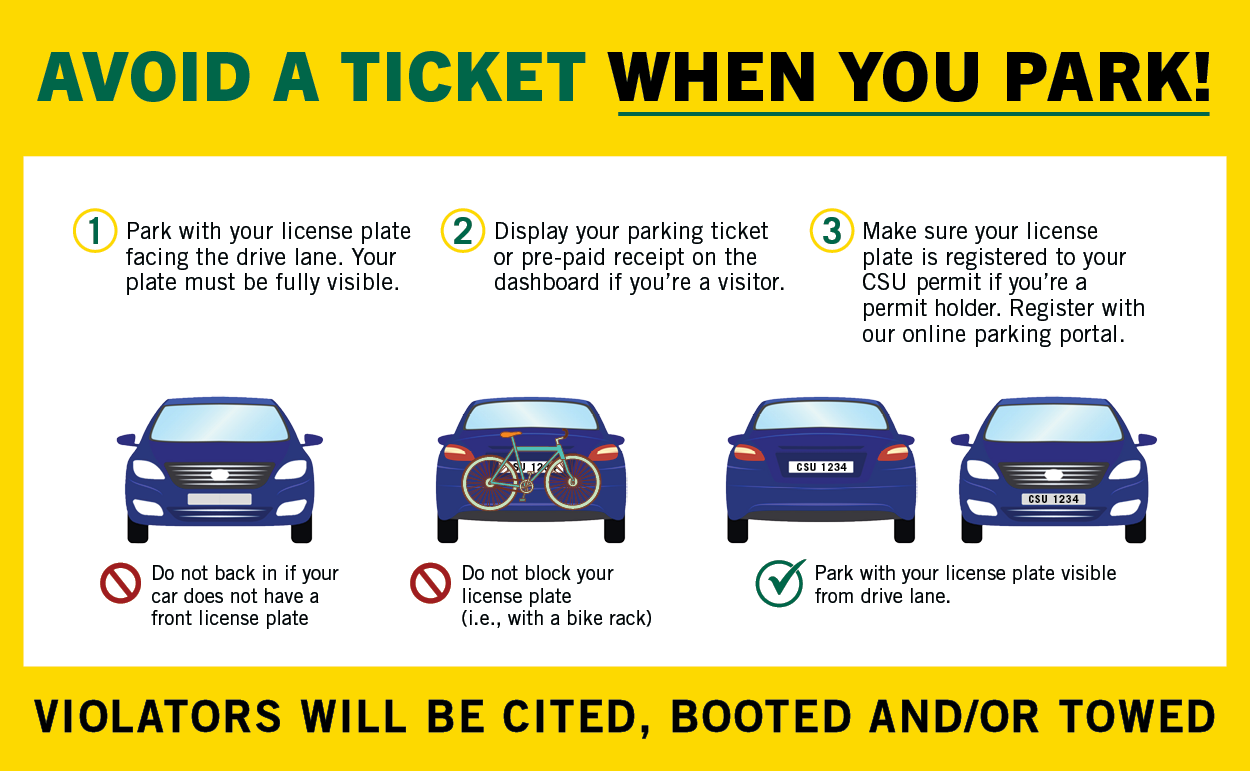 UPDATED: 8/30/2022