CSU GO is a Proximity Based Parking System, where the price of the permit is determined by the proximity to the campus core. Note, not all overflow parking may be in the campus core. 
Several prepaid permit options are available and vary by commuter and on campus resident (Euclid Commons and Fenn Tower). All permits are limited and may sell out. Please read below for important information related to parking privileges. Students can pay for permits via Student Account or credit card online. The Parking office offers cash, credit, check, and student account payment options.
Semester permits sale dates at 9:00 a.m.
Fall: Aug. 1
Spring: Dec. 1 

Summer: April 1​​​​
Is a permit right for you? Check out alternative parking options below: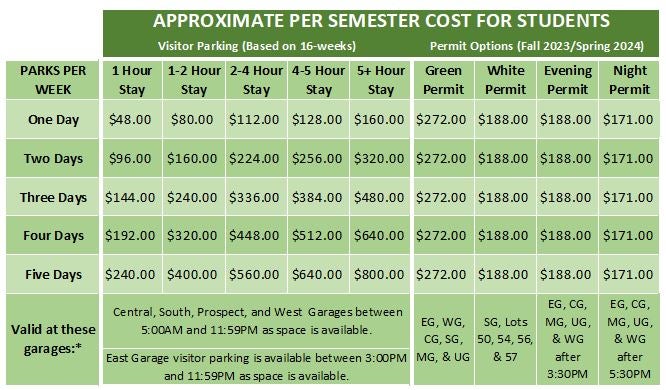 ZipCar
Hourly Vehicle Rental with Convenient Locations
Scooters
Available in various locations and growing market
Carpooling
Direct link for CSU Students/Staff and options for car sharing.
Additional Permit Information
Permits are issued on a first-come basis.
The CSU GO Online Parking System is optimized for use with a desktop or laptop. Using a tablet or cell phone may cause errors.
Virtual permits are valid only for the registered license plate(s).
Only one registered vehicle may be parked at any given time. 
Students must be registered for classes before a permit can be purchased (allow 24 hours after registration to access the site).
Printable Confirmation Receipts - you will receive a confirmation email once you have successfully purchased a permit. That email includes a link to print a temporary receipt to show the attendant to enter the garage. 
White and Green Permits are valid for parking in designated parking locations from 5:00 a.m. - 11:59 p.m. daily.
All returned permits will be assessed a $10 administrative fee.
Permit holder access to gated facilities is granted through your Viking Card. If your Viking Card does not work, use the help button available at each entry and exit point or contact Parking at 216-687-2023 for assistance.
The confirmation receipt lists all locations and time restrictions assigned to your permit type.  
Permits do not provide a specific space in a preferred lot or garage.
If you do not have your Viking Card, you will need to park in a non-gated facility (if applicable) or in a visitor space and pay to park. Do not attempt to exit a gated garage by tailgating or lifting the gate. 
Peak demands for Green permit facilities are from 9:30 a.m. to 2:30 p.m., Monday through Thursday. Once the core garages have filled, Green permit holders will be directed to park in South Garage or Overflow (Lot 43).
Keep your card in sync, DO NOT scan anyone else in or out of gated facilities.
If the access gates are raised when you are exiting a gated facility, stop and scan your Viking Card to keep it in sync.
Patrons who wish to park on campus from 12:00 a.m. - 4:59 a.m. (overnight) will be required to purchase overnight access for an additional $125.00 per semester.
Patrons parking after permit perimeters will need to use the lost ticket option to exit the facility.
One-day permits are available for Lot 43.
Please select from the menu on the left to view the permit prices and additional information. 
Please ensure your parking account is up-to-date and all citations are paid; outstanding balances will prevent/delay the purchase of your preferred permit. All permits are limited and may sell out.
UPDATED: 6/6/22