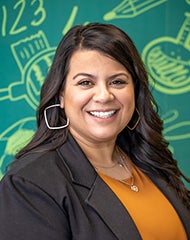 Marisa Rodriguez
Coordinator, Campus Visits
m.rodriguez77@csuohio.edu
216.875.9936
Welcome to Cleveland State! CSU is a dynamic university, with a variety of pathways to success for all students. With over 3,000+ internship and co-op opportunities, over 200 clubs and organizations, and being in the heart of Downtown Cleveland, there is so much to experience!
What's your favorite spot on the CSU campus and why? 
My favorite location on campus is the bridge walking between the Student Center and Berkman Hall. It's such a beautiful overhead view of the Student Center courtyard and it's cool to walk through when it's raining or snowing!
If you had your own Magnus outfit, where would you wear it?
If I had my own Magnus outfit, I would wear it at a Guardians game! I love baseball and campus is not far from Progressive Field!
What advice do you have for students who are choosing a college?
My advice would be to visit campus and trust your gut! The only way that you'll know if you like something is if you see it for yourself! So, I encourage students to visit and to also follow their gut and instincts!
What's your favorite CSU tradition?
Attending Magnus Fest! Magnus Fest is a great way to kick off the academic year and welcome our new students to campus! 
What's your favorite CSU fun fact?
Being in downtown Cleveland, we are super close to Lake Erie! Depending on the building, you can get some great views of the lake while studying!