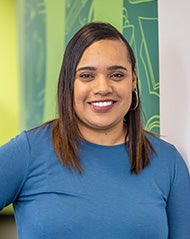 Jen Kintcher
Senior Admissions Counselor
j.easley@csuohio.edu
216.687.2011
Have questions for Jen? Schedule a one-on-one virtual appointment with her here!
Welcome to Cleveland State University! I am excited to know that you are interested in such an engaged campus community. With over 3,000 internships to become involved in, our students are getting real world experience outside of CSU. Students have access to over 200 academic majors to choose from and are able to obtain the knowledge and experience needed to prepare them for their career path. I hope you will continue to explore our university and find it to be a college you are most interested in attending.
What is your favorite spot on the CSU campus and why?
My favorite part of campus is the student center because it is where our students can go to dine, hang out with friends or stay engaged as part of a student club or organization. It is a busy part of campus where you can go to meet other students and engage in the campus community.
If you had your own Magnus outfit, where would you wear it?
If I had my own Magnus outfit I would wear it to the basketball home games to cheer on the Vikings! I would want to represent our campus with school spirit at the home games – I am a huge college basketball fan.
What advice do you have for students who are choosing a college?
My advice to students choosing a college is to take your time and research the colleges you are interested in. The best way to find out if a school is the right fit or not is to visit the college campus you are interested in and don't be afraid to ask questions. Asking tour guides about their student experience is also important while also finding out more about what you can do with your intended academic major both in and outside of the classroom.
What's your favorite CSU tradition?
My favorite CSU tradition is the homecoming parade where all student clubs and organizations are invited to participate and walk through downtown Cleveland. There are food trucks, games and lots of entertainment to participate in for this fun fall tradition!
What's your favorite CSU fun fact?
My favorite fun fact is that CSU is the first university in Ohio to offer a master's degree in software engineering.