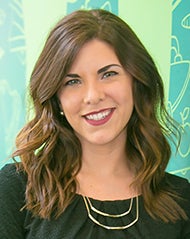 Cristina Wayton
Director, Undergraduate Admissions
c.sanchez17@csuohio.edu
216.523.7416
Why Cleveland State University?
Location. Cleveland State students take advantage of everything the City of Cleveland has to offer, especially the opportunities to work alongside professionals in Fortune 500 companies, all while earning their degrees.
What's your favorite spot on the CSU campus and why?
My favorite place on CSU's campus is the Student Center Plaza. The water fountain and the constant student activity make it a great gathering place and it helps bring a sense of strong community to campus. It is great for studying, lunch breaks or even catching up with a friend.
Why do you think that more and more students are choosing CSU?
I believe more and more students are choosing Cleveland State for the value! We are in an amazing location here in downtown Cleveland, have courses taught by professors that are doing major research in their fields of study and it is really inexpensive. You can have the traditional four-year college experience at Cleveland State while being on a young campus, in a city that continues to grow and flourish every day.
If you had your own Magnus outfit, where would you wear it?
If I had my own Magnus outfit, I would wear it every day in our Admissions Welcome Center to greet incoming Cleveland State students.
Describe a time when you felt the greatest sense of CSU pride.
I feel the most pride in Cleveland State University during New Student Orientation. The entire campus comes together to help welcome our incoming students. It makes me proud to be a part of an institution that truly cares for its students and the student experience when I see the current students, faculty and staff just as excited about CSU as the incoming students and parents.
What advice do you have for students who are choosing a college?
My advice for students while choosing a college is to visit each and every campus they are interested in. Doing your research online is a great idea and will give you a great sense for the campus mission, majors offered and the awards the college has received, but there is no better way to get a sense of what that campus is like than taking a visit. Check out the surrounding area while you are visiting the college, eat the food on campus and talk to students other than your tour guide! Choose the college that you feel you could see yourself attending for the next four years and one that feels like home.
What's your favorite CSU fun fact?
My favorite CSU fun fact is that we have something on campus known as the InnerLink, which is essentially a series of indoor hallways that connect many of our campus buildings on the second floor! All of the corridors are marked with a lime green stripe so that you can travel from one end of campus to the other without ever going outside. This is a HUGE win if it is ever too hot or too cold and you just cannot bear the weather!