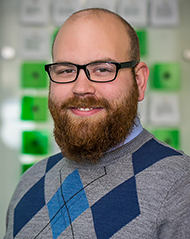 Clinton Midkiff
Assistant Director, Admissions Communications & Operations
c.j.midkiff@csuohio.edu
216.687.5487
CSU has such an exciting atmosphere! With all the new facilities and technologies on our campus, students realize CSU is the place to be! Our unique urban environment is very attractive to students who want a college experience that gives them opportunities to do internships at Fortune 500 companies within walking distance of the residence halls.
What's your favorite spot on the CSU campus and why?
My favorite spot on campus is the Business Building. I may be biased, having completed my undergraduate degree in business at Cleveland State, but there are always secluded places to both study and socialize in a creative atmosphere.
As a student, what did you appreciate most about your CSU experience?  
I most appreciated all of the opportunities that I had to get engaged on campus. I was able to get valuable experience working on campus as a student worker, participate in student government and be involved with professional organizations that really enriched my educational experience.
If you had your own Magnus outfit, where would you wear it?
I would wear it to a Cleveland Cavaliers game for sure. I imagine I could give Moondog a run for his money on the backwards half-court shot.
What advice do you have for students who are choosing a college?
Be sure to visit as many colleges as you can! Every student has a college that is right for them and, when you find it, you can just tell that you're at home!
What's your favorite CSU fun fact?
Fenn Tower, one of our current residence halls, was originally a built as a country club that included a fifth floor pool!