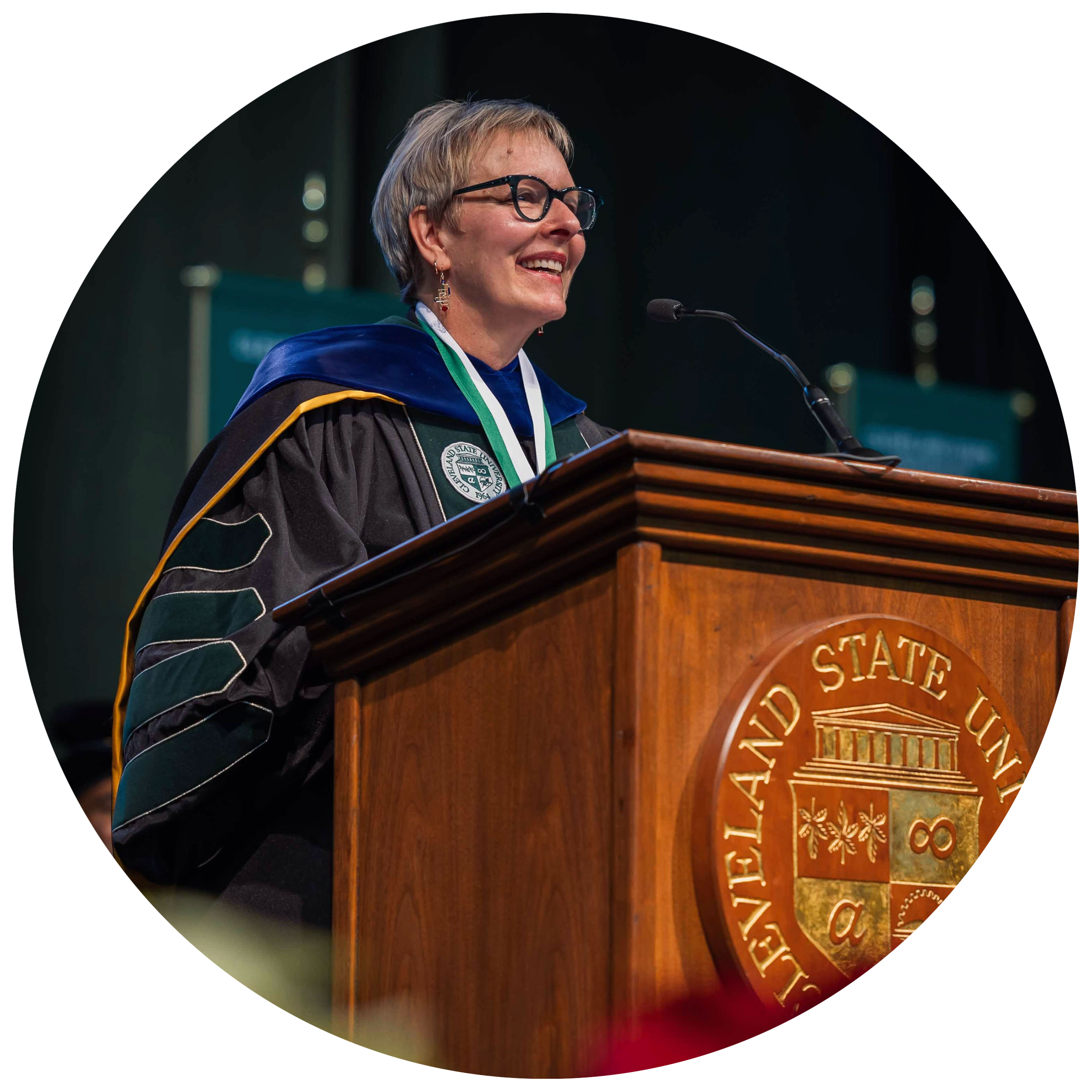 May 13, 2023 — Remarks to the Spring Class of 2023
President Bloomberg addressed the graduating Class of 2023 at two Commencement ceremonies in the Wolstein Center.
Jan. 31, 2023 — D-Rob Men's Basketball Coaches Show
President Bloomberg joined this live radio show on 1350 AM The Gambler to speak with host Al Pawlowski about CSU athletics and the newly adopted campus master plan. 
Jan. 19, 2023 — We Are Cleveland State University
With an announcement video from President Bloomberg, CSU unveiled its new brand identity and University logo.
Jan. 17, 2023 — Welcome to the Spring 2023 Semester
With the start of this term, President Bloomberg spoke to students about setting goals for the spring and embracing the diversity of the CSU community.
Jan. 15, 2023 — "Education is a civil right"
In an article co-written by President Bloomberg and President Michael Baston of Cuyahoga Community College, they explore the responsibility of public educational institutions to address racial disparities in Cleveland and to follow the wisdom of Dr. Martin Luther King Jr. in commemoration of the national holiday.
Dec. 18, 2022 — Fall 2022 Commencement Remarks
President Bloomberg addressed the graduating fall Class of 2022 in the Wolstein Center. She also had the honor of introducing Cleveland radio icon Lawrence James Travagliante, honorary degree recipient, and former Ohio State Representative and Senator Sandra Williams, the University's commencement speaker. 
Nov. 22, 2022 — Thanksgiving Break
A few days before the University closed for the Thanksgiving break, President Bloomberg wished everyone at CSU a restful and enjoyable holiday.
Nov. 10, 2022 — Celebrating Veterans Day
In a message to students, faculty and staff members, President Bloomberg commented on the history of Veterans Day and the importance of recognizing the veterans and military-connected members of the CSU community.
Nov. 2, 2022 — Interview with Theatre and Dance Department
For the November issue of the "CSU Matters" newsletter, President Bloomberg spoke with the cast, crew and co-directors of the Theatre and Dance Department's Sweeney Todd: The Demon Barber of Fleet Street. President Bloomberg also had the opportunity to visit the set on stage at Playhouse Square.
Click here to see more monthly issues of CSU Matters.
Oct. 7, 2022 — Investiture Address
During her presidential inauguration, President Bloomberg spoke on the theme of "Living Well Together, On Our Campus, In Our City." She shined a spotlight on the CSU community's talents, research and achievements which are benefitting the University's students, Northeast Ohio and beyond.
Aug. 29, 2022 — Fall Welcome
On the start of the fall 2022 semester and the new academic year, President Bloomberg reminds students to take the time to consider their goals for the semester and recognize the resources they may need to be successful. 
Find More Messages and Communications Here