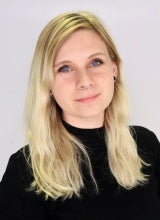 Alicia Andrews
Admissions Counselor
a.marvinetz@csuohio.edu
216.523.7414
Welcome to Cleveland State University! My name is Alicia, and I focus on high schools in western Cuyahoga county, northwest Ohio, and Michigan. As a Michigan native and alumna of Cleveland State University, I am so excited to share what I love about being a Viking and a Clevelander! Cleveland State University is a truly dynamic university in the heart of downtown Cleveland. Our location alone affords our students so many opportunities, but rest assured that there are plenty of things to do on-campus as well! With over 200 student clubs and organizations, there are so many opportunities to continue pursuing your interests, but also try new things, and being engaged in on-campus organizations is a great way to meet new people and make friends. There is so much to love about Cleveland and Cleveland State University – if you have any questions or want to learn more, feel free to contact me!
What's your favorite spot on the CSU campus and why?
I love the green space between Berkman Hall and the Science Building – it's such a pretty spot to sit, drink a cup of coffee from Starbucks or Cafe Ah-Roma, and people watch. It's especially pretty in late spring and in the fall.
As a student, what did you appreciate most about your CSU experience?
I definitely appreciated how helpful and supportive everyone was – from the staff in All-in-1 and my professors, to my colleagues and peers in my graduate assistantship and program.
If you had your own Magnus costume, where would you wear it?
I would wear it on a hike in one of our many beautiful parks, or to the Cleveland Zoo!
What advice do you have for students who are choosing a college?
If you can, visit college campuses more than once, and consider staying the night in a nearby hotel to learn more about the area! Visiting in the fall allows you to see campus in full swing, and a winter visit is a good way to see how easy it is to get around (shout out to our Innerlink system for keeping me warm on those cold, snowy days!). Visiting in the summer is always nice, but always better to visit twice.
What's your favorite CSU fun fact?
Mather Mansion, one of our most beautiful buildings on campus, is supposedly haunted! This building was once home to American industrialist Samuel Mather and his four children, but is now home to several CSU offices, including CSU Global.