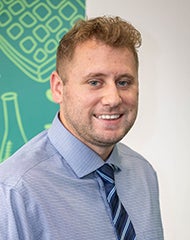 Colin Svancara
Senior Admissions Counselor
c.svancara@csuohio.edu
216.523.7415
Have questions for Colin? Schedule a one-on-one virtual appointment here!
Hello there, and welcome to Cleveland State University. My name is Colin Svancara, and I am your Senior Admissions Counselor. I am here to help and guide you with questions regarding majors, minors, scholarships, tuition and FAFSA-related questions. My territory is Cuyahoga County and Northeast/Central Ohio, so you might have seen me at a college fair or high school visit! Cleveland State University is a growing, dynamic place shaping our students' futures. We offer more than 1,000 courses and over 200 majors. We are in the heart of Cleveland itself. We are a block away from Fortune 500 companies and one of the world's best hospitals, the Cleveland Clinic. While you are here, check out the city and go to a game, Playhouse Square, Cleveland Art museum, Natural History Museum or even take a hike down by the Cleveland Metroparks. There are plenty of things to do around Cleveland and Cleveland State University, so thank you for showing interest. I hope to hear from you soon and get to know you. Please let us know if you have any questions about anything!
What is your favorite spot on the CSU campus and why?
My favorite spot on campus is the Welcome Center because it is where the entire admissions process happens and where you become a Viking! 
If you had your own Magnus outfit, where would you wear it?
I would wear it to admissions visits and college fairs.
What advice do you have for students who are choosing a college?
When you graduate high school, it is an exciting time in your life. And college will be the most memorable and exciting time in your life, but first, ask what you are looking for in college and what majors, minors and programs interest you. Where do I see myself in the future? But look for a college that will allow you to grow professionally, emotionally and provide all the resources you need to succeed academically. You also want to look for a safe, fun and caring environment and a financially suitable college for you and your family.
What's your favorite CSU tradition?
Complete the 50/75 CSU traditions with proof to the Student Government Association, and you will be awarded the "True Viking" award and recognized at graduation.
What's your favorite CSU fun fact?
Cleveland State University acquired Mather Mansion in 1967, the last mansion built on Millionaires Row. It was the first building in Cleveland to be placed on the National Register of Historic Places.