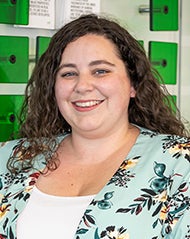 Amanda Zacur
Assistant Director, Transfer Recruitment
a.zacur@csuohio.edu
216.687.3742
Have questions for Amanda? Schedule a one-on-one virtual appointment with her today!

I work with veteran students and transfer students from Lakeland Community College and Lorain County Community College.
 
What's your favorite spot on the CSU campus and why?
I don't have a specific favorite spot on campus, but just being on the campus and meeting the people that make up the CSU family has been a wonderful experience. Everyone is so welcoming!
If you had your own Magnus outfit, where would you wear it?
I'd take it back home and wear it around my hometown to show off how excited I am to be a CSU Viking!
What advice do you have for students who are choosing a college?
Finding the right fit for your personality is important. If you can, visit multiple colleges during the busier times of the academic year. 
What's your favorite CSU tradition?
I'm still learning all about CSU, and am excited to learn about the traditions here! 
What's your favorite CSU fun fact?
There is grass growing on concrete (and over the road) in front of Rhodes Tower! When touring campus, I had no idea that we were even over the street until it was pointed out to me.