WELCOME
Welcome to College Credit Plus at Cleveland State University!  We are pleased include you in our diverse cohort of high-acheiving students from over 45 high schools across Cuyahoga, Lorain, Medina, Lake, Summit, Portage and Geauga Counties.  Choosing a CCP program is both a highly personal and academically strategic decision and we are humbled that you want to share your educational journey with us.  Your gifts and talents will be valued here, and you will have the chance to build powerful relationships with peers, faculty, advisors and other mentors which can positively influence your long-term academic, personal and professional goals.
 
I AM A: (SELECT ONE)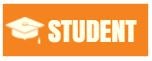 5/11/18 update:  We are still running into nonworking/invalid student email addresses!  Please ensure yours is good to go!
Need Assistance?