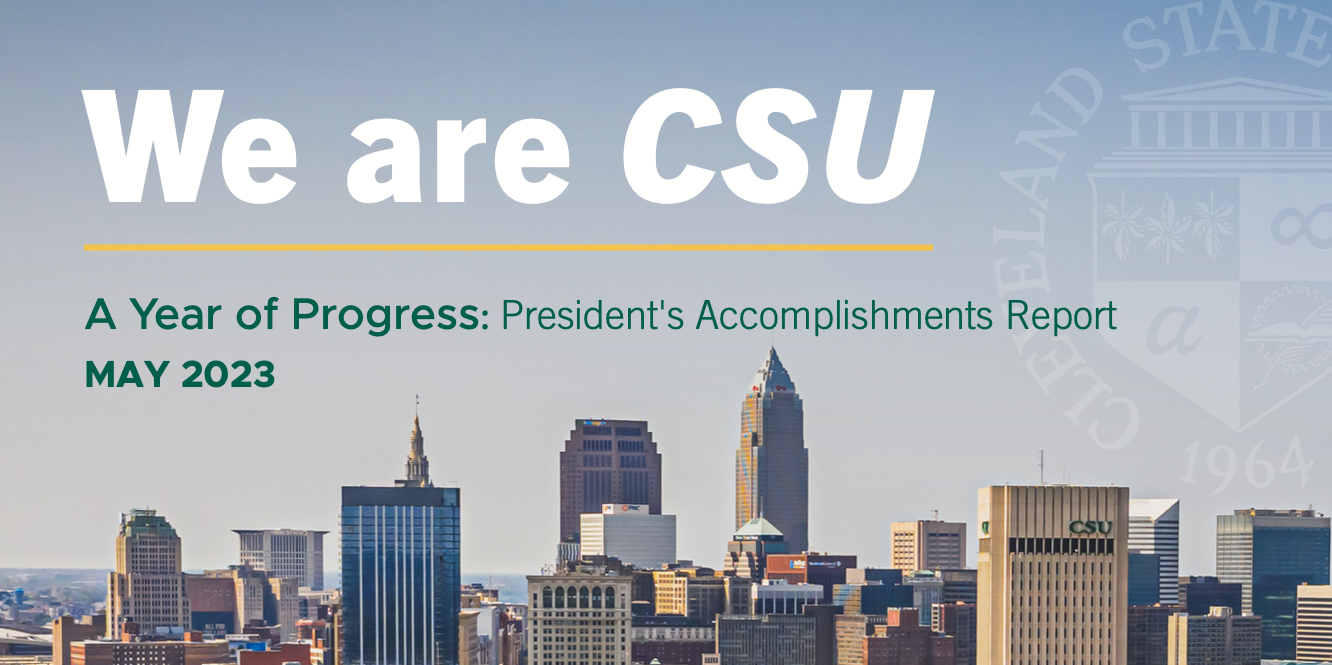 Over the past 12 months, the landscape of Cleveland State University has changed substantially for us all.
In addition to a presidential transition, we have successfully realigned our college structure, welcomed ambitious and innovative thinkers to the University's leadership team, envisioned the development of our urban campus for years to come, and introduced a new strategy to connect with prospective students, including a new brand story and university logo.
This report compares this progress to the strategic goals we set out to accomplish at the start of the 2022-23 academic year. I'd like to start, however, by acknowledging the tremendous efforts of the professionals with whom I work most closely: the members of the President's Cabinet. Each of these colleagues drives a substantial portfolio of mission-critical work responsibilities and, at the same time, each has provided invaluable support to me as a new president. Collectively, as a Cabinet, they offer one another the careful consideration and candid feedback essential to a high-performing leadership team. The accomplishments laid out in this report are certainly not mine alone; they are the result of our collective talents, strength and collaboration.
Below, you will find each of our strategic goals, specific actions within those goals and our progress toward each. In addition to these goals, which look to address many aspects of the University, I also want to detail the milestones we reached in the past year:
College REalignment
One of the largest undertakings this past year was the realignment of our college structure, first outlined in the 2021 report "Emerging from Pandemic: A Blueprint for CSU 2.0." Out of the realignment came three new colleges: the College of Arts and Sciences, the College of Health, and the Levin College of Public Affairs and Education.
Overall, the restructure consolidated our academic programs from nine colleges and one standalone academic unit down to eight colleges in total and from 10 dean positions to eight. This required substantial coordinated efforts from our faculty, deans, and the offices of Human Resources, business operations and Academic Affairs. The result is a clearer and more concise offering of academic programs situated in new colleges rich with opportunities for investments, recruitment and collaboration. 
Concurrent with college realignment last summer we also appointed new college leadership. We hired two new deans for the College of Arts and Sciences and the College of Health: respectively, Dr. Andrew Kersten, previously dean of the College of Arts and Sciences at University of Missouri-St. Louis, and Dr. Stephanie Brooks, who had served as senior associate dean for Health Professions and Faculty Affairs in the College of Nursing and Health Professions at Drexel University. Dr. Roland Anglin, who had already been serving as Dean of the Levin College of Urban Affairs, assumed leadership as Dean of the Levin College of Public Affairs and Education. 
Branding
In January of this year, we unveiled a new brand story on our website and via social media. Our brand launch videos introduced the mission of CSU in a new and engaging way by focusing the camera not on campus, but on the actions of our students and alumni. Each video leads to the central message: "We are Cleveland State University."
This new branding initiative for CSU was the culmination of over a year's worth of research in collaboration with marketing group Carnegie. Our consultants and marketing team solicited input from over 1,600 students, alumni, faculty, staff and members of the community, then honed all information gathered into a message that speaks directly to prospective students, our key target audience.
In addition to the videos, we also debuted something CSU has been missing — a university logo. While we have used both our athletics mascot Magnus and the university seal frequently in promotional materials, on merchandise and across our website, we realize that our mascot is best reserved for athletics-related messaging and our university seal should be reserved for formal or ceremonial purposes. Over the next year, our logo will become more present on our campus, online and in the Viking Outfitters Bookstore.
Communications
While the new branding is designed primarily to capture the attention of prospective students and their families, the University's internal communications are intended to keep current students as well as faculty and staff members aware of ongoing and upcoming projects, events and other important information. Over the past year, we have expanded and systemized our communications strategy to maintain a consistent schedule of messaging to our constituents.
Last fall, CSU Matters began arriving in the inboxes of students, faculty and staff, trustees, alumni, elected officials and more. This newsletter serves as my monthly update to the CSU community and friends. Each issue features a video segment, developed specifically for CSU Matters, in which we shine a bright light on an inspiring person, group or program at CSU (such as theatre and dance students in Playhouse Square, Dr. Jearl Walker and his Flying Circus of Physics, the Cleveland Teaching Fellowship and CSU's new esports team). 
The ConnectU newsletter, which launched a few months ago, is a digital communique specifically designed for faculty and staff. This biweekly news digest bundles important information for our employees relating to Human Resources, events on campus and notable announcements. 
Campus Master Plan
Even as we launched several key "here and now" initiatives in the past 12 months, we set our sights on the future of the campus over the years to come. Perhaps most indicative of this effort is the campus master plan, adopted by the Board of Trustees in January. This plan will guide future residential, academic, research and athletic facility development of our urban campus. 
As outlined in the master plan, we envision three primary campus areas:
The Academic Core, positioned between Euclid and Carnegie Avenues from East 18th to East 22nd Streets, would include the majority of our academic buildings on campus and our iconic Rhodes Tower. Current plans include renovations to several spaces, including Rhodes Tower, new construction and landscaping to add additional green spaces to campus.
The Student Experience District would create a more robust and densely populated residential neighborhood for students living on campus. This district, on the north end of campus between East 18th Street and I-90 on Chester Avenue, would include additional student housing and a newly built multi-use arena.
The Partnership District is envisioned for the current site of the Wolstein Center, providing more opportunity for economic growth in the city with mixed-use development space.
Living Well Together
As I highlighted in my investiture remarks last October, CSU is making significant strides in myriad ways. Our students are having transformative experiences on our campus, and they leave CSU as graduates well prepared to launch careers and excel in their chosen fields. Our faculty are conducting research that garners national attention and changes lives. Our staff are providing students the guidance and resources they need to overcome adversity and hardship that might otherwise prevent them from completing their degrees.
We work daily to build and sustain a community where we live well together — on our campus and in our city. We strive to embrace our diversity, learn from one another, and use our talents to lift each other up. This goal extends beyond the borders of our campus. We are strengthening the connections between our University and the city, serving as an educational pillar for Greater Cleveland and Northeast Ohio.
My sincere thanks to all of you who come to campus each day delivering on our promise to provide a comprehensive education for our students on a vibrant campus in the heart of Cleveland. The momentum we have gained in this past year, along with the challenges we've faced, have set the stage for the aspirational goals that will carry us into the 2023-24 academic year. It promises to be an exciting year ahead!
 
---