There are a number of options to reduce the impact of your commute to campus. Whenever you can, choose to walk, bike, ride transit or carpool to campus and to off-site meetings/events. Explore all the options below!
Public Transit  |  Car-sharing  |  Carpooling  |  EV Charging Stations  |  Cycling
Scooters  |  Campus Electric Vehicles  |  Video Conference Facilities
The campus parking map (pdf) includes RTA stops, bike racks and Zipcar locations.
U-Pass 
U-Pass allows all main campus students to ride free of charge on all Greater Cleveland RTA buses and rapid trains during each academic semester. CSU offers the U-Pass to all students who take a minimum of one credit hour. This pass allows students to rely on public transportation at a minimal cost while reducing the emissions of commuting to and from campus.
Commuter Advantage for Faculty and Staff
This program allows eligible faculty and staff to purchase RTA monthly bus passes via payroll deduction. The payroll deduction option means that the expense for the pass will be paid with pre-tax dollars and can provide employees with a tax benefit of up to $200 per year. You also have the convenience the automatic payment for the pass.
Learn more about the RTA Commuter Advantage program or sign up for Commuter Advantage. 
RTA Cleveland State Line
The Cleveland State line consists of 16 buses that connect communities along the West Shore to the main campus. The line is split into four lines: the 55, 55A, 55B and 55C. Using public transportation greatly reduces the vehicle miles traveled by an individual which reduces emissions and saves costs relating to fuel and parking.
For routes and trip planning assistance, visit RTA Cleveland State Line.
RTA Park and Ride
Park and ride options allow commuters who do not have a bus stop near their home to park at a designated location and ride the bus to campus. The Greater Cleveland Regional Transit Authority (RTA) offers 8,000 free parking places at Rapid Stations and Park-N-Ride lots. Trains and buses serve these facilities, providing customers with convenient transportation in their daily commute.
Park-N-Ride Lots in Cuyahoga, Lake, Lorain & Medina Counties
RTA HealthLine
The RTA HealthLine connects Public Square to East Cleveland and passes through Cleveland State along Euclid Avenue.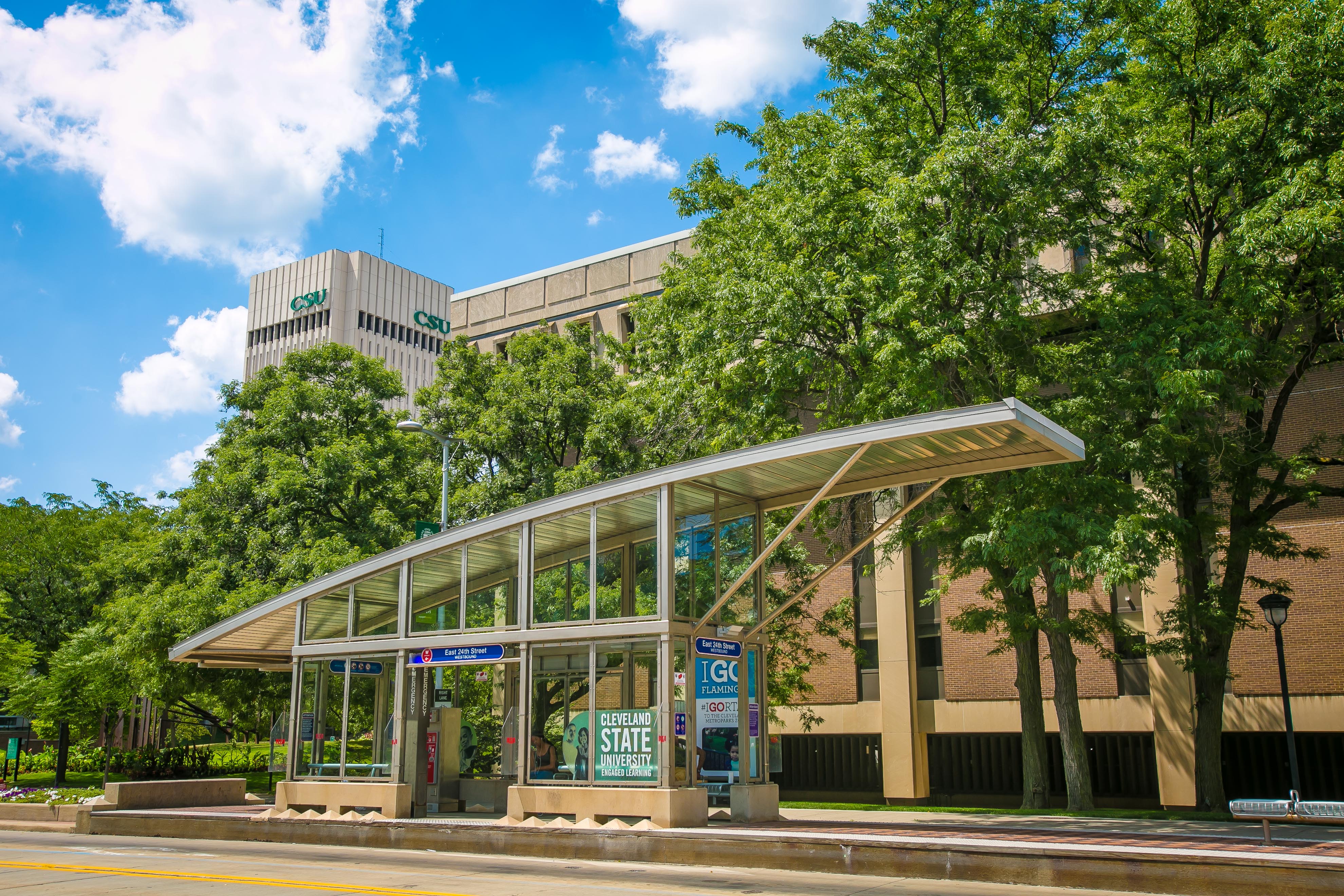 Laketran
Laketran offers Park-n-Ride service connecting Lake County and Downtown Cleveland. With a valid CSU ID, students can ride Laketran Park-n-Ride Routes 10-13 for just $1.50 each way.
Operating Monday through Friday from 5:30 a.m. until 6 p.m., Laketran has 18 daily departures from 9 different locations in Lake County. Park-n-Ride buses are equipped with on-board bike racks to help you get to your final destination or you can transfer free to Greater Cleveland RTA.
Laketran Rider Tools include a trip planner, real-time map, next bus departure text messaging, text and email rider alerts, and a mobile app that offers quick access to all of these tools.  
Laketran offers a free trial on Park-n-Ride to give it a try. For route suggestions or more information, contact Kerry Jonke at 440-350-1008.
GoBus: Ohio Intercity Bus Service
GoBus is a convenient way to travel Ohio with over 40 stop locations connecting Cleveland, Athens, Columbus, Cincinnati, and more. GoBus provides passengers with first-class amenities like on-board Wi-Fi, power outlets, and bathroom. Operating 365 days a year, we strive to provide safe, reliable, and affordable transportation to all. Fares start at under $10 one way. Find out more and book a trip at RideGoBus.com or by calling 888-95-GoBus (6287).
Car Sharing
Zipcar Vehicle Rentals
With Zipcar on campus, it's easy to live without a car.
Need a car? Borrow a Zipcar! Cleveland State has partnered with Zipcar to bring self-service, on-demand car sharing to campus at a discounted rate for students.
Car-sharing programs allow students to use a car only when needed and they provide a great option for shopping trips and errands.
To use Zipcars, simply register as a member, reserve a car, use your Zipcard to enter the car, and drive away. When you're done, return the car to its reserved spot and lock it up.
As a member you get:
Access to Zipcars 24/7
Discounted hourly rates for faculty, staff and students age 18 and older
Gas, insurance and maintenance are included for free!
Need more information?
Zipcar at Cleveland State University
The Zipcar program currently includes five vehicles on campus. In 2016, CSU's Zipcar program helped divert 416,000 pounds of CO2 from entering the atmosphere.
Lyft
Want to reduce the impact of your ride? Lyft is a fully carbon-neutral company powered by 100% renewable energy - enough to cover the electricity consumption of every Lyft office space, driver hub, and electric vehicle mile on its platform. And they offset the carbon emissions from all rides globally.
Lyft Commits to Full Carbon Neutrality and 100% Renewable Energy
All Lyft Rides Are Now Carbon Neutral
GOHIO Commute 
A program of the Northeast Ohio Areawide Coordinating Agency (NOACA), this interactive platform provides the information you need to make smart transportation choices that can help you to save money, improve your health, and enhance air quality. The tool allows you to see all transportation options from point A to point B including public transit, walking, biking, carpooling and vanpooling, and it includes travel time, costs and emissions generated per mode. 
Gohio Commute allows members of the CSU community to narrow their carpooling search to include only CSU faculty/staff or only CSU students.
CSU has three Electric Vehicle Charging Stations in the Student Center Garage (Lot 22).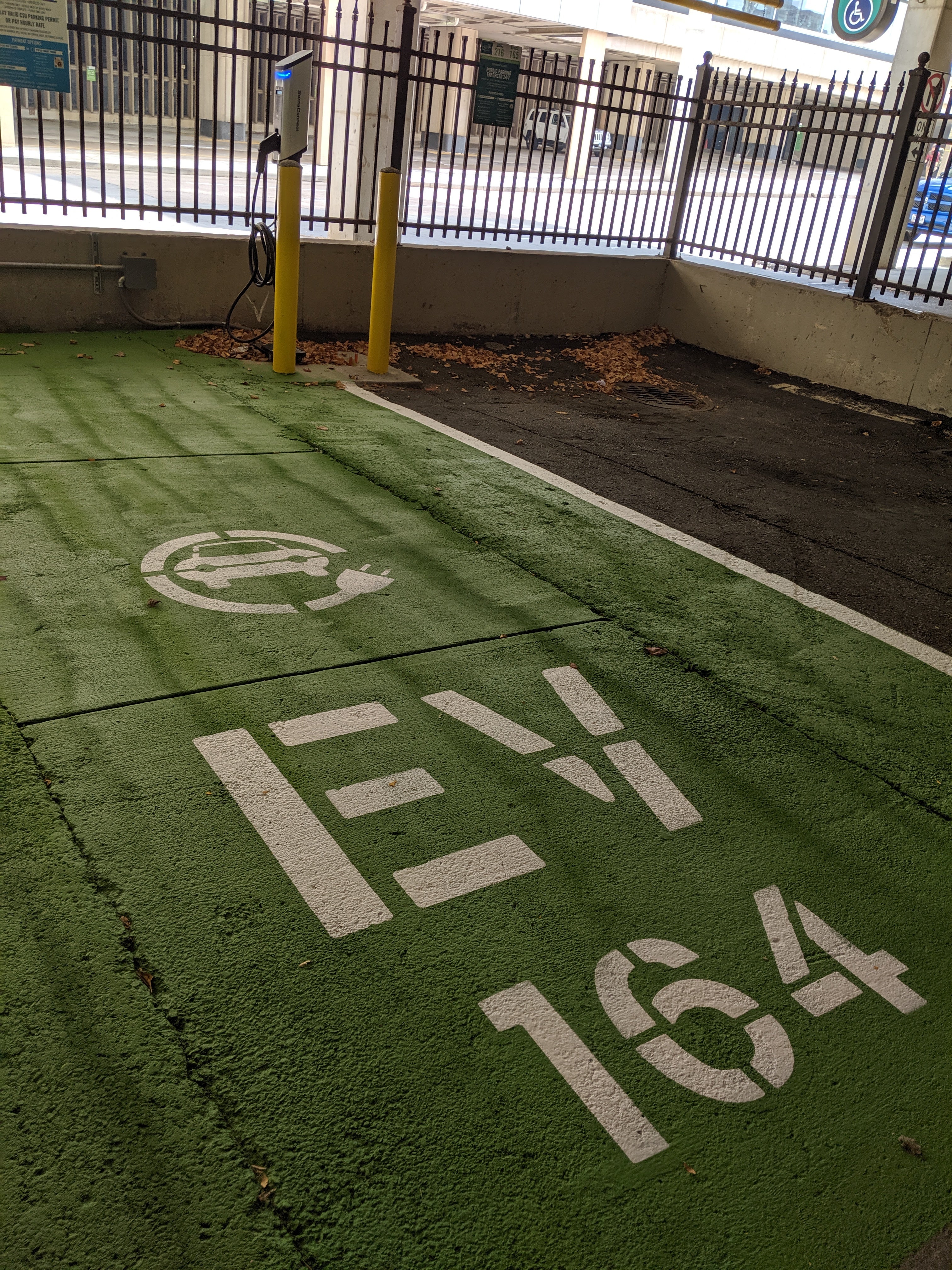 The stations are located along the east side of the garage and include J1772 plugs. There is a four-hour time limit and users are asked to move their vehicles when charging is complete to allow others the opportunity to use the stations. Payment for visitor parking or a valid CSU parking permit (of any color) is required to use the charging stations. There is no additional cost for charging. 
Visit the Parking Services EV Charging webpage for more information about the charging stations.
Biking to and from campus is a great way to reduce emissions and get some exercise!
Short-term bicycle parking is provided at buildings across campus.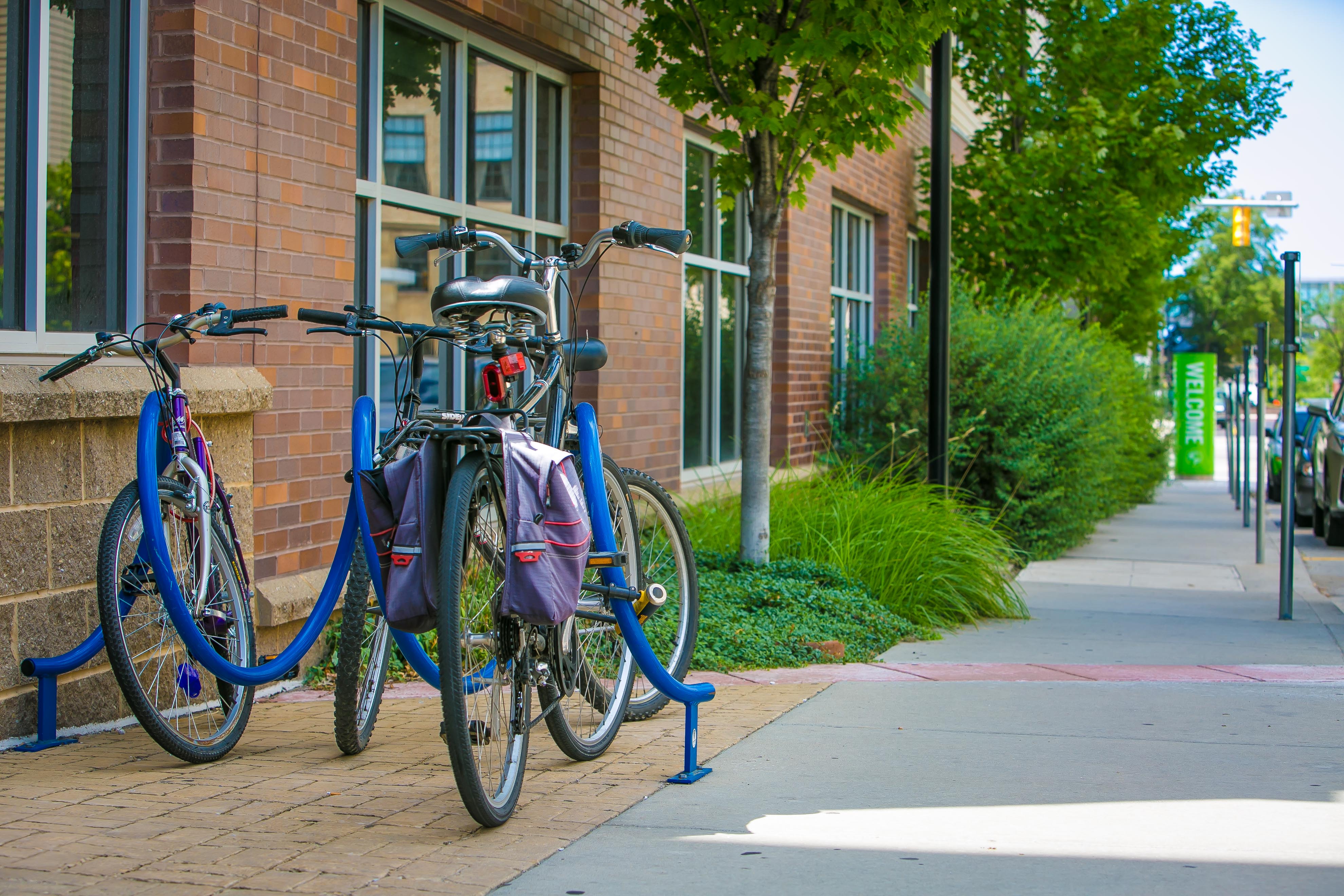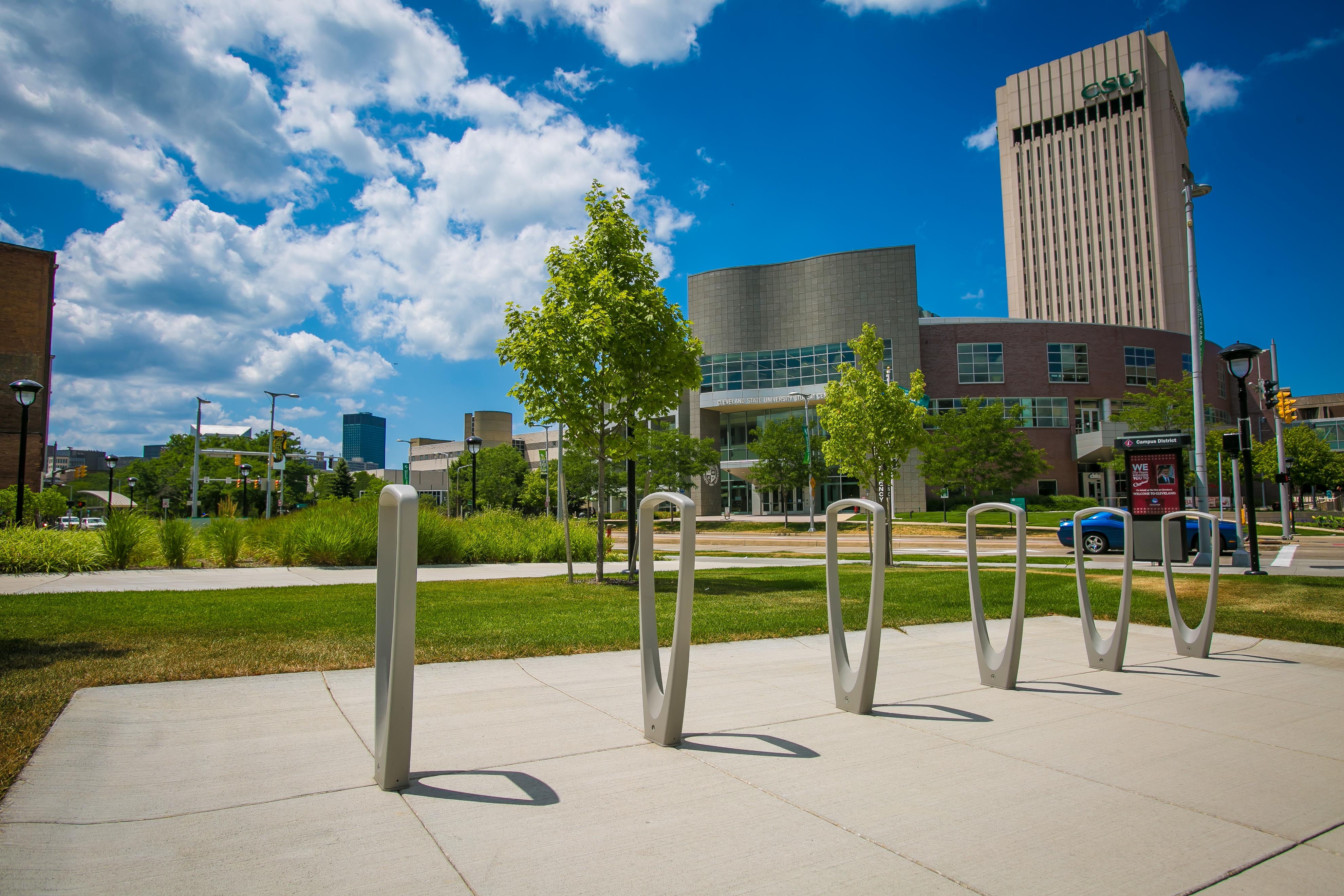 Fixit Bike Repair Station
In partnership with CSU Parking and Transportation, the CSU Recreation Center has installed a Fixit Bike Repair Station between their front entrance and the Washkewicz College of Engineering.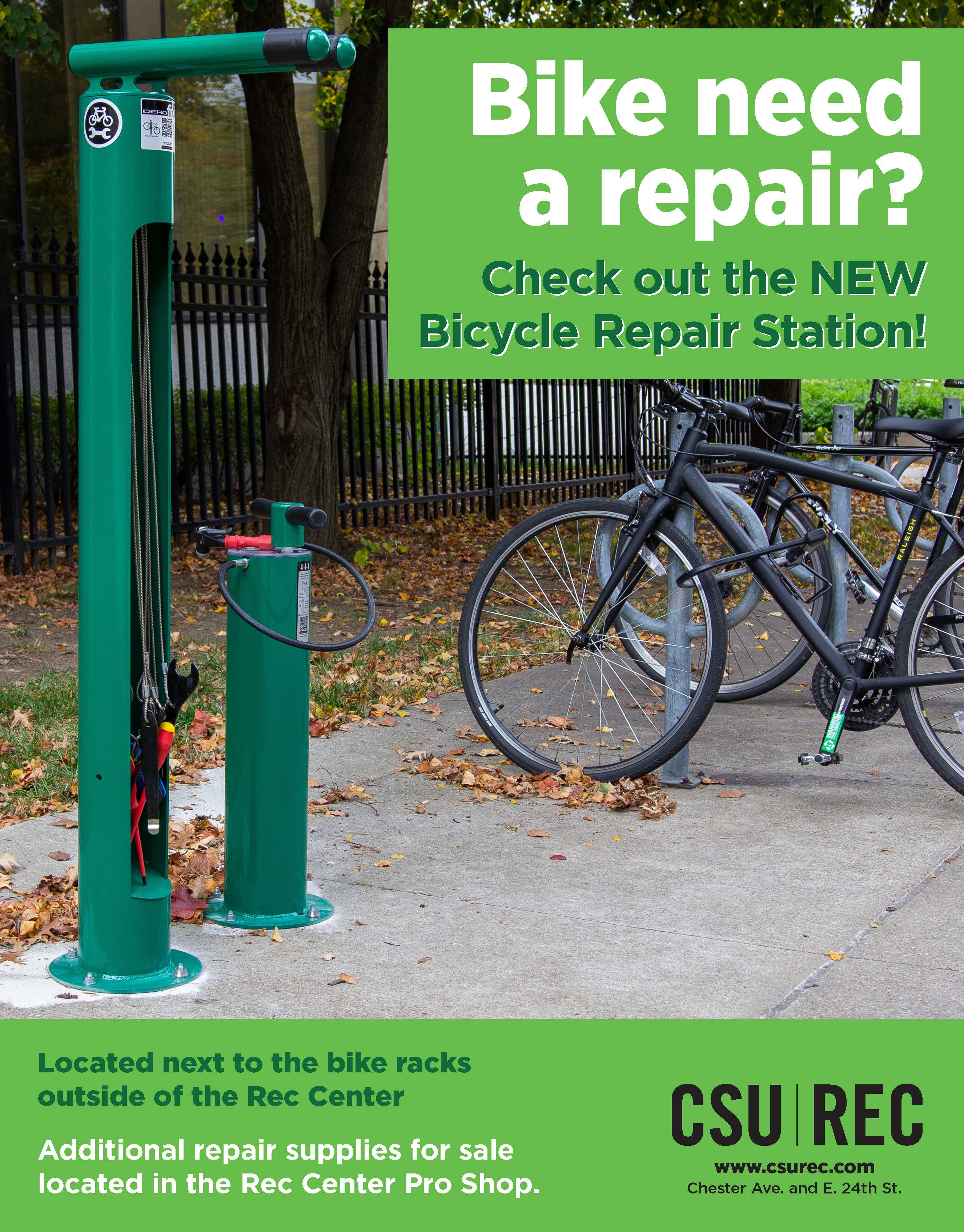 The Fixit includes an air pump and all the tools necessary to perform basic bike repairs and maintenance, from changing a flat tire to adjusting brakes and derailleurs. Hanging the bike from the hanger arms allows the pedals and wheels to spin freely while making adjustments.
For repair help use the Quick Read (QR) code on the front of the Fixit to view detailed instructions on your smartphone.
TOOL LIST
Philips and flat head screwdrivers
2.5, 3, 4, 5, 6, 8mm Allen wrenches
8, 9, 10, 11, 15, 32mm box wrenches
Tire levers (2)
The Pro Shop inside the Rec Center carries a small selection of bike repair items including patch kits, inner tubes and chain lube.
Bike and Scooter Share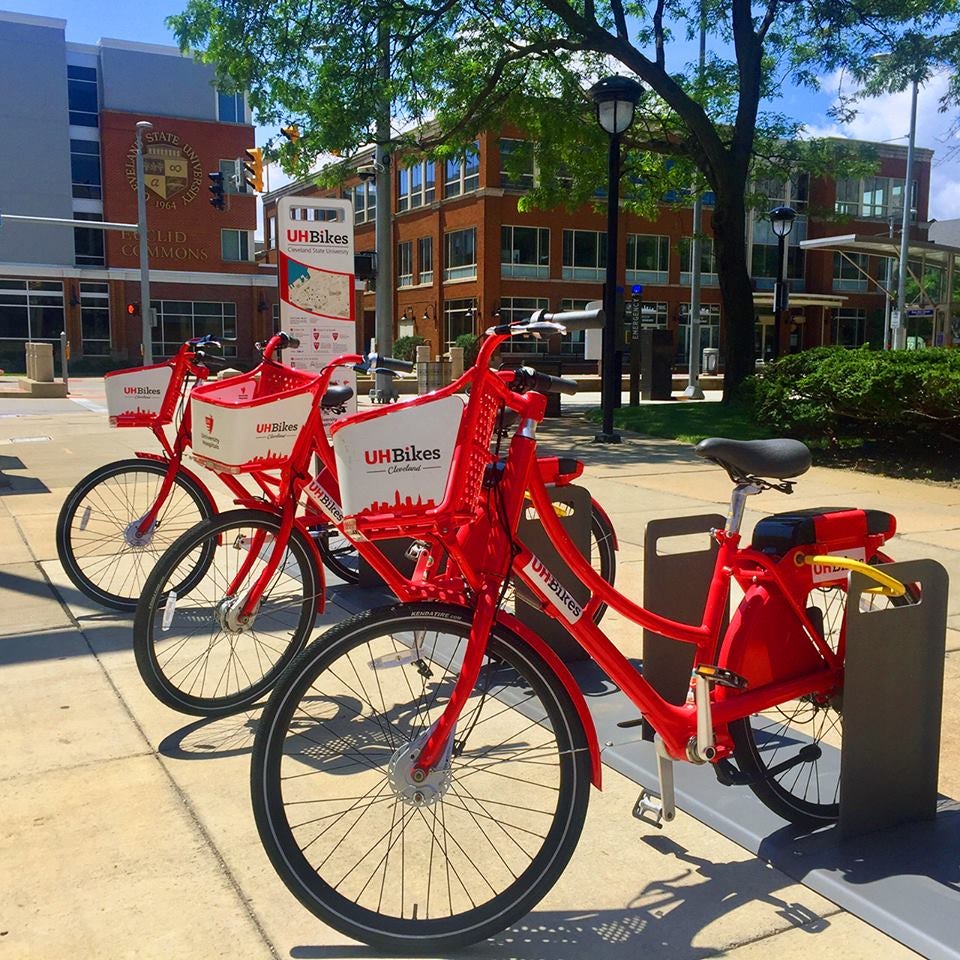 Scooters and bikes are available to rent for short rides around the city. They are activated through a smartphone app and user account. There are four companies that have permits to offer shared e-scooters and/or e-bikes in Cleveland: Bird, Lime, LINK by Superpedestrian, and Spin. E-scooters are available for use daily from 5 a.m. to 9 p.m. and e-bikes are available 24 hours a day.
Scooter and bike share information and companies 
Cleveland Bicycle Advocacy Organizations
Bike Cleveland is a nonprofit organization that advocates for policy, infrastructure, and legislation to make bike transportation safer and incentivized. Their website offers resources to locate affordable bicycle services and shops, trails, laws and FAQs about biking in high-traffic areas.  
The Bike Rack is located in downtown Cleveland and offers secure bicycle parking, lockers, showers, towel service, route information, repairs and rentals.
Ohio City Bicycle Co-op provides a wide range of services including used bike sales, bike checks, educational programs for safe cycling practices and bike rentals. 
Resources for Cyclists
Bike Maps
NOACA has developed bike maps for all five counties in our region in collaboration with county and local governments, Metroparks systems and non-profit organizations. The maps are a great resource for identifying the best bike route based on skill level and route type and they are color coded to help you find your way through our growing network of bike lanes. 
Other resources to help you get around by bicycle include:
Bike Cleveland's Getting Around By Bike
Map My Ride – Over 1,000 routes submitted by users throughout Greater Cleveland. 
Bike Education Resources
There are a number of great resources available for learning how to keep your bike functioning properly and how to ride safely in traffic.
Bike Smarts Educational Series – informational classes on a wide range of cycling topics.
Ohio City Bicycle Co-op – OCBC is a non-profit, volunteer-driven cooperative bicycle education center offering riding and repair classes; refurbished used bikes for sale or rent; hands-on learning and shop credit for volunteering; and public shop use, advice and assistance.
Village Bicycle Co-op – VBC is a non-profit that teaches bike repair and safe riding classes. They also offer refurbished bikes for sale.
League of American Bicyclists – The LAB offers informal and formal bike education programs for those interested in teaching others how to ride safely. They've produced a series of short, instructional how-to-bike videos covering topics, from starting and stoping, to riding in bike lanes, to basic bicycle laws. See the whole series on the League of American Bicyclists' website.
The City of Cleveland allows multiple dockless bike and scooter companies to operate with a permit. For information on the program including each of the four vendors, visit the Scooter FAQ page. 
Please familiarize yourself with the CSU Scooter Rules and Regulations. Rules include, but are not limited to:
Motorized scooters are not permitted to be operated on sidewalks.

Scooters must be parked at bike racks on campus.

Scooters must never block pedestrian walkways or building entrances.
CSU owns and operates six fully electric maintenance and service vehicles.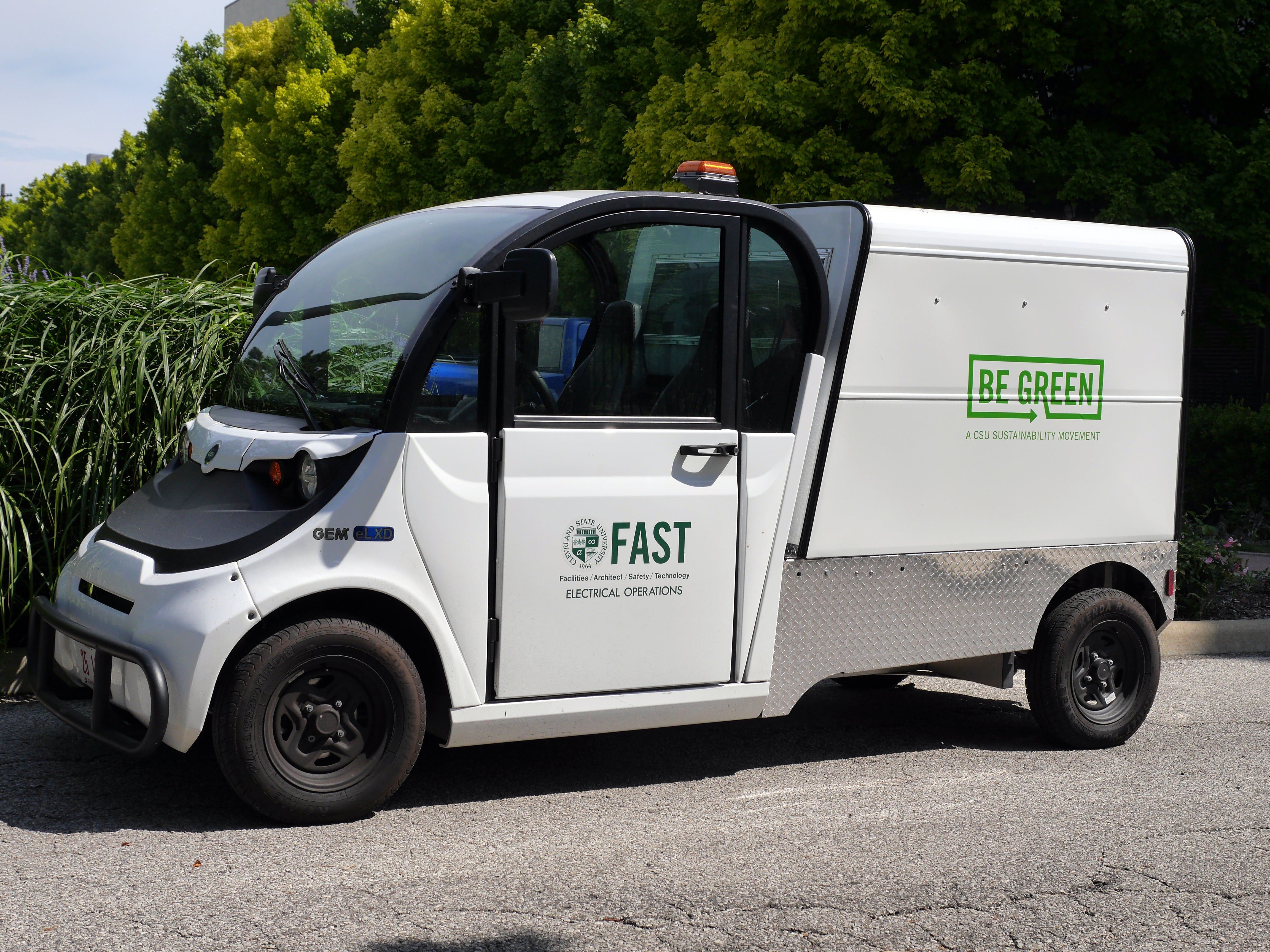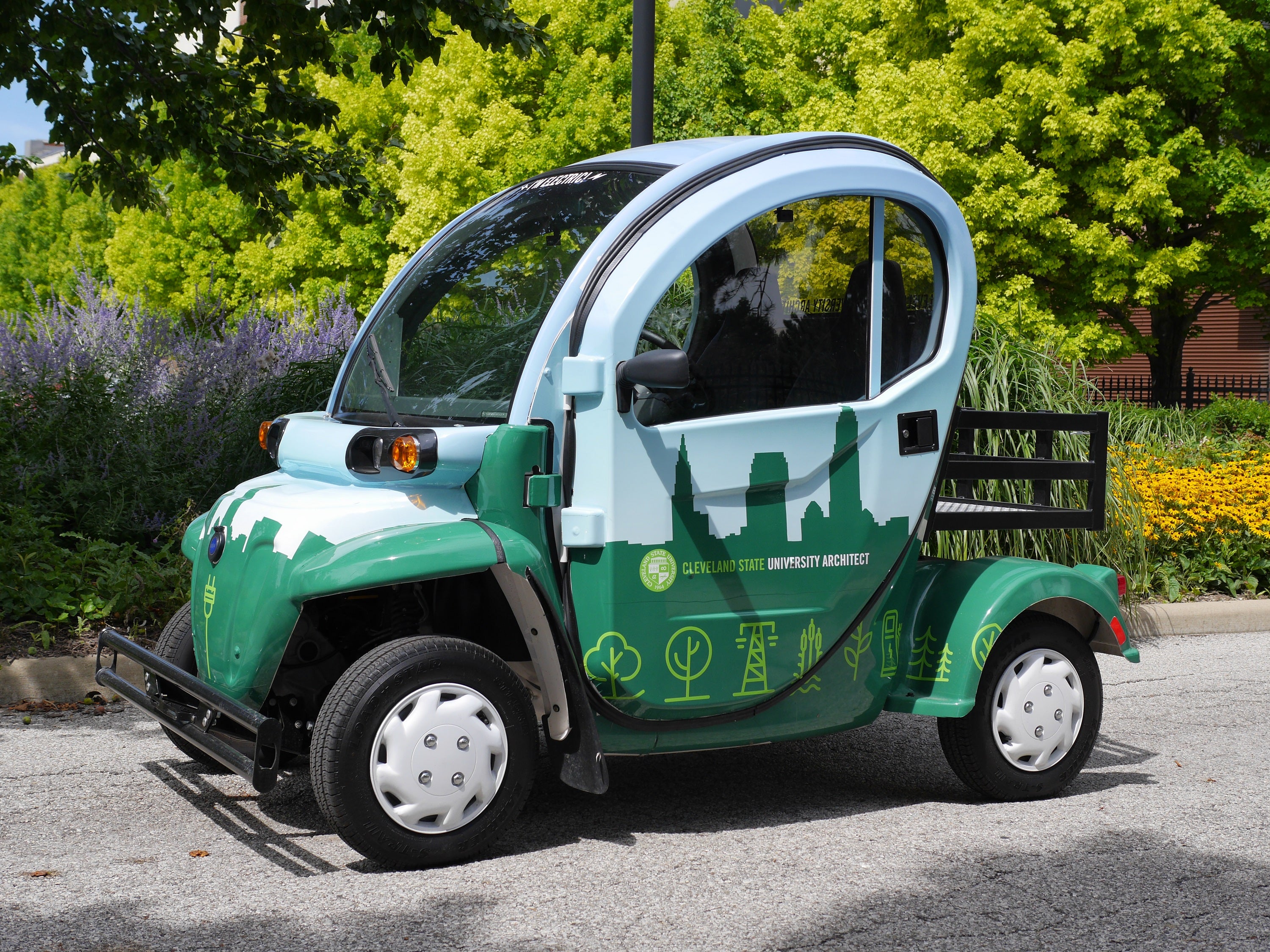 Why travel if you don't have to? CSU's Center for Instructional Technology and Distance Learning currently hosts 10 video conference-equipped spaces on campus. They support established IVDL (Interactive Video Distance Learning) program classes between CSU and partner schools from across the region and internationally. These spaces are also available for video conferences for a number of other purposes including:
Search Committees
Remote Content Experts
Authors
Guest Speakers
Conferences
State and regional collaborations