Reducing energy consumption and associated carbon emissions is a key goal of our sustainability strategy. Here are some of our initiatives and achievements.
EPA Green Power Partners
Cleveland State University has been honored with the U.S. Environmental Protection Agency's Green Power Partner designation. We purchase 18 million kilowatt-hours (kWh) of green power, representing 58% of our annual electricity usage. According to the U.S. EPA, CSU's green power usage is equivalent to the electricity use of more than 2,879 average American homes annually.
The EPA also recognized Cleveland State University as an Individual Conference Champion of the 2016-17 and 2017-18 College & University Green Power Challenge for using more green power than any other school in the Horizon League!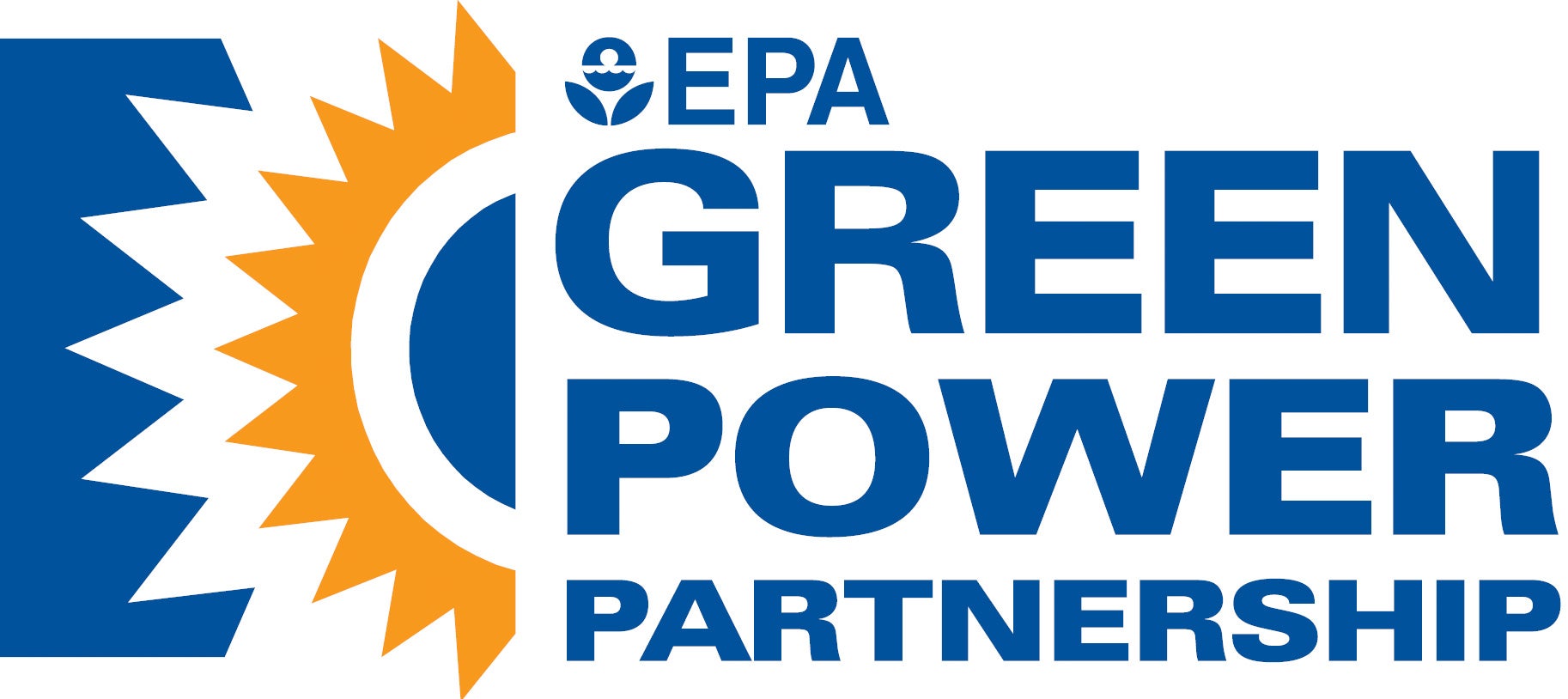 GREENHOUSE GAS EMISSIONS
As a signatory to The Carbon Commitment, CSU aims to reduce its emissions annually. Annual progress reports are available on the Second Nature Reporting Platform. Summary reports are available for the years listed below. 
CSU Summary Report GHG Emissions Inventory FY17
CSU Summary Report GHG Emissions Inventory FY18
CSU Summary Report GHG Emissions Inventory FY19
CSU Summary Report GHG Emissions Inventory FY20
CSU Summary Report GHG Emissions Inventory FY21
CSU Summary Report GHG Emissions Inventory FY22
Solar
CSU currently owns one 28kW solar PV system on South Parking Garage. This solar array reduces our emissions by 73 tons annually.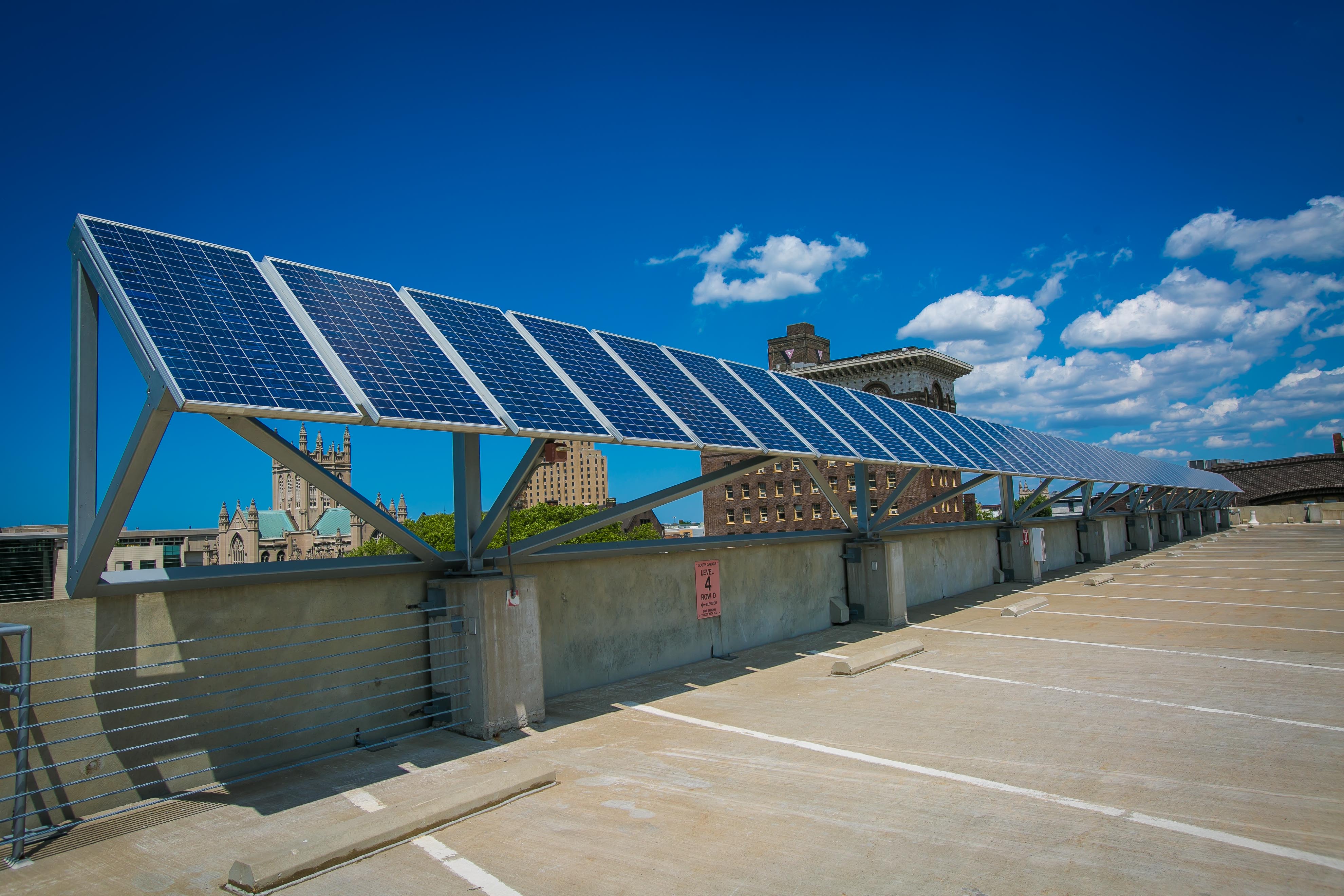 Video: LED Lighting and Solar Power Provide Energy Savings at Cleveland State University
District Steam
The CSU campus is heated in the winter by steam from the Cleveland Thermal district steam plant on Hamilton and East 18th. In January of 2017, Cleveland Thermal made the transition from coal to 100% natural gas in their steam and chilled water plant. Switching to natural gas reduces the company's carbon dioxide emissions by 49,200 tons a year. That's an 84 percent reduction and the equivalent of planting a 19,000 acre forest.
The new boilers are rated at 84 percent efficiency and the new system captures waste heat from the boilers to run an on-site 1-megawat power plant, which generates enough electricity to run the entire operation.
Campus-Wide Energy Conservation and Management Program
From 2009 to 2011 CSU invested $52M in energy conservation measures such as LED lighting, high efficiency fume hoods, and mechanical system upgrades as part of the Campus-Wide Energy Conservation and Management Program. This program is entirely self-funded through guaranteed energy and maintenance savings.  
Program highlights:
Lighting
The exterior LED lighting upgrade project provided for complete retrofits and replacements of parking lot lighting, parking garage lighting, and walkway and sidewalk lighting throughout the entire campus, totaling nearly 1,700 new exterior LED fixtures. In all, this project changed the quality and efficiency of lighting systems in 5 covered parking garages, 10 surface parking lots, and more than 2.5 miles of walkways, sidewalks, and plazas. As a result of this project, an estimated 75% of all exterior lighting on the 85 acre campus have been converted to LED with a 54% reduction in energy usage over the previous lighting technologies.
Replacement of over 58,000 fluorescent lamps with low-mercury energy efficient lamps

Installation of over 20,000 high-efficiency fluorescent electronic ballasts

Recycling of old lamps and ballasts for mercury, glass, metal, phosphorus, and other materials
Installation of over 1,600 new high-efficiency LED exterior lighting fixtures
Since 2014, another 26 LED lighting upgrade projects have been completed saving a total of more than 83 kilowatts.
Central Chilled Water Plant Upgrades
Installation of fully automated, high-efficiency chilled water plant that uses environmentally friendly R-134 refrigerant
Removal of old chillers and reclamation of R-11 refrigerant
Increased chilled water cooling capacity by 50%
Increased cooling water tower capacity by 100%
Ventilation Controls
Optimized level of fresh air in buildings according to CO2 levels based on occupancy
Reduced maintenance cost by removing outdated pneumatic controls requiring calibration
Mechanical System Upgrades
Over 1,500 units of HVAC equipment evaluated
Improved safety and comfort of University community
Reduced energy and operating costs with new equipment and technology
Computer/Print/Fax/Scan Optimization
Reduces energy consumption, emission levels and solid waste
Achieves NE Ohio Collaboration and Innovation Commission recommendation to centralize the print management function
Vending Machine Control
Energy misers installed on vending machines reduce electricity consumption of the machines by 41% annually.
Misers utilize occupancy sensors to power down the machines when the surrounding area is vacant thus reducing operating costs and greenhouse emissions.
Utility Metering by Building
Provides utility performance monitoring system
Automated real-time collection and tracking of utility consumption
As a result of these efforts, we achieved a 32% reduction in energy consumption and exceeded our goal of a 20% reduction by 2014!
Videos
Energy Conservation Program at Cleveland State University
LED Lighting and Solar Power Provide Energy Savings at Cleveland State University
Energy and Emissions: What can I do?
Enable energy saving computer settings.

Show me how!
Switch off the monitor when you step away from your computer.
Utilize electronic agendas, syllabi, course materials, and filing options.
Switch off the lights when you leave your office, classroom or conference room.
Dress for the weather! Put on a sweater before you turn up the heat.
Take the stairs instead of the elevator.