CSU has had a recycling program in place for twenty years! Our goal is to continuously increase the rate of recycling on campus and over the next academic year, we aim to the decrease the amount of material sent to landfill by five percent. This would save money, reduce emissions from transport, and decrease landfill space demand!
Recycling  |  Batteries  |  Compost  |  Furniture  |  Secure Paper  |  Toner Cartridges  |  Plastic Bags  |  Unusual items 
Students, faculty and staff have access to recycling bins for mixed paper, plastic and cans, cardboard, and batteries.
Standard recycling bins for plastic and cans are gray with green lids. You can put any recyclable plastic bottle, jug, or container in this bin along with any metal cans. Always replace the cap - it's too small to be recycled by itself!
Recycling bins for paper are entirely blue. Clean mixed papers can be put in these bins, including copy paper and its packaging, newspapers, magazines, envelopes, junk mail, greeting cards, paperboard boxes (cereal, crackers, etc.) and phone books.
Cardboard can be left by trash or recycling bins and will be collected by custodial staff for recycling. Flattening the cardboard is appreciated. 
Other waste streams collected on campus include Styrofoam, shrink wrap, steel, tires, yard waste, computers and electronics, ink cartridges, lead-acid batteries, motor oil, fluorescent bulbs and office furniture.
Vikings Recycle Poster 8.5x11 (pdf 216 KB)           11x17 (pdf 235 KB)
WHAT DOESN'T BELONG IN THE RECYCLING BIN?
Recycling correctly is important because if overly contaminated, the end result is a lower quality product. If recycling service providers can't sell their product to manufacturers, then recycling won't be a competitive industry.
These things should NEVER be put in the recycling bin:
Plastic bags or plastic film (return these to several retail locations)
Anything with excessive food or sauces stuck to it
Coffee cups (most cups have a plastic lining and cannot be recycled)
Styrofoam
How do I know CSU is really recycling?
Next time you're walking around campus, notice that trash and recycling bins use a color-coded bag system. All trash bins use gray plastic bags and all recycling bins (plastic/cans/paper) use white bags. When custodians collect the bags, they ensure that white (recycling) bags are deposited in a designated recycling cart in each building, while gray trash bags go into a compacter or dumpster.
Once custodial staff have placed the bags of recycled materials in the designated area, recycling staff make rounds on campus to collect the materials and move them to a central facility. There, staff separate plastics and cans to ensure a contamination free material stream. Gateway Recycling then collects the materials on a bi-weekly basis and CSU is paid market rates for materials.
CSU students, faculty and staff can recycle batteries at 24 locations across campus.
Acceptable batteries include:
Alkaline, Lithium-ion (Li-ion), Nickel Cadmium (Ni-Cd), Nickel Metal Hydride (Ni-MH), Nickel Zinc (Ni-Zn), Lithium Primary, Carbon Zinc, button and coin cell batteries, laptop batteries, all rechargeable batteries, and all cell phones. Please tape the terminals of lithium-ion batteries before placing in the bin. 
Locations:
Administration Center (ground floor elevator landing)
Campus Safety (near time clock)
Center for Innovation in Medical Professions (main lobby)
Fenn Hall (main lobby)
Fenn Tower (mail area)
Julka Hall (main lobby)
Law Library (main lobby)
Levin College of Urban Affairs (main lobby elevator landing)
Main Classroom (near Campus 411)
Main Classroom (Mandel Honors College)
Middough Building (ground floor main lobby)
Monte Ahuja College of Business (2nd floor elevator landing)
Music Building (2nd floor inner link)
Parker Hannifin Hall (main lobby)
Physical Education Building (1st floor main lobby)
Plant Services (2nd floor FAST Coordination Center)
Recreation Center (main lobby)
Rhodes Tower (circulation desk)
Rhodes Tower Math Department 15th floor (by elevators)
Science Building (main lobby)
Science Research (main lobby)
Student Center (Help Desk)
Washkewicz College of Engineering (main lobby)
Battery recycling bins were made possible by a Recycling Container Grant from the Cuyahoga County Solid Waste District. Ongoing collection and program management is supported by CSU Environmental Health and Safety.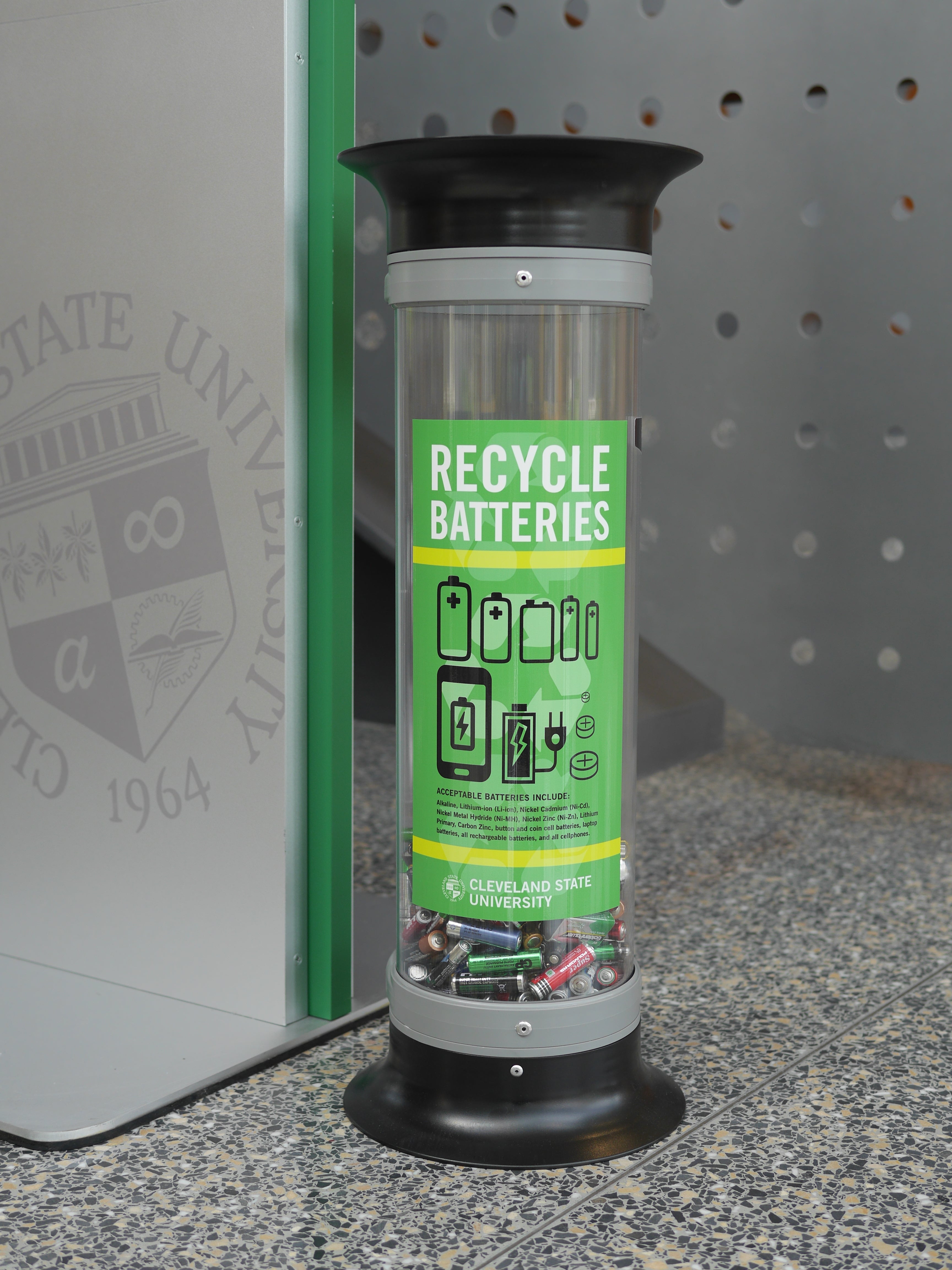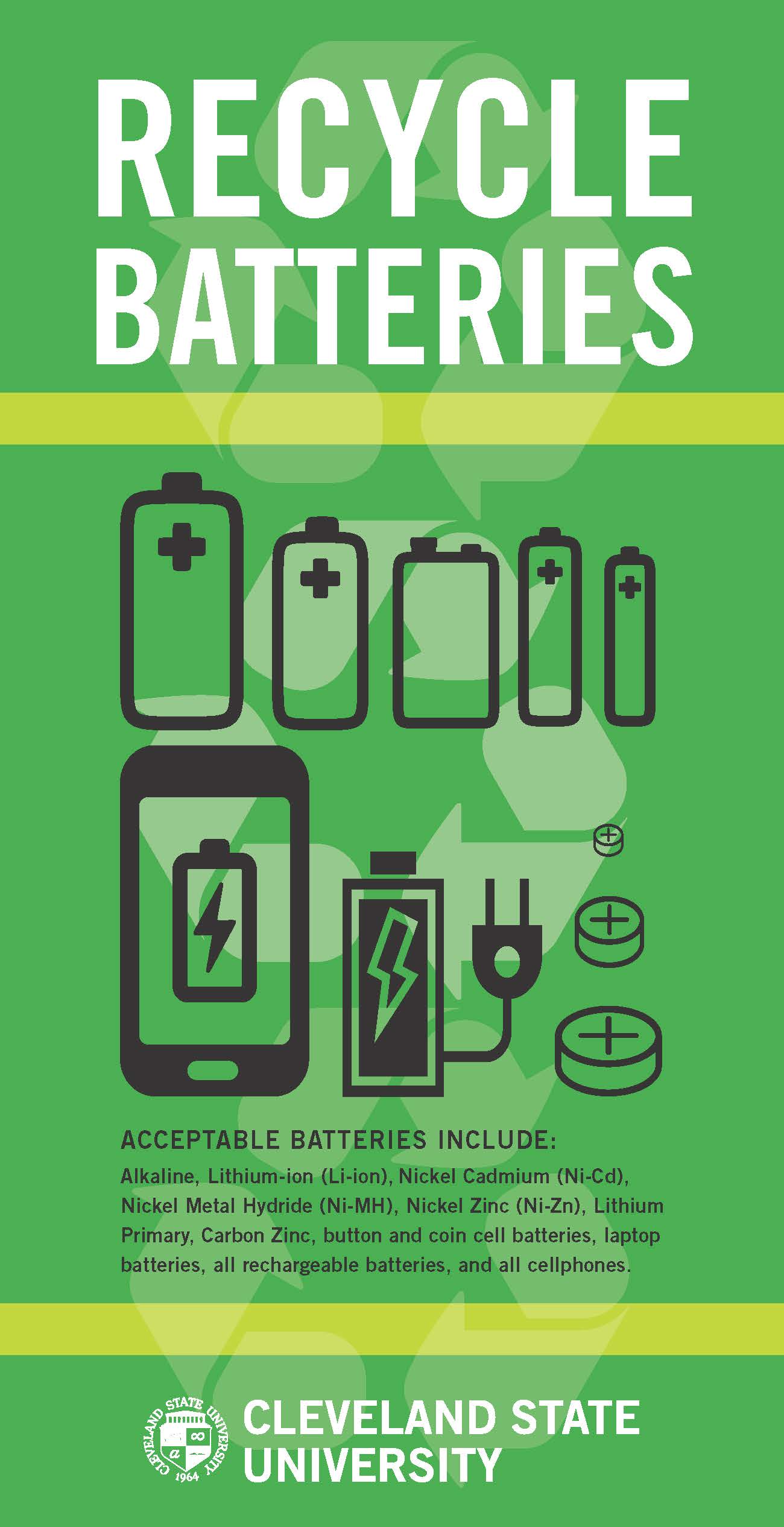 Learn more about the benefits of battery recycling. 
NEW! CSU is ditching disposables and transitioning to 100% plant based compostable tableware for all events catered by CSU Dining!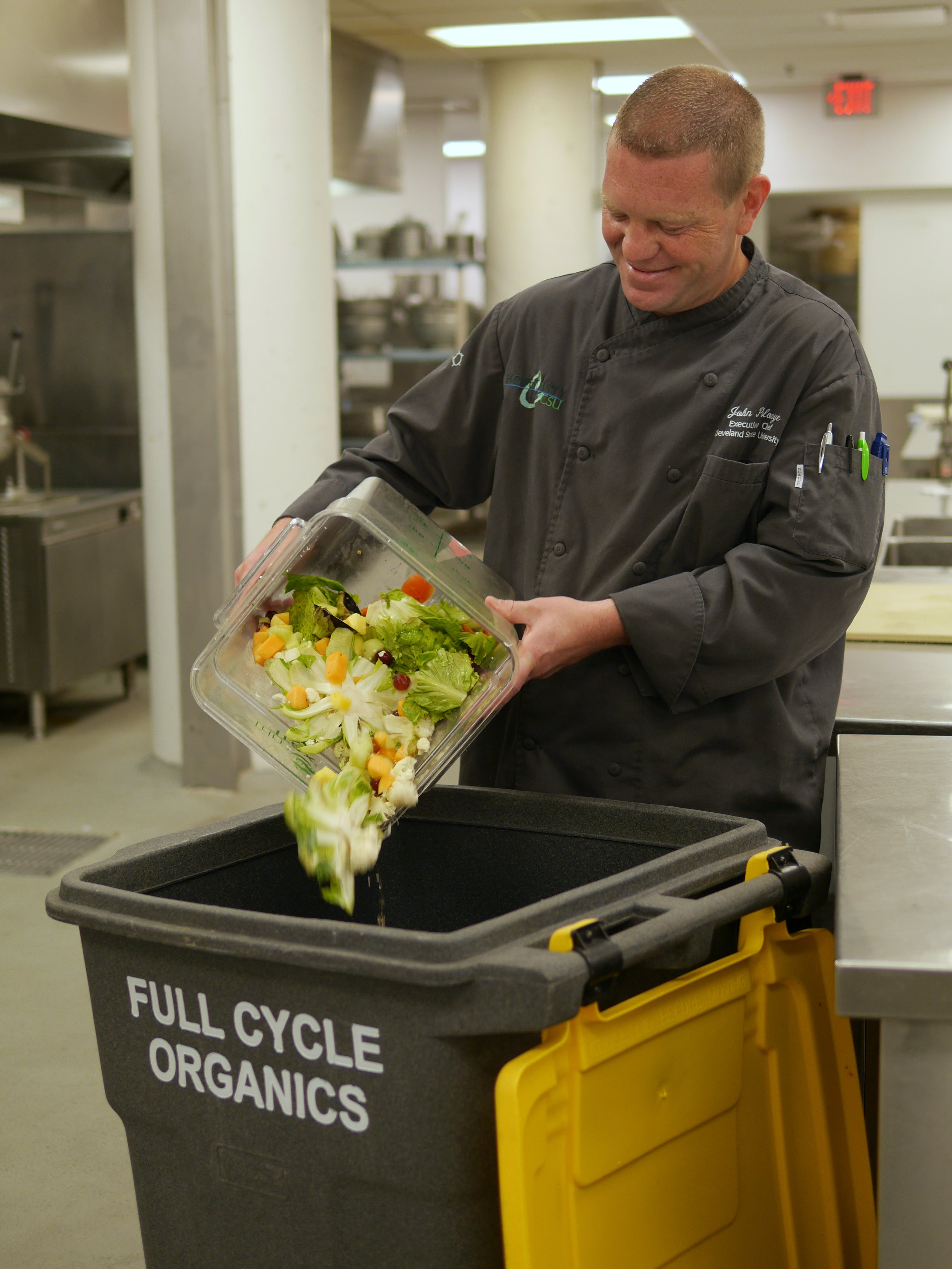 CSU Dining adopted a kitchen composting program in January 2017. Food scraps from the kitchens of three major facilities on campus, the Student Center, the Wolstein Arena, and Elements Bistro are collected and sent to an offsite in-vessel composting provider, Full Cycle Organics. Excess food left on plates in the dining hall is also scraped off and composted. On average, the program diverts 1000 pounds of organic material from landfill per week.
The Grounds Department at CSU sends all landscaping waste to be composted off campus.
Interested in composting at home? Check out the Guide to Backyard Composting (pdf) with information on making your own soil-enriching compost by building and maintaining a backyard compost pile with leaves, grass and other organic materials. 
CSU's Property Control department is responsible for recording and accounting for the university's nearly $51 million in property, including salvage, reuse, sale, recycling and disposal.  Property is routinely re-used internally and if that is not possible, items are recycled, sold by competitive bid to outside parties or otherwise destroyed.
CSU departments in need of desks, chairs, shelves and other office items should contact Property Control to see what items are available for reuse on campus. 
Secure paper destruction services are available for a small fee by contacting 216-875-9759.
Please be aware that departmental approvals should be sought before requesting a bin for secure paper destruction. CSU procedure requires approval to destroy records subject to the University's Records Retention Schedule. 
Learn about the confidential destruction process.
CSU utilizes the Xerox Eco Box program for recycling toner cartridges and used printing supplies.  Departments should collect their used or obsolete toner cartridges and when a box is ready for recycling, collection and shipping can be arranged by the Logistics Department. Call x2500 to submit a work order for pickup. There is no charge for this service. If your area generates significant volume, you can order (free) Eco Boxes and use the prepaid shipping label to return when full. 
Learn more about the Managed Print Services program and recycling options.
Clean and dry plastic bags, wraps and films can be placed in the designated bins in the lobby of Rhodes Tower near the library circulation desk. Here are some examples of acceptable plastic items: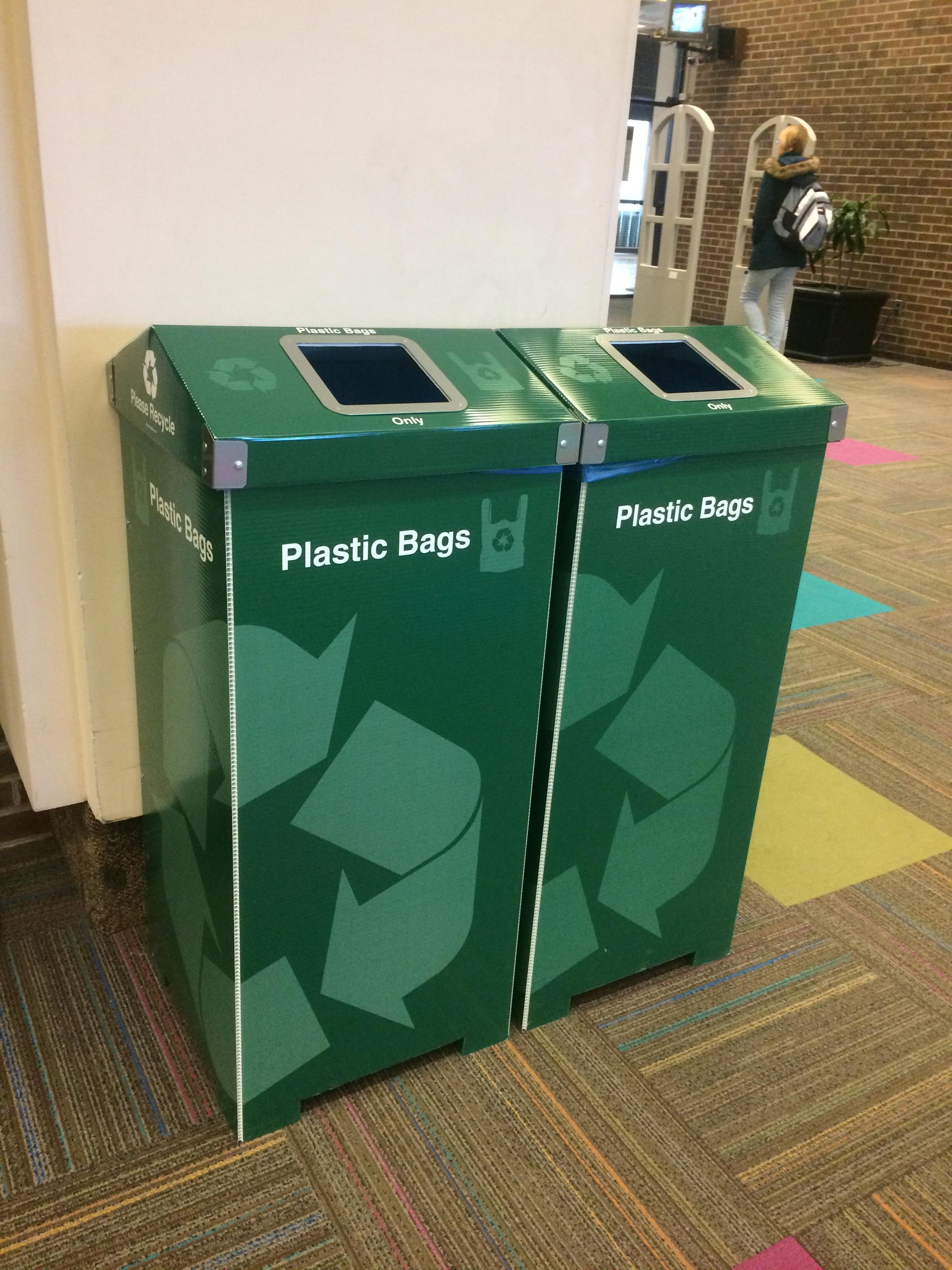 plastic shopping bags 
food packaging such as bread bags
plastic liners from cereal boxes
plastic wrapping from paper towels and newspapers
produce bags
dry cleaning bags (remove staples, receipts, hangers)
product shrink wrap 
bubble wrap and air pillows (popped)
Need more options? More than 18,000 retail locations across the country including large grocery chains, home improvement stores, Walmart, and Target provide collection bins for these plastic bags/wraps/film, usually in the storefront close to the main entrance.
Cuyahoga Recycles is a terrific resource to answer any questions about recycling and proper disposal of waste. 
Upcycle Parts Shop is a Cleveland non-profit dedicated promoting reuse and upcycling of materials for sustainable art and craft supplies. They accept vinyl banners, fiber, office supplies, design samples, art supplies, and much more. See their Donations Guide for information. 
Plastic Film Recycling is a website that can help locate facilities to drop off plastic film and grocery bags that cannot be recycled in regular curbside recycling programs.
Pass It On: A Resource-Full Guide to Donating Usable Stuff (pdf)
An award-winning guide that lists over 120 community service organizations that accept donations of usable materials to support their work. Use this guide to find a home for your unwanted sporting goods, computers, clothing, gardening tools, office equipment, household goods and more.
Donating unwanted items to various community donation centers can keep usable materials out of landfill and put them into the hands of those in need. Needs Cleveland, Easter Seals, West Side Catholic Center, Greater Cleveland Food Bank, Goodwill, and many others accept clothing, food, and a variety of personal care items. 
WHAT ELSE CAN I DO?
Remember that the phrase Reduce, Reuse, Recycle is in that order for a reason!
Reduce the amount of waste you generate by refilling your own water bottle and reusable coffee mug. The Student Environmental Movement put together this helpful flyer to show how much you can save on campus by bringing your own mug.
When you need to recycle something, look for the right bin!
See the Top Ten Ways to Reduce Waste on Campus.