The CSU campus is situated on 85 acres in downtown Cleveland. We operate more than forty buildings totaling 5.3 million square feet. All across campus, there are examples of initiatives to reduce waste and make daily operations more efficient. 
Water  |  CSU Dining  |  Information Services & Technology  |  Printing Services and Paper Use  |  Green Cleaning  |  Purchasing
Water is arguably the most precious of all natural resources. Living things cannot survive without it, yet it is undervalued and frequently wasted. 
The good news is that we're doing our part to reduce water consumption. In fact, CSU has recorded a 37 percent reduction in potable water use per square foot since 2005!
Refill stations
Single-use plastic water bottles create tons of waste! We've installed over 40 water bottle refill stations across campus to reduce plastic water bottle use and waste. See a list of filtered water refill stations on campus.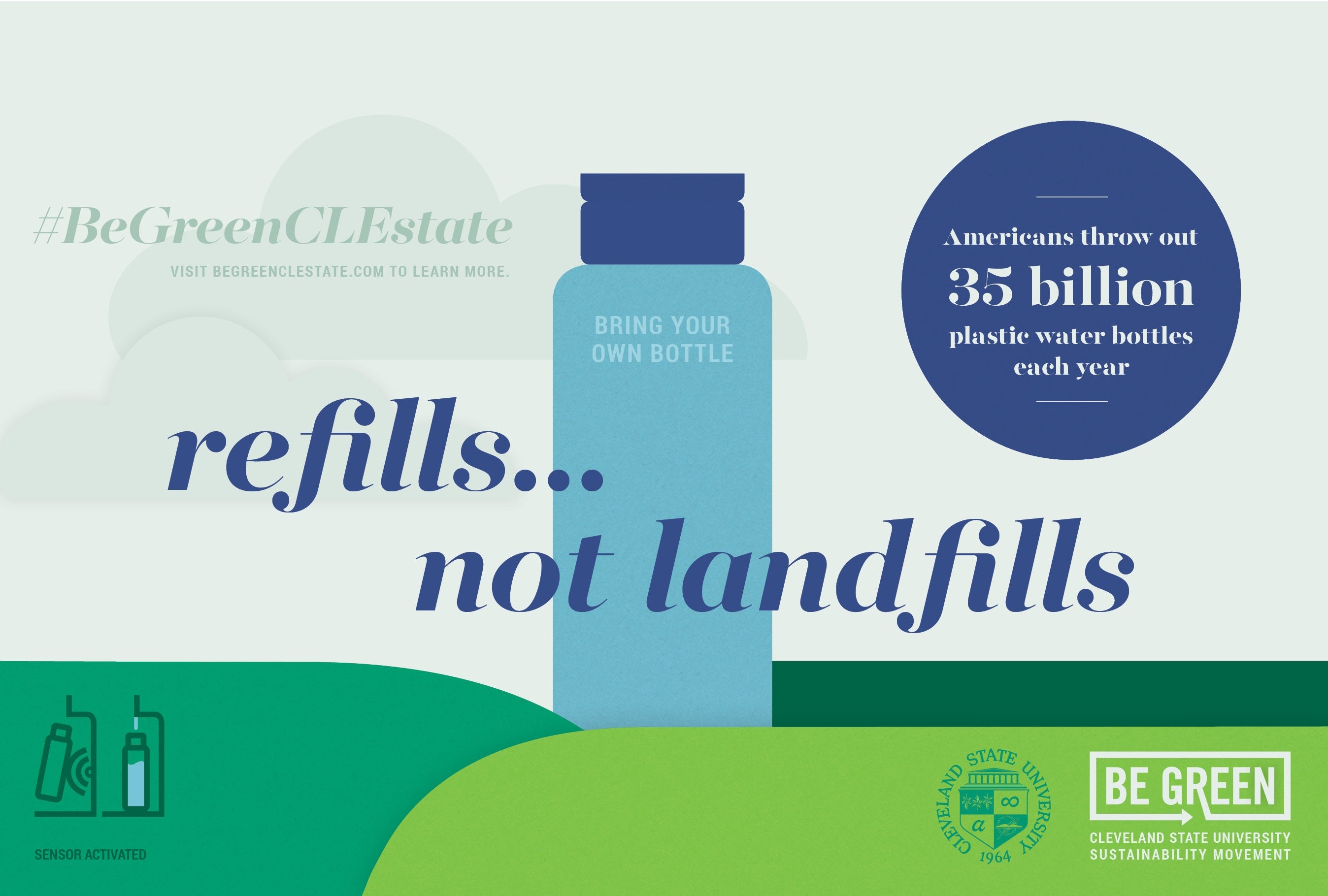 The average American consumed 36.5 gallons of bottled water in 2015. 76% of this water was in single-serve bottles for a total of about 52 billion 16.9 ounce bottles! The U.S. recycling rate for plastic bottles is 31.8% which means over 35 billion plastic bottles ended up in landfills. This represents more than $1 billion dollars' worth of wasted plastic each year.
Bring your own bottle and Reduce, Reuse, Refresh!
As if that weren't enough, you can save BIG by abandoning bottled water! Cleveland Water estimates that bottled water could cost an individual $1,757 per year while the same amount of clean and safe Cleveland tap water would cost only $.82!
References
Bottled water in the U.S.
Plastic bottle recycling rate report
CSU Dining sources a significant portion of their ingredients from local and regional sources. They are proud to use only cage-free eggs, antibiotic-free and free-range chicken and pork products, along with hormone-free dairy products.
They partner with the Monterey Bay Aquariums' Seafood Watch program to assure that all seafood served complies with strict sustainability requirements. 
CSU Dining uses only trans-fat free products, from cooking oils to baked goods.
By collecting all waste and measuring the total, management monitors how much edible food is being wasted.
CSU Dining composts food waste from the kitchens the Student Center, the Wolstein Arena, and Elements Bistro. On average, the program diverts 1000 pounds of organic material from landfill per week.
CSU Dining is dedicated to reducing waste and the Viking Marketplace is a tray-less dining facility using metal utensils and durable plates for dine-in meals.
CSU Dining offers a discounted rate for coffee purchased with a reusable mug.
100% of cooking oil is recycled!
All computers and monitors purchased by the Information Services and Technology (IS&T) department are Energy Star® rated.
An analysis of electronic devices purchased in 2016 showed that 86% of electronic devices (including computers, printers and peripherals) were certified as Gold, the highest level of certification in the Electronic Product Environmental Assessment Tool (EPEAT). EPEAT assesses lifecycle impacts of a device and ranks products based on a set of environmental performance criteria.
To reduce the ongoing energy consumption of IT equipment, all CSU computers come with a sleep mode or power management feature. IS&T installs and configures the power-down feature on all CSU owned PCs. To enable power saving settings on your computer, visit energystar.gov.
As part of CSU's Campus Wide Energy Conservation and Management Program, a Managed Print Services (MPS) program was adopted in partnership with Xerox. By consolidating printers and reducing printing consumables, the program:
Reduces energy consumption, emission levels and solid waste.

Achieves NE Ohio Collaboration and Innovation Commission recommendation to centralize the print management function.
Fulfills Governor Strickland's Executive Order 2007-02S which establishes a strategic vision for the State of Ohio supported institutions and agencies to reduce energy consumption, improve energy efficiency and adopt advanced energy utilization technologies.
Have you ever wondered how much paper we use at CSU?
Each year we use around 24 million sheets (48,000 reams) of paper. Roughly 2,880 trees are needed to make this amount of paper and if we stacked it up, the pile would be as tall as 22 Rhodes Towers!
Buy recycled!
We all need to print at times, and purchasing recycled content copy paper is best. The Office of Sustainability recommends the following 100% recycled content paper: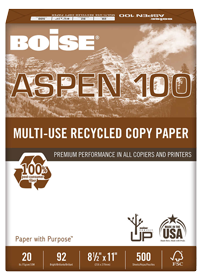 Boise ASPEN® 100 Multi-Use Recycled Copy Paper
100% post-consumer fiber content
99% Jam-Free performance guaranteed
FSC (Forest Stewardship Council) certified
Elemental Chlorine Free
Boise white-paper mills are triple-certified under FSC®, SFI® and PEFC™
Item # 125420
10 reams/carton (size 8 1/2 x 11)
Cost: $36.58 / carton
Best pricing is from GBEX. Ordering instructions:
On the MagnusMart main page, select GBEX, LLC punch-out supplier icon.
Enter item number into the search box.
See more recycled content copy paper purchasing options including 30% and 50% recycled content.
Printing: What can I do?
Utilize electronic resources whenever possible for distributing course material and meeting agendas
Only print the documents and pages you need
Make double-sided printing the default setting on all printers
Use the Print Preview function to ensure what you want to print is what you get
Reduce margins in order to maximize the space on every page
Proof your work on-screen (when feasible) instead of reviewing a hard copy
Use responsibly sourced or recycled-content paper
Share your green work habits with those around you!
All custodial supplies including cleaning products and paper products are centrally purchased in bulk to service the needs of the entire campus and reduce packaging waste.
In FY2017, expenditures on cleaning and janitorial products that are third party certified to meet recognized sustainability standards totaled 32%. Included in this figure are general purpose cleaning solutions and recycled content paper towels and toilet paper.
Cleveland State is committed to diversity and social sustainability and that commitment extends to our purchasing practices as well.
Fifteen percent of the annual total aggregate purchases of goods and services are to be set aside for bidding only to Minority Business Enterprises (MBEs).
Five percent of the annual total aggregate purchases of goods and services are to be targeted for EDGE (Encouraging Diversity, Growth and Equity) certified vendors, certified by the equal opportunity department of the state of Ohio. EDGE is Ohio's procurement preference program for minority-owned, women-owned, and socially and economically disadvantaged businesses.