Award Recipients
Seventy CSU undergraduate students will have the opportunity to work on research projects with faculty mentors during Summer 2017.  Forty-one proposals were funded across four colleges for a total of $288,000.
Seminars
Events
The Fall 2017 Undergraduate Research Poster Session took place on September 7, 2017 from 11am - 2pm in the Student Center Ballroom. Students and faculty discussed research that was funded by the Undergraduate Summer Research Award (USRA) Program and the McNair Scholars Program. The session included a total of 63 posters from five CSU colleges.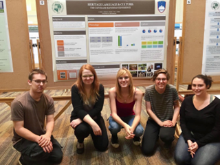 Kristen Burns, Lacey DiFranco, Dallas Turner, Samantha Paskert, and Joseph Peal earned first place (a $200 gift card) for their project "Heritage Language and Culture: The Cleveland Slovenian Experience," which was conducted under the supervision of Dr. Lydia Grebenyova, Director of Linguistics in the Department of Criminology Anthropology & Sociology (CAS).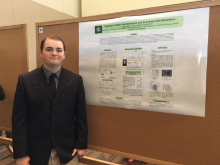 Joseph Keil earned second place (a $150 gift card) for his project "Synthesis of Sialic Acid Derivatives and Their Immune Cells Modulation," which was conducted under the supervision of Dr. Xue-Long Sun, a professor in the Department of Chemistry and a member of the Center for Gene Regulation in Health and Disease (GRHD).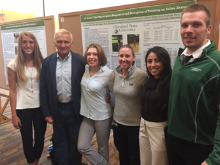 Karen Barrientos, Samantha Butterbaugh, Nicholas Chambers, Jamie VanDewerker, and Jessica White earned third place (a $100 gift card) for their research "Go Skate! The Physiological Responses and Perception of Training on Inline Skates," conducted under the supervision of Drs. Emily Kullman, and Kenneth Sparks, both associate professors in the Department of Health and Human Performance (HHP), and Kristine Fondran, an instructor in HHP.
There were many high-quality posters that provided an impressive demonstration of the scholarship and faculty-student collaborations that saturate the educational and research environment at CSU. The Office of Research congratulates all of the students and their mentors, and encourages undergraduate and graduate students to continue to be actively engaged in research.