The Office of Research encourages undergraduate and graduate students to become actively engaged in research as well. Please visit the sections below for more information.
Undergraduate Summer Research Awards: Best Poster Prizes Awarded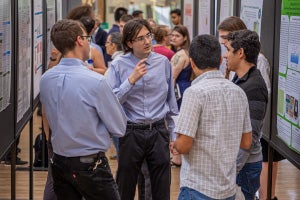 Undergraduate research students presented their work at the 2022 Undergraduate Research Poster Session on September 22. Students, faculty, and staff presented research that was funded by the Undergraduate Summer Research Award (USRA) Program and the McNair Scholars Program.
Based on faculty votes, the first place prize was awarded to James Iler (pictured right) for his poster titled "Protecting Information with Linearized Polynomials." With mentoring from Department of Mathematics and Statistics faculty members Dr. Hiram López and Dr. Ivan Soprunov and graduate student Kyle Traum, James developed an error-correcting code to protect messages from eavesdropping when transmitted over insecure channels.
Additional posters receiving awards were:
The Office of Research congratulates all of the students and their mentors, and encourages undergraduate and graduate students to continue to actively engage in research.
---
PhD Student Cory Orahoske to Present at Conference in Japan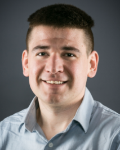 PhD student Cory Orahoske, has been selected to give a platform presentation at "The Annual Congress of International Drug Discovery Science and Technology" to be held in Tokyo, Japan May 10-12, 2023. He will present "Lead Identification via High throughput screen leads to molecular identification of Flagellum attachment zone 1 (FAZ1) filament as a binding partner of 6,7-dimethoxyquanizolone in Trypanosoma brucei" at the conference.
Mr. Orahoske is mentored by Dr. Bin Su, a professor in the Department of Chemistry and a member of the Center for Gene Regulation in Health and Disease (GRHD). The project is a collaboration between Dr. Su's lab and Dr. Bibo Li's lab.
---
Civil and Environmental Engineering Doctoral Student Receives National Recognition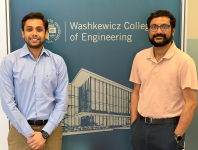 Doctoral student Yashovardhan Sharma has been awarded the 2021 Slag Cement in Sustainable Concrete Project of the Year research award. His project, titled "Effect of replacement of cement with ground granulated blast furnace slag on mechanical and durable properties of UHPC," received the award from the Slag Cement Association and will be formally recognized at the American Concrete Institute (ACI) convention in Orlando, FL in March.
Mr. Sharma is advised by Dr. Srinivas Allena, an assistant professor in the Department of Civil and Environmenal Engineering (CEE), whose research efforts include ultra-high performance concrete (UHPC).