Dr. Dan Simon Appointed
Associate Vice President for Research
I am pleased to announce that as a result of an internal search, by unanimous vote of the search committee, Dr. Dan Simon has been appointed Associate Vice President for Research, effective August 22, 2016. Dr. Simon will be responsible for leading and managing many aspects of the Office of Research efforts in research development, including strategic research advancement, communication of research and research opportunities, and proposal support functions. He will work with the Vice President for Research, as well as faculty, staff, and students to enhance the University's scholarly productivity and to improve the research environment.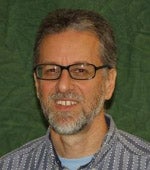 Dr. Dan Simon
Dr. Dan Simon is a professor of electrical engineering and computer science and director of the Embedded Control Systems Research Lab in the Washkewicz College of Engineering. He spent 14 years in industry before coming to Cleveland State University in 1999. He received a PhD from Syracuse University, an MS from the University of Washington, and a BS from Arizona State University, all in electrical engineering. At CSU he has conducted research on several technologies, including prosthetics, robotics, aircraft engines, motor control, electrocardiogram signal processing, environmental monitoring, and satellite design. Dr. Simon wrote two books and published more than 100 refereed journal and conference publications. As principal investigator, he brought over $2.5 million in research funding from the NSF, NASA, Cleveland Clinic, and industry. His current research includes rehabilitation robotics and the development of improved methods for food processing. He recently received the CSU 2015 Distinguished Faculty Award for Research.
Please join me in congratulating Dr. Simon on this appointment. Dan can be reached at 216.687.5171 or via email at d.j.simon@csuohio.edu, and his office is located in PH 210.
Sincerely,
Jerzy T. Sawicki
Vice President for Research
Cleveland State University