Below is a comprehensive list of research resources for faculty at CSU, including information on internal funding, external funding, innovative technologies, research compliance, and how to promote your own research.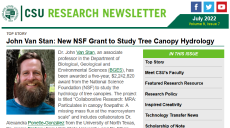 Please share with us important news or updates on your research, scholarly, or creative activities. Updates may be related to a paper that has been accepted for publication in a high-impact journal, a book you've just published, your work that will be exhibited at a prominent institution, or other updates you wish to share with our office.
You can see examples of featured research successes in our monthly newsletters. Send details to j.yard@csuohio.edu and b.j.ward@csuohio.edu.