Office of Research Subdivisions
@CsuResearch Magazine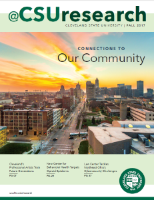 @CSUresearch is the official research magazine of Cleveland State University. The publication provides an overview of the outstanding scholarship being conducted by faculty and students on campus as well as the efforts CSU has taken to transfer technology, innovation and knowledge to the marketplace and the broader community.
Click here to view the magazine online.
Featured Researcher - PROF. Heidi Gorovitz Robertson
Heidi Gorovitz Robertson is the Steven W. Percy Endowed Professor of Law in the Cleveland-Marshall College of
Law
. Her research focuses on the intersection of environmental law, energy law, and property law. In a recent law review
article
, she addressed the issue of shale oil and gas extraction (fracking) as it relates to state laws and home rule statutes, which are often in conflict.
View more information about Professor Robertson by visiting her faculty profile page. We encourage you to take a look at all of our previous Featured Researcher Videos.
Quick Links - Office of Research