News and updates
(Most recent updates are listed first)


CCP ADMISSION UPDATES
CCP Orientation Sign Up:
Please use the link to sign up for orientation HERE 
CCP Continuing Enrollment Form
Please complete the CCP Continuing Enrollment Form if you are currently a CCP student looking to continue CCP classes next year. CLICK HERE
Applying to College Credit Plus
-CCP ADMISSION CORONA VIRUS UPDATES-
Summer 2022 Application Deadline:  April 15, 2022
Fall 2022 Application deadline:  June 15, 2022
Amended Admission Criteria for Summer and Fall 2022:
Eligibility determination and admission criteria is currently under review by the Ohio Department of Higher Education and legislators and will not be finalized until Spring 2022.
To apply to the College Credit Plus Program, you can apply online here.
College Credit Plus funding is available for Ohio residents. Applicants and participants who are not Ohio residents will not receive CCP funding and will be expected to pay out of pocket and may be subject to pay out-of-state fees. Applicants and participants who are not US citizens may not recieve CCP funding and may be expected to pay out of pocket and may be subject to pay out-of-state and/or international fees. Non Ohio residents and Non US citizens may petition for Ohio residency, though it is not a guarantee that it will be granted: https://www.csuohio.edu/registrar/ohio-residency
Note: The subject matter of a course enrolled in under the college credit plus program may include mature subject matter or materials, including those of a graphic, explicit, violent, or sexual nature, that will not be modified based upon college credit plus enrolled participation regardless of where course instruction occurs. This permission slip is required for all students admitted Spring 2022 and beyond.
May 11, 2018
Congratulations to our College Credit Plus CSMD #Top50 seniors!
****************************
CCP Alum Peng Zhou featured in Industry Week!
2016 CCP grad Peng Zhou was recently featured in an Industry Week article  about advancements in STEM in meeting the needs of the manufacturing industry.  Peng is now a student in the Washkewicz College of Engineering here at CSU.  Congrats!
Congrats to our scholars from all over NE Ohio!
Senior CCPer Brian Synek from Independence HS is the 2018 Blue Devils Valedictorian!  Brian is going to study accounting at John Carroll University in the fall.
Senior CCper Lara Shoukair has been accepted into the Chester Summer Scholars Program.  She will be shadowing and conducting research at MetroHealth Medical Center in preparation for her intended career in medicine.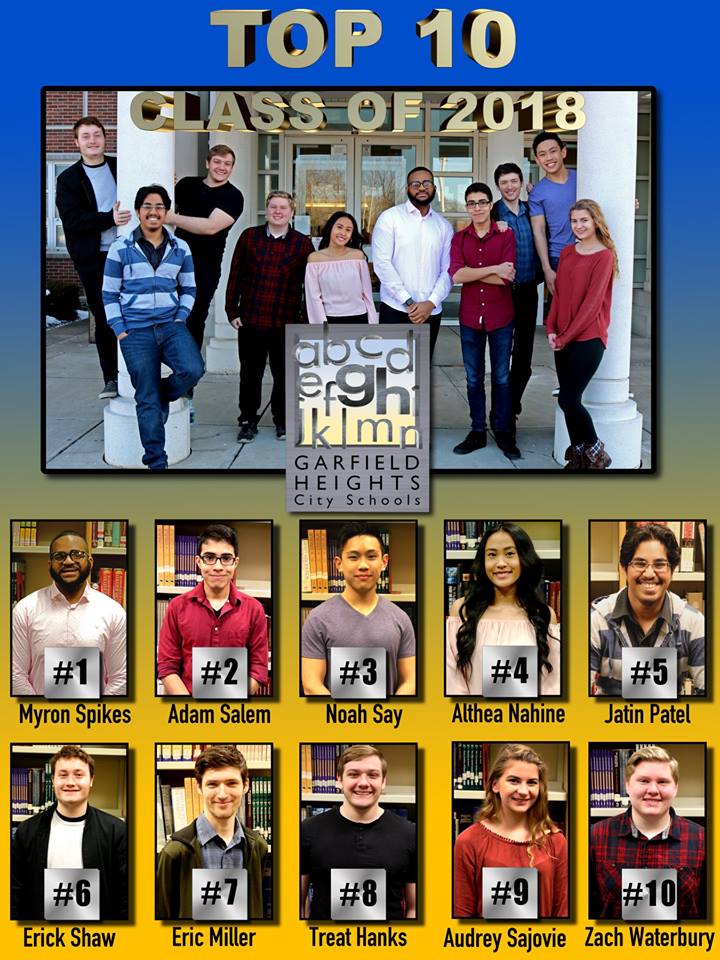 Myron Spikes, Adam Salem and Noah Say, top three students at Garfield Heights HS, are also students at College Credit Plus!  We congratulate them on their excellence here and in Garfield!
*Please note this information is updated each semester.
Need assistance?