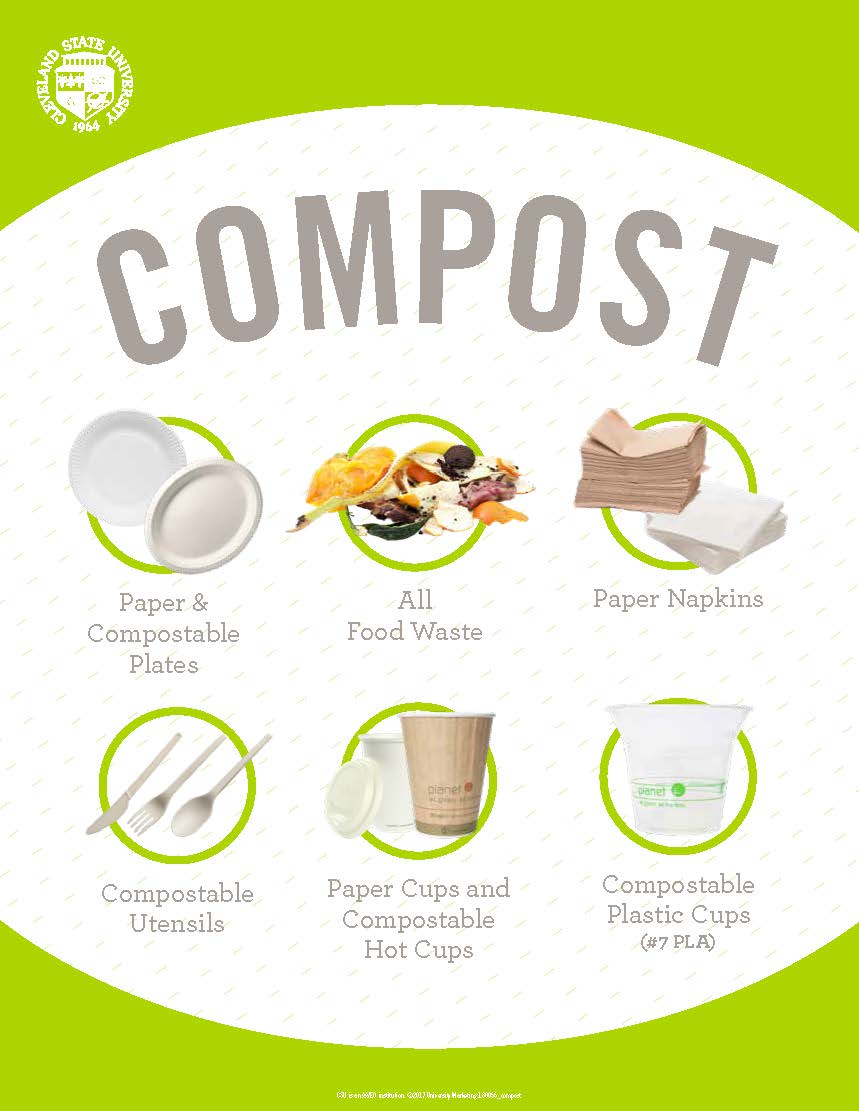 What is composting?
Composting is a natural decomposition process that turns organic waste such as leaves and vegetable scraps into nutrient-rich fertilizer.
What can I put in the compost bin?
All food waste and all compostable (bio-based) plates, utensils, hot cups, cold cups, napkins, and paper products can be placed in the compost bins. Bioplastics look like regular plastic but they say #7 PLA on the bottom.
Please continue to place all regular petroleum based plastic materials and metal cans in the designated recycling bins.
Do NOT put plastic film or packaging, aluminum foil, straws, bottles or cans in the compost bin.
What are these plates/cups/forks made of?
Cold cups and utensils are made from corn-based polylactic acid or PLA. Plates are made from bagasse sugarcane which is the pulpy byproduct of extracting juice from sugar cane. Coffee cups are made of paper lined with PLA instead of plastic. Our compostable products are Stalk Market brand, provided by Going Green Services, based in Granville, Ohio. Learn more about their products here.
Doesn't it cost more to purchase compostable tableware?
No. Compostable products are less expensive than the disposable black plastic items used previously.
Will all catered events receive a compost bin?
During spring semester, we will trial compost collection for events in the Student Center only. This building hosts a large number of campus events and already has a behind-the-scenes compost collection system in place. This trial will allow us to develop a successful collection process by seeing what works and what doesn't.
Where will the materials go?
Our composting service provider is Rust Belt Riders. Rust Belt Riders works with businesses, organizations and individuals to provide an alternative to landfills for food waste. They accept all food scraps including raw vegetables, cooked foods, citrus, coffee grounds, bones, meat and dairy.
Why is CSU switching from disposable items to compostable products?
There are many reasons to minimize use of disposable plastic items. Production of plastics is a major user of fossil fuels. It takes 500-1000 years or more for plastic to degrade. Only 31% of plastic is recycled in the US and plastic with excessive food contamination cannot be recycled. Much of the plastic waste generated on land ends up in the oceans where it floats on the surface and eventually breaks down into small particles that can harm wildlife when mistaken for food and eaten. Single use plastic items take up valuable landfill space and represent a waste of limited resources.
Is CSU composting anything else?
CSU Dining adopted a kitchen composting program in January 2017. Food waste is collected from the Student Center, the Wolstein Arena, and Elements Bistro. In 2017, the program diverted over 38,000 pounds of organic material from landfill! Additionally, all landscaping waste is composted off-site.
What else is CSU doing to reduce waste?
Students, faculty and staff have access to recycling bins for mixed paper, plastic and cans, cardboard, and batteries.
Other waste streams collected on campus for recycling include Styrofoam, shrink wrap, steel, tires, yard waste, computers and electronics, ink cartridges, lead acid batteries, motor oil, fluorescent bulbs and office furniture. Learn more here.
CSU Dining transitioned to a tray-less residential dining program which reduces water and electricity consumption. Additionally, Dining utilizes proprietary software to predict guest counts and prevent over-production of food, which can lead to food waste.
What else can I do to reduce waste and plan a green event?
Review the Green Event Guide or contact the Office of Sustainability for more ideas!
Top 3 Green Event Planning Ideas
Accurately forecast the headcount to ensure appropriate ordering and serving portions to avoid unnecessary food waste.
Serve food buffet-style instead of individually wrapped packaging. Ask for beverages in pitchers and bulk condiments.
Choose reusable banners, decorations, and signs. Leave off the date and use them again next year!
Still have questions?
Contact Jenn McMillin, Director of Sustainability, at j.mcmillin@csuohio.edu or x7462 with composting or recycling questions and for catering related questions, contact Joe Paoletta at joe.paoletta@compass-usa.com or x3805. 
Back to the COMPOST main page.