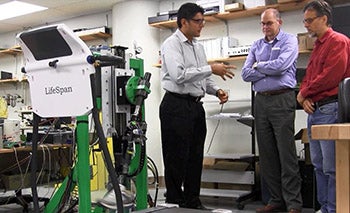 Dr. Dan Simon, Dr. Hanz Richter and Dr. Antonie van den Bogert of Cleveland State University's Washkewicz College of Engineering have been awarded a $1.5 million grant from the National Science Foundation for a four-year project to develop a prosthetic leg that emulates able-bodied gait and utilizes a groundbreaking energy-regeneration system.
This revolutionary new device promises to dramatically improve the quality of life for people with transfemoral (above-knee) amputations. With current prostheses, these amputees typically walk with a stiff-legged gait, which quickly can lead to other health issues.
"Our prosthesis will allow amputees to walk with the same natural gait as an able-bodied person and reduce the adverse health effects caused by inadequate prostheses," said Dr. Simon, a professor in CSU's Department of Electrical and Computer Engineering. "With our prosthesis, they'll be able to lead healthier and more active lives."
The team will conduct research in the new Parker Hannifin Human Motion and Control Laboratory at CSU, a state-of-the-art facility with a V-Gait treadmill that uses motion sensors and 10 cameras to capture human movement.
Their project is the focus of the latest installment of the CSU Office of Research's Featured Researcher video series.