Posted on February 7, 2019 at 4:14 PM, updated February 7, 2019 at 4:19 PM Print

Cleveland State University's waste reduction strategies were showcased in a video and article done by Spectrum News 1, a hyperlocal content network available exclusively to Spectrum subscribers across Ohio on channel 1. The profile highlights efforts made by the campus community in response to an awareness of large amounts of plastic waste being created from catering across campus.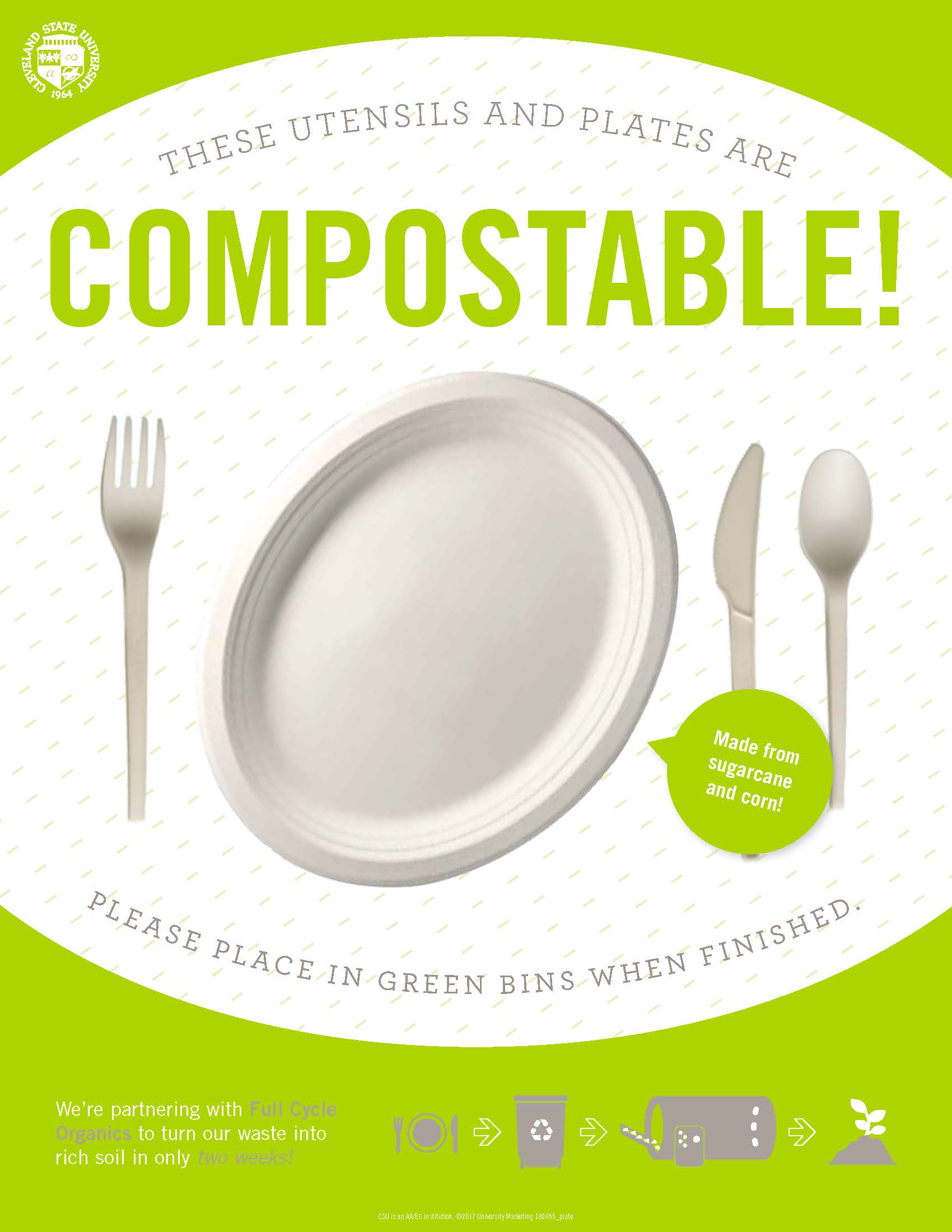 Access the Spectrum article here.

CSU's Director of Sustainability, Jennifer McMillin, spearheaded a yearlong effort to address the issue of waste production by using a two-prong approach.  The first prong to reduce waste was to compost food waste created on campus and the second was to replace the plastic tableware with compostable alternatives.

"We started off with a composting program for food waste, so dining was really helpful in getting a system put in behind the scenes so that any food waste from preparation was captured and composted," she said. "And then, about six months later we opted to replace the plastic tableware that was used in catering with compostable products that were made out of paper, and corn, and a sugarcane byproduct called bagasse." Jennifer McMillin

Efforts like this have earned CSU a spot in The Princeton Review's Guide to 399 Green Colleges. The schools on the list were chosen for their "Green Rating" score which is based on a school's sustainability-related policies, practices, and programs. 

"We strongly recommend Cleveland State University and the other fine colleges in this guide to the many environmentally-minded students who seek to study and live at green colleges," said The Princeton Review's Robert Franek, Editor-in-Chief.

As noted in the Princeton Review's 2018 "Colleges Hopes and Worries," 63% of students and parents report that having information on a college's commitment to the environment would influence their decision to apply or attend the school.

For more information about Cleveland State University's sustainability program, visit csuohio.edu/sustainability.