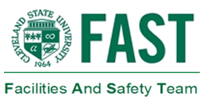 The Office of Facilities Management is part of FAST and adheres to serving CSU Campus in alignment with CSU and FAST Mission Statements.
The mission of Cleveland State Facilities Management is to operate and maintain a high-quality physical environment to enhance learning, teaching, and research. We serve other, non-academic departments and support the University's service to the community of Cleveland.
Facilities Management is a service organization dedicated to the success and satisfaction of the Cleveland State University community. Our responsibilities include routine maintenance and operation of buildings, grounds, and utility systems.
Basic Services
Facilities Management includes all activities necessary to operate, maintain, and provide services for University buildings, mechanical equipment and utilities to keep them in a satisfactory operating condition. All these services are provided to all University colleges and departments (except those classified as auxiliary services). Activities which are classified as building operations, maintenance and services are performed by Facilities Operations. These activities include building operational maintenance, custodial servicing, refuse removal and recycling, utilities services and distribution and other university services.