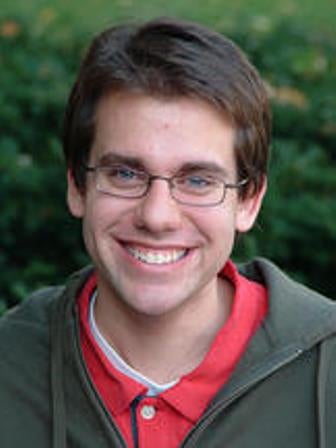 Alexander "Alex" Roth is a doctoral student in Chemical Engineering in the Washkewicz College of Engineering. He serves as treasurer of Graduate Student Association (GSA) and also holds a senate position with the Student Government Association.
Roth earned his B.S. in Biological Engineering and M.E. in Biological Engineering at Cornell University.  He also earned an M.S. in Chemical Engineering from The Ohio State University.  His goal is to become a teaching and research professor in chemical or biomedical engineering, focusing on development of therapeutics to pancreatic or glioma tumors.
He selected CSU for a doctoral degree because he wanted an intimate department with a good reputation for research and teaching and because he describes himself as one of the few people who enjoys long winters.  Roth shares his story and his interests in GSA below.

Cleveland favorites
As a native of metropolitan NYC, my favorite things about Cleveland are the abundance of museums, theater, and music, and the presence of many distinct neighborhoods- each with a different vibe.  I also like the die-hard sports fans. 
My best Cleveland "surprises": The Cleveland MetroParks System- really helps Cleveland retain its nickname as "Forest City".  The Cleveland Jazz Orchestra and after watching and listening to the Miles Davis tribute last fall, I am unable to understand how anyone could dislike jazz music.

Campus favorites
My favorite place on campus is inside my lab. I love waking up every morning, going to the lab, performing experiments, reading about my field, talking to my advisor, and interacting with the other students in my lab and the faculty, staff, and students in the department. My research group is especially close.  We try to help each other through our problems, eat lunch together every day, and socialize outside the lab.

Advice to graduate students
Always ask questions. Graduate school is tough and requires students to become independent. If you have trouble with your work, talk to your advisor, other graduate students, and other professors. Keeping your lines of communication open and constantly flowing, and having good time management skills are critical for success as graduate students.

GSA Involvement and service
It's important to know what is going on in the other departments of CSU outside your research bubble. I wanted to meet people and I wanted perspective.  I wanted to be an advocate for graduate students and I have a desire to be proactive in social events and graduate student advocacy.

Roth's Vision for GSA
The GSA should be an organization devoted to general graduate student life. Among these needs are social and entertainment events, student advocacy, and academic and career needs.  Recent programming has involved several food related events including pot lucks and barbecues.  GSA tries to address matters related to student interactions with their advisors and departments, and issues such as health insurance costs and cost of living expenses. Upcoming plans will involve events such as abstract and grant writing workshops and seeking additional sources of funding to go to conferences.

Joining GSA
All graduate students are invited to attend a planning meeting for the new academic year on May 20th, 12- 1pm in Parker Hannifin Hall, Rm. 103. 

Graduate Student Association membership is open to all currently enrolled and registered Cleveland State University graduate, professional, doctoral, and law students. For further information and to join GSA, click here.  Graduate Student Association's mission is to serve as a liaison for all CSU graduate students with the College of Graduate Studies; to provide CSU graduate students with an on-campus social and professional network, and to promote and address the interests of graduate students in all the different disciplines at the university in a fair and equitable way.