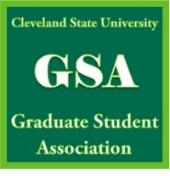 Graduate Student Association membership is open to all currently enrolled Cleveland State University master's, doctoral and law students.

MISSION
The mission and purpose of Graduate Student Association is to serve as a liaison for all CSU graduate students, to provide CSU graduate students with an on-campus social and professional network, and to promote the interests of graduate students in all disciplines in a fair and equitable way.
 
MEETINGS
Click here to view our Fall 2016 schedule and events.
General membership meetings are open to all graduate students.  Sign up to receive information about meetings and events.
 
Highlights
Spring '16: Graduate Student Appreciation Week was kicked off for the very first time with the guidance and support of dozens of graduate students who helped to facilitate and participate numerous graduate events and activities across campus.
Summer '16: Graduate Students volunteered for Orientation Leader roles for CSU's first Graduate Student Orientation in late summer. They welcomed more than 400 attendees who participated in the optional orientation event to learn more about Cleveland State University.
Fall '16: Cleveland State Graduate Students successfully lobbied for inclusion in Homecoming after a four-year hiatus. Congratulations Erica Henkin (Levin College) and Zack Pichler (Ahuja College) for their nomination to the 2016 Homecoming Court!
 
EXECUTIVE BOARD
Email Address:
GradVike@gmail.com
 
President Name/Primary Executive Officer:
Erica Henkin
 
Vice President Name/Secondary Executive Officer:
Alexander Roth
 
Secretary Name/Historian:
Nakia Okafor Roundtree
 
Treasurer Name/Budget Officer:
Zachary Pichler
 
Follow Or Contact Us
Email: GradVike@gmail.com    Web: orgsync.com/35303/chapter
This organization is subject, as a recognized student organization, to the rules, regulations, and policies of Cleveland State University and the laws of the State of Ohio. The rules, regulations, and policies of Cleveland State University shall hold precedence over all rules, regulations, and policies applying to the organization, including those of national associations with which the organization is affiliated.