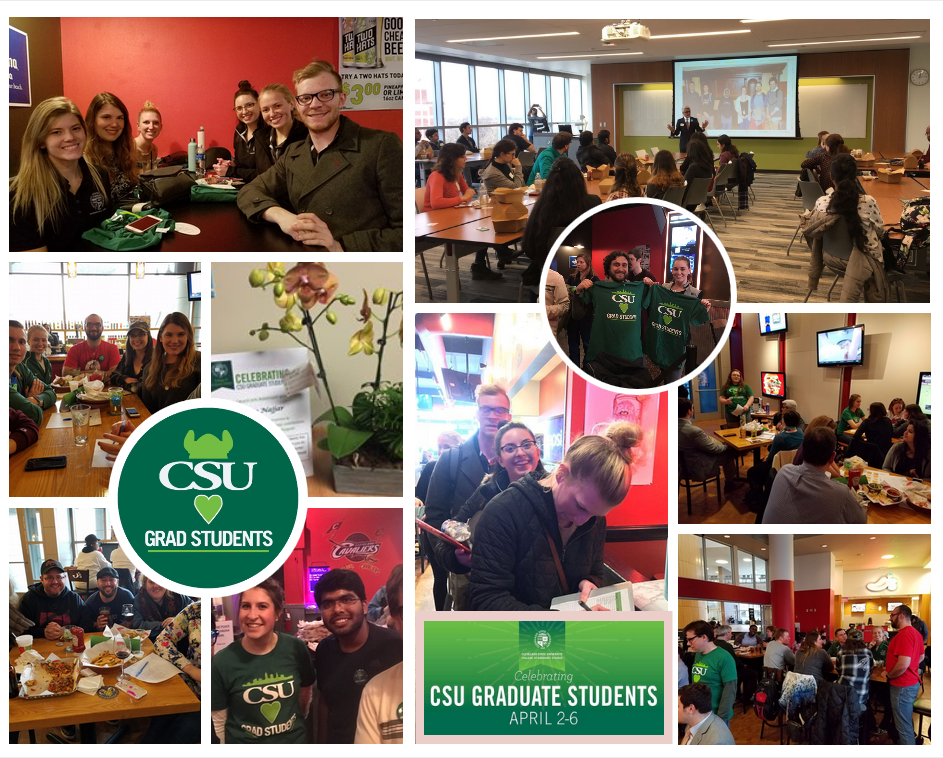 For the third year in a row, Cleveland State University joined the national celebration of Graduate Student Appreciation Week (GSAW).  The Graduate Student Resource Center and Graduate & Professional Student Association (GPSA) sponsored student events and activities all week long while colleges and departments also hosted activities for their graduate students. GPSA advisor, Patricia Otcasek, stated, "I saw more new faces than ever before and heard countless words of appreciation from students. We were joined by students from programs that had never before participated in GSAW or GPSA events, some of whom said this was their first campus activity ever!" Graduate Student Appreciation Week also led to a spike in membership to GPSA.
The first Graduate Student Appreciation Week started on a very small scale in 1993 by the National Association of Graduate-Professional Students and the celebration expands each year. The mission of the National Association of Graduate-Professional Students is to develop a network to connect graduate and professional students across the United States and facilitate the sharing of information and best practices to empower members.
Lunch with Dean Sridhar
During Graduate Student Appreciation Week, students were invited to a complimentary lunch to share their graduate school experiences with Dr. Nigamanth Sridhar, Dean of the College of Graduate Studies.
During the open forum, Dean Sridhar shared his interest in building greater graduate student engagement across campus. Questions, comments and suggestions for the Dean and the Graduate & Professional Student Association (GPSA) officers were discussed during the hour-long luncheon with master and doctoral students.  Among the many topics covered, the greatest areas of interest involved funding for assistantships, finding affordable health insurance, improving the advertising of graduate assistantships, gaining greater Career Services support, adding an RTA U-Pass option for students in online classes, and creating more opportunities for student research collaboration across the University. 
Dean Sridhar looks forward to working with GPSA to address student priorities.  He encouraged attendees to become involved and to take on leadership roles in GPSA.