I.  Graduate Student Fall Awards Program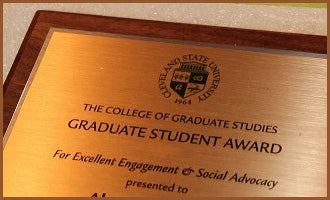 Award Submissions Due by January 15, 2021 at noon
The College of Graduate Studies invites eligible graduate students to participate in the 2020/2021 Graduate Student Awards Program (Fall Semester) and the 3MT Competition (Spring Semester).  ​​​​​​​The awards programs recognize graduate student achievement across multiple categories with monetary awards ranging from $250 to $500.  Award categories include:  Research and Creative Scholarship, Thesis and Dissertation, Teaching, Engagement and Social Justice Advocacy. 
Participant Eligibility
Cumulative GPA of 3.0 or better 
Current CSU graduate students or no more than one year post-graduation
Request a nomination from a member of CSU Graduate Faculty
Participants must follow all Awards Guidelines linked above​​​​​​​
---
​​​​​​​​​​​​ II.  Three Minute Thesis Awards Program
Originally developed by the University of Queensland, the Three Minute Thesis is an awards competition that enhances skills of communication and presentation. Presenting an oral communication of master's or doctoral research in three minutes or less to a non-specialist audience can be challenging to students and professionals alike. Learn how to effectively summarize your research and make a perfect pitch that is designed for all audiences.
A unique feature of the College of Graduate Studies Awards Program is that in addition to the awards competition, participants will have training and development opportunities to maximize skills in building, improving, practicing, and presenting your pitch, while gaining valuable feedback from experts and peers. ​​​​​​​ 
The Awards competition, hosted by the College of Graduate Studies, will be held in mid February. Monetary prizes will be awarded, $500 (first place) and $250 (runner-up). The first place winner will represent CSU in a virtual 3MT competition sponsored by the Midwestern Association of Graduate Schools (MAGS) in March 2021. 
TOP REASONS TO PARTICIPATE IN 3MT @ CSU
Learn a priceless skill that will serve you throughout your career and profession.
One of the many perks of the 3MT Awards Program is the free training with past 3MT award winners, staff, and faculty.
Build attention to and understanding of complex research at all stages of life as a student and as a professional. 
Receive a free videotaping session with CSU's Videographer and a link to keep and share electronically.
Build confidence and comfort for future presentations to peers, employers, investors, entrepreneurs...
Gain recognition and eligibility for prizes in the College of Graduate Studies 3MT Awards Program. 
CSU 3MT Builds Skills!  (Click on news caption below)