It's OK to ask for help.
You don't have to handle it alone!
At CSU, you are NOT alone. You are part of a community and 
we are here for each other. There are many helpful resources 
on and off campus with people who understand how you feel. 
And they can help you get back to really feeling okay again.
HAVE YOU EVER BEEN ASKED "ARE YOU OK?"
AND ANSWERED "YES" EVEN THOUGH YOU WERE NOT?
There is no reason to wait.
Call the Counseling Center at 216.687.2277 or check out our full list of resources
If you are concerned about a friend, student or co-worker, consult our Response Guide to see what steps to take.
If you are interested in helping with suicide prevention at CSU, check out the Peer Educators or Suicide Prevention Team.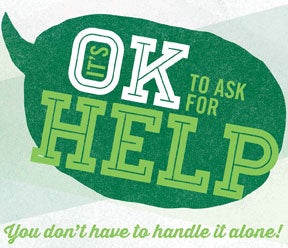 Cleveland State University has joined the JED Campus Program, a nationwide initiative of The Jed Foundation designed to guide schools through a collaborative process of comprehensive systems, program and policy development with customized support to build upon existing student mental health, substance abuse and suicide prevention efforts.