FREE ANXIETY-DEPRESSION SCREENING 
From the CSU Counseling Center Staff
It Only Takes 5 Minutes!!!
Tuesday, February 25, 2020, 11:30AM - 1:30 PM
Student Center Ballroom
The Counseling Center is here to support and empower our diverse student community!
Call us at 216-687-2277 or walk in at the Union Building, Rm 220 (1836 Euclid, above Rascal House) to get connected for:
Coping skills groups
Group therapy
Individual therapy
Crisis consultation
Couples therapy
Psychiatry services
ADHD/LD assessment
Academic skills workshops
Workshops tailored for your group
After-hours phone counseling
Office Hours: Mon. – Fri. 9 – 5
Crisis Walk-In: Mon. – Fri. 1 – 3
Some 5:00 sessions by appointment
After-hours phone counseling: 216-687-2277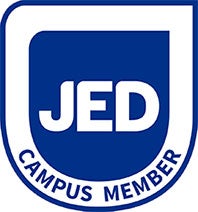 CSU is a JED Campus, part of a nationwide initiative to prevent suicide. Watch the video below to learn more about CSU students and suicide prevention, and check out VikesCare to see how you can help!
How to contact us:
To find out more about the services offered by the Counseling Center please stop by (UN 220) or contact us at 216.687.2277.  You will be scheduled for a 20 minute referral phone screening with a counselor within 2 business days. The screening counselor will help connect you to one of our coping skills or therapy groups, see if individual therapy or psychiatry is needed, and offer other helpful resources.
Crisis walk-in sessions are available from 1pm to 3pm Monday through Friday.  At these times, you should be able to meet with a counselor shortly after your arrival.  If you are in crisis outside these times, please come anyway, and the first counselor available will meet with you. Outside of business hours, call us to connect with a phone counselor.
The Counseling Center is accredited by the International Association of Counseling Services Incorporated (IACS), and our Doctoral Internship in Health Service Psychology is Accredited by the Commission on Accreditation of the American Psychological Association.