Welcome to the Counseling Center at Cleveland State University. We provide a wide range of services to students, faculty, and staff. We offer academic, career, and personal counseling, consultation and outreach programming, training, group facilitation, and other services aimed at helping individuals and groups who are members of the campus community meet their respective personal and professional goals.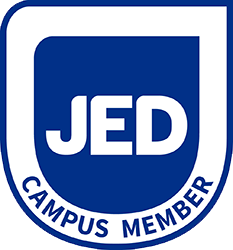 The Counseling Center is accredited by the International Association of Counseling Services Incorporated (IACS). The CSU Counseling Center is a member of the Association of Psychology Postdoctoral and Internship Centers (APPIC) and offers professional psychology internships that adhere to APPIC guidelines.
Cleveland State University has joined the JED Campus Program, a nationwide initiative of The Jed Foundation (JED) designed to guide schools through a collaborative process of comprehensive systems, program and policy development with customized support to build upon existing student mental health, substance abuse and suicide prevention efforts.
Office hours are Monday - Friday 9-5
with sessions available by appointment at 8:00 am and 5:00 pm
If you call during a time that the office is not open, you will be given the option to speak to a counselor on the phone.  The counselor will be available any time of the day or night and can offer support and information as needed.  
How to contact us:
To find out more about the services offered by the Counseling Center please stop by (
UN 220
) or contact us at 
216.687.2277
.  You may also stop by or call to set up a phone screening with a counselor.  The phone screening will be scheduled within a few days from your request and will last approximately 15 minutes.  The phone screening is designed to help determine what services are best for you.  At the end of the screening, the therapist will offer you a list of options tailored to your needs.  Common options include individual counseling at the counseling center, referral to counseling in the community, group counseling, workshops, and/or referrals to CSU and non-CSU resources.  
Please note that walk-in sessions are available from 1pm to 3pm Monday through Friday.  If you are in crisis and come to the counseling center during those times, you will be able to meet with a counselor shortly after your arrival (usually within 15 minutes).  If you are in crisis and cannot come to the Counseling Center during those times, you may come at another time the Counseling Center is open (9am to 5pm Monday through Friday) and a counselor will meet with you as soon as possible.