Posted on November 15, 2023 at 4:59 PM, updated November 15, 2023 at 4:59 PM Print
Multidisciplinary team will develop assistive robotics for people with spinal cord injuries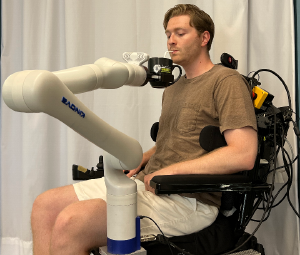 An interdisciplinary team of researchers at Cleveland State has been awarded $500,000 under the State of Ohio's Third Frontier Research Incentive program to develop new technology that assists people with spinal cord injuries (SCI). The project, titled Bringing Robot Assistants into the Homes of People with Cervical SCI, is led by researchers Dr. Eric Schearer, an associate professor in the Department of Mechanical Engineering (MCE) and director of CSU's Center for Human-Machine Systems (CHMS), Dr. Gina Kubec, a clinical assistant professor in the Department of Occupational Therapy, and Dr. Nicholas Zingale, an associate professor in the Maxine Goodman Levin School of Urban Affairs and a co-director of the CSU T.E.C.H. Hub.
The research team will bring their collective expertise in robot control, experimental phenomenology, and occupational therapy into a partnership with SCI consumer advocate Ian Burkhart. Mr. Burkhart also brings lived SCI experience, which is critical to brining a bidirectional flow of ideas between the developers and users. The project will focus on defining and delivering the basic functionality that allows early adopters with cervical SCI to control, hands-free, a fully portable robot to reliably complete meaningful feeding tasks in their homes.
The team will create robotic intelligence software that will allow people to use existing interfaces to control existing assistive robots. They will work directly with Control Bionics (Milford, OH) to integrate the robotic assistance system with Control Bionics' suite of technologies that allow people with physical disabilities to interface with devices without using their arms and hands.