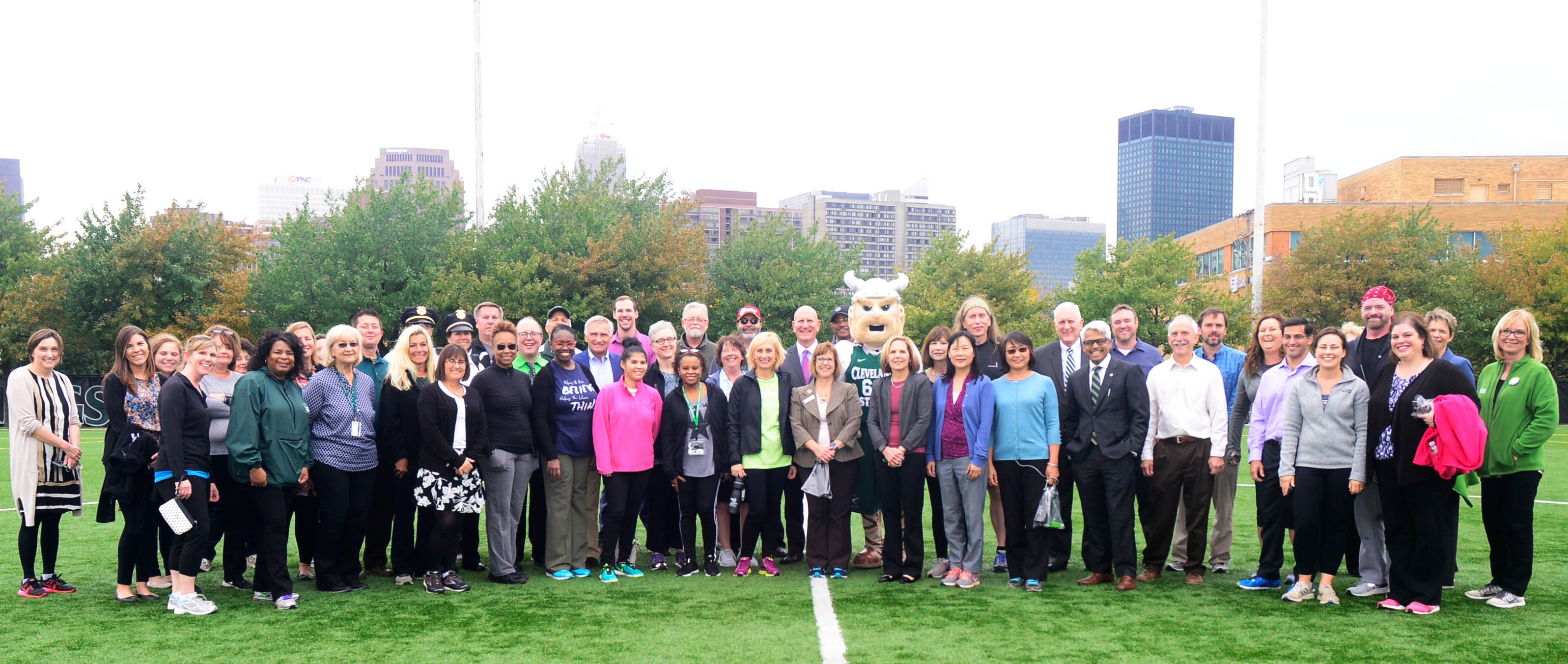 Cleveland State University (CSU) and CSU senior management provide a supportive culture of health and well-being. CSU's VikeHealth & Well-Being initiative provides robust employee health and well-being programs, incentives, services and resources. CSU senior leaders value employee health and well-being, share their health stories and walk the talk at a VikeHealth event.
CSU Senior Leaders Share their Health Stories:
Peter Meiksins,
Vice Provost,
Academic Programs
I've been running since my early 30s – I started soon after I started my first academic job (teaching at SUNY-Geneseo). I was gaining weight, bored and stressed out by the experience of being a new faculty member. Running turned out to be my yoga. Not only did it get me in shape, but my state of mind improved dramatically. I also discovered a subculture of runners with whom I could share experiences, talk at races, and compete with when I felt like it. I'm still running 30-plus years later and, while I'm a lot slower, I still get the same benefit from it. Since I can't run as much as I used to, I've started using the Rec Center as well, and find that it offers me the same benefits: feeling better physically, feeling part of a community of people who are all trying to stay fit, and getting away from the stresses of the work day. I find that exercise reduces my stress levels and improves my overall mood. I often have good ideas while I'm exercising that I can apply to work tasks. I also try to limit the amount of meat I eat and eat a lot of fresh fruits and vegetables. I am happy to say that I don't have any chronic health conditions to manage and I think regular exercise and a healthy diet help explain why! One of my goals is to stay fit enough to enjoy a full life. I'm now in my 60s, but I want to be able to keep traveling, to be completely mobile, and to be able to take long walks or do strenuous things outdoors. Exercising regularly and eating healthy helps me to be able to do those things!
 
---
Anette Karlsson,
Dean of Washkewicz College of Engineering
Growing up, I found it relatively easy to be active and eat healthy.  It really wasn't until I was pursuing my doctorate degree that it became more difficult to prioritize my health. As I neared my 30's, I noticed family members and colleagues gaining weight and getting out of shape.  It was around this time that I looked in the mirror and realized that I was doing the same.  My clothes weren't fitting the way they used to and I didn't like the way I felt.  I realized that I needed to add exercise to my schedule and make the time to be healthier. It was then that I started becoming more disciplined in terms of my exercise and eating habits.
I meet a friend at 5:00 a.m. each weekday morning at the gym to exercise before work to make sure I get a workout in.  The day usually gets too busy for me to exercise later in the day. We run, use the elliptical machines, lift weights and do a variety of exercise. Having a workout partner is helpful to me because it helps hold me accountable, motivates me to go to the gym and makes working out more enjoyable. I also walk to and from work when the weather is nice and get at least one workout in on my own over the weekend.  Sometimes I participate in running events just for fun, not to compete, because I enjoy meeting people and the energy at the events.
I find that exercising helps me sleep better and feel better overall. I also like to think through work problems while exercising. Whether I am working on the budget, research or a project, I find that problem-solving while exercising helps me think through it better. I feel that exercise is important to me not only because it gives me more energy, but because it makes me feel better about myself.
I never buy processed foods, chips and don't eat meat. I try to eat a lot of vegetables and some seafood. When I eat pasta and sweets, I try my best to watch the serving sizes.
My family has a history of heart disease. Obviously, I want to prevent the onset of any chronic health conditions.  Yet, I prioritize my health, eating healthy and exercising because I truly enjoy that way I feel more energetic throughout the day, feel better about myself, and get more quality sleep.
 
---
Jeff Karem,
Chair & Professor,
English Department
Throughout high school and college being fit just came naturally because I played sports and ate healthily. However, following the birth of my first child 17 years ago, staying fit became a challenge. As a professional trying to make tenure and to be a parent, I struggled to make time to exercise. I began gaining weight and my health numbers were getting worse. With a family history of heart disease and high cholesterol, my primary care physician said that my lifestyle needed to change if I wanted a healthy future.
I slowly started getting back into the habit of exercising. Starting with 30 minutes per day, I gradually increased the time I spent exercising as I got back into the habit. I began doing activities such as swimming, biking, and eventually running. Over time, exercising helped improve my health numbers. In fact, I believe that exercise was the most important contributor to decreasing my cholesterol and improving my overall health.
Exercise is now an enjoyable part of my daily schedule. I run outside most days of the week, occasionally visiting the CSU Recreation Center to play soccer and when there is inclement weather. As a person who does not like sitting still to meditate, running is my time to reflect and to collect my thoughts.  My exercise and runs allow me to clear my head, plan lectures, feel more relaxed and energetic, and focus my mind for work at CSU.  I also like to stay active on the weekends by doing activities with my family. I play soccer and basketball with my sons, and we go biking and kayaking to enjoy the outdoors as a family.
Although my eating habits were generally healthy, I began eating more whole grains and less meat after realizing my cholesterol was too high. My family loves to garden and cook healthy meals, so we eat a Mediterranean diet during the week and reserve meat for weekend cookouts. We try to eat as healthily as possible, even sneaking whole grains into rice or couscous so the kids will eat it too.
My colleagues and I talk about our workouts, share healthy food, and encourage one another. There is a nice culture of healthy living within the English department that I believe benefits all of us.
Although I began my healthy living journey to prevent heart disease, I don't exercise out of fear, but because I enjoy it. I enjoy having a healthy mind and a healthy body. I am looking forward to living a long, healthy life, and watching my kids grow up to become CSU Vikings!
 
---
Elliott Ingersoll,
Professor & Chair,
Counseling, Administration, & Adult Learning
I have heard that one's body is a temple and others who say it is an amusement park. I have tried to walk a middle road between those two ideas. I have always had to be fit but for the last 20 years it has been imperative. My brain is a basic 20th-Century, baby-boomer, ADHD model and early in life I learned that my brain focuses much better when physical activity is part of my day. I am by nature an intense person so I tend to do everything "full throttle." This requires being in good shape.
I have had several spine injuries and in the past ten years a lot of arthritis and cartilage loss. Through physical therapy, I was able to improve to the point I could do modified Cross-Fit. About three years ago I had to quit Cross Fit because I just could not do Olympic lifts anymore. At the time I thought it was the end of the world. I came to understand that accommodating the changes that come with age can be done and I can still keep moving!
Three years ago I started the Fit for Life program that CSU offers through the Health and Human Performance department in the College of Education and Human Services. When I began my chronological age was 53 but my "real age" was 64. That was a shocker and related to decreased flexibility, increased blood pressure and excess weight. Since working with the Fit for Life program my real age dropped from 64 to 46 while my chronological age increased to 56. That program really helped me monitor diet and blood pressure. The trainers there worked around my injuries and taught me new ways to push myself that worked for my body (e.g., swimming rather than running; mixing weight training with body weight cardio). The diet changes encouraged by Fit for Life helped me drop 15 pounds.
The majority of people in my family live well into their 80s and 90s and I know if I am so lucky, I will have to keep making changes as aging takes its inevitable toll. Because of the Fit for Life program, it is easier for me to accept this as part of life and I no longer see it as the "end of the world." That has been a huge shift for me as well.  I will always find a way to keep moving!
 
---
Meredith Bond,
Dean and Professor,
College of Sciences and Health Professions
Eating in a healthy way and exercising has always been a part of my life.  When I was growing up, my father made it clear that if I smoked he would be very unhappy indeed.  I never even considered smoking!  I am thankful for my father's guidance.  I know how difficult it is for so many others to quit.
Working at the Cleveland Clinic and at the University of Maryland School of Medicine, before coming to CSU, I performed research on cardiac failure and heart disease, collaborating with surgeons who performed heart transplants. Thus I am well aware how much one's daily health habits influence one's risk of getting a chronic illness.  I see friends and colleagues who struggle with health issues. It motivates me to make sure I prioritize my own health.
Over the last 15-20 years, I have been much more attuned to eating in a healthy manner, exercising, maintaining a healthy weight, getting preventative health screenings and doing all I can to be healthy.
I get up early each day to do some cardiovascular exercise, stretches and weight training.  For a good part of the day, I work standing at my desk. I walk throughout the day to help me think more clearly, and make sure I achieve 11,000 steps per day. I play tennis enthusiastically because I enjoy its social and physical benefits.
I go out of my way to eat in a healthy way. Because of its negative health effects, I haven't had a soda for longer than I can remember. I try my best to eat fish, vegetables and fruit.  I am fortunate that my husband enjoys cooking in a healthy fashion at home.
Personally, I try to encourage healthy food and healthy habits among my colleagues when I can, because I care about everyone's health.
 
---
Gregory M. Sadlek,
Dean and Professor,
College of Liberal Arts and Social Sciences
While it is not true that all great works of art or intellect arise only from healthy bodies, over the long term, I believe that we can achieve our highest productivity and reach the highest quality of life by maintaining our bodily health.  This involves eating a healthy diet, exercising regularly, and avoiding tobacco.  There is no magical fountain of youth, but daily exercise comes the closest to it, and, indeed, I believe that daily exercise becomes increasingly more (rather than less) important as we age.  However, we must establish those healthy habits when we are young.  I am now well into my 60s, and I exercise regularly to keep up energy levels, to maintain a healthy weight, and to reduce the stress that comes with my job.  As a result, I believe that access to a high quality rec. center is one of the best perks of our employment at CSU.

 
---
Dr. Elizabeth A. Lehfeldt,
Dean & Professor,
Jack, Joseph & Morton Mandel Honors College
When I was diagnosed with breast cancer in 2010 I felt like my body had betrayed me.  I had spent a lifetime exercising regularly and trying to take good care of myself.  Four years earlier I had begun running and loved it.  I soon learned that nothing could have been further from the truth; my body had not betrayed me and, in fact, was there for me.  As I recovered from a major surgery and weathered eight rounds of chemotherapy and 28 rounds of radiation, I realized that my good health and strong body served me exceedingly well.  I only spent three nights in the hospital and maintained a regular work schedule during chemo and radiation.  I could not have done this had I not been healthy before my diagnosis.
 
As soon as I finished radiation I began building back up to running again.  I ran a 5K fifteenth months after my original diagnosis.  And two years ago I ran my first half-marathon at the age of 50.  Running makes me feel strong and makes me forget that I wasn't athletic or good at sports when I was growing up.  Also, as I tell everyone, running is my therapy.  Even if there were no physical benefits to running, I would do because it's the best way I know to manage stress.  

In all, I tell my story in the hopes that some small piece of it will be useful to someone else. I was surprised when I was diagnosed at how many people shared their stories with me.  If I can pay forward any small portion of the generosity I experienced then, I'm happy to do so.
 
---
Bill Kosteas,
Chair and Associate Professor,
Economics Department
Some of my fondest memories from childhood come from playing soccer and having my father as our coach. Staying active isn't just about health. For me it is another way to spend quality time with family and friends. Following in my father's footsteps, I coach my older son's soccer team and hope to have the opportunity to do so with my younger son as well. Taking family hikes in the Metroparks and looking for snails, interesting birds, and unusually shaped fungi builds great memories.

As a child, I was always active with my friends, whether we were swimming, playing whiffle ball or soccer in the yard, or inventing games like "swimming pool baseball." My passion for working out truly took hold after I started wrestling in the 8th grade and has held firm ever since.  My childhood years have also had big impact on my eating habits. Mom always made home-cooked meals, typically traditional Greek foods, including a lot of seafood and vegetables. No matter how busy we were, we always ate together as a family. I started out with a supportive family foundation, which is a big credit to why I've been active and healthy most of my life.  

Suffering from an underactive thyroid gives me added incentive to stay active and eat healthy. Keeping my sweet tooth in check poses a significant challenge (especially since my wife makes an incredible baklava) but I know I have to be careful. I am active almost every day. I start each morning with warm ups and stretching and stretch every night as well, which I feel is a key part of being able to stay fit and active as I get older. My weekly routine revolves around playing soccer a couple of days per week and lifting weights 2-3 days per week. I play soccer every Friday morning with CSU colleagues – we all look forward to having fun and being social while we stay fit.

My wife and I work hard to give our sons good eating habits and a sense of adventure when it comes to food. I have yet to meet a cuisine I did not like, but I especially love fresh seafood and traditional Greek dishes. I used to start the day with a small breakfast, but over time I found that it is very important to eat a large, healthy breakfast every morning, including foods such as eggs, vegetables, fruits, and nuts. This helps me have ample energy and avoid being hungry early in the day. Otherwise, I find myself reaching for snacks by mid-morning.

Too many people view exercise as something they have to do instead of something that's fun. I think the best thing to do is make it fun and enjoy the social aspects while staying healthy.  I exercise to relieve stress and have time to myself. Research shows that exercise improves mental function and my own work has shown that the well-established correlation between earnings and regular exercise may be a causal relationship. I believe my healthy habits make me more productive at work and help build a better quality of life with my family, colleagues and friends. I enjoy exercising and eating healthy, but I also want to be healthy and active for a long time to see my kids and grandkids grow up.