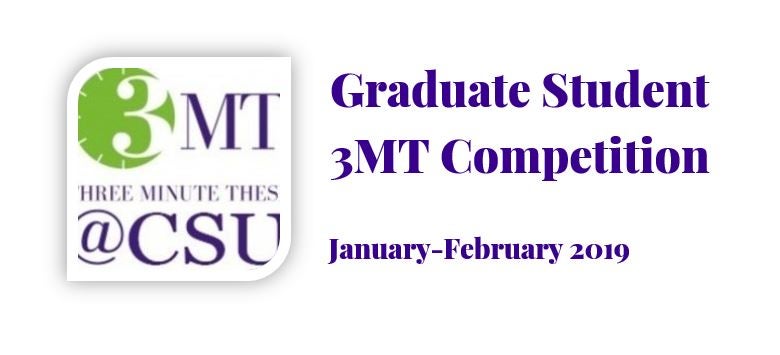 Presentation and Performance Workshop
Parker Hannifin Hall #103
Tuesday, January 29, 2019
4:00-5:30pm
Are you deep into your studies or research with endless labwork, projects, or data?   Do others appear confused when you try to explain your work?  Is anyone really paying attention? Learn to make an effective and engaging presentation in 3 minutes or less. Gain valuable exposure! 
Improve your ability to communicate your research for your own advantage or for competition.
Rise above the competition and build the attention and the audience that your work deserves.
Summarize your research in no more than three minutes to a non-scientific audience.
Learn from these experts how to captivate your audience with a crisp presentation and a captivating performance:
Rakshit Shah, 3-Minute Thesis winner 2018,
Ph.D. student, Department of Biomedical Engineering

Rakshit will share his experience with 3MT as CSU's first place award winner 2018 and tell you what you need to know about the regional competition.
 
Russell Borski, award winning and nationally-recognized director
Assoc. Professor, Department of Theater and Dance

Professor Borski will help you develop the essential presentation elements of preparation and performance by demonstrating methods to best sell yourself and your message with voice, presence, tone, movement, etc.
Free 3MT videotaping sessions will take place in March 2019. Use your video to introduce yourself or your research in your email signature, CV or resume, social media, and other creative ways.
NOTE:  Participants in this workshop are not required,but highly encouraged, to participate in the CSU 3MT competition in February.
This workshop is brought to you free of charge and in collaboration with the CSU Department of Theatre and the Graduate & Professional Student Association.