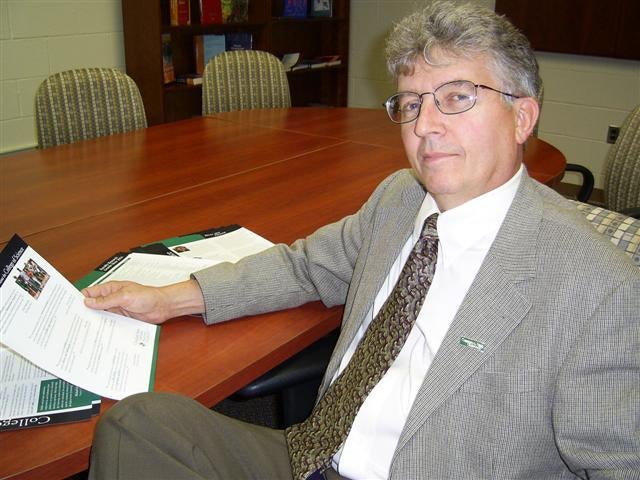 Dr. Steve Slane, Interim Director of the School of Health Sciences, describes a few of the many highlights of his career in teaching, research and leadership at Cleveland State University since his arrival over 30 years ago.
 
1.  Tell us about the School of Health Sciences and your new role.
This past summer I was asked to take on the position of Interim Director of the School of Health Sciences.  I expect to hold this position for the current academic year while an outside search is conducted.  After that, I will then attempt retire for the third time! 
The School of Health Sciences offers an impressive mix of graduate programs:  Doctor of Physical Therapy, Master of Occupational Therapy, Master of Public Health, Master of Science in Health Science (which includes Physician Assistant) and Masters of Speech Pathology/Audiology, in addition to the Bachelor Degree in Health Science.   Most of these programs have separate and different accreditation requirements and a host of varying requirements and procedures.  We are fortunate to have a very capable group of program directors who manage the academic programs and functions.
2.  How are you adapting to your new academic home in the CIMP?
The Center for Innovation in Medical Professions (CIMP) building is lovely – a great improvement over the space we previously occupied.  The significant improvement has been in clinical instruction space.  The Speech and Hearing Clinic is spectacular.  It is much roomier and more comfortable for clients, a terrific space to train our students and to serve our speech and audiology services clients.  We also have a state of the art Occupational Therapy and Physical Therapy instructional lab that is more spacious and better equipped than any of our other existing labs.  It is now in constant use. 
3.  Describe the workforce demand in health sciences for your masters and doctoral programs.
The School of Health Sciences continues to grow with more than 1300 undergraduates and over 300 graduate students.  Demand for the graduates of our clinical graduate programs is strong.  I believe that there are two primary reasons for this.  First, there is a strong and increasing workforce need in all the health professions. This is in part due to the Affordable Care Act, an aging population, and the increased rate of retirement of "baby boomers" working in health care.  One estimate I've read, for example, is that more than 200,000 new jobs in health care will open by 2020.   The second reason is the high quality of our graduates.  For the most recent year, the pass rate for our Master of Occupational Therapy (OT), Master of Speech Pathology/Audiology, and Doctor of Physical Therapy (DPT) students on the licensing exam was 100%. 
4.  What future trends should students be watching in the health professions?
I have no crystal ball here but some things seem obvious:  The need for health care workers and their training needs will continue to expand.  The level of training required to practice will continue to increase.  OT is considering shifting the practice degree from master to doctorate.  Jobs and training will be increasingly technology driven.  This will include everything from electronic medical records to the way professionals are trained.
5.  Based on these future trends, what advice do you offer your masters and doctoral students? 
I am old school when it comes to advising students but it is timeless advice:
You can never know too much and you often cannot discern between what will be useful down the road from what will not be useful.  Your only defense is to be voracious, learn everything about everything.
You can never have too much experience (coursework) in computing (math, stat) or writing/speaking.  These skills will always be transferrable and useful.
I also paraphrase a line from the movie, A League of Their Own, "Of course it's hard, it's supposed to be hard, it's the hard that makes it worth doing.  If it wasn't hard everyone would be doing it."
6.  Describe your current research and publications.
I trained as a Social Psychologist and Statistician/Methodologist.  Most of my publications in recent years have been as a statistician.  I am frequently the stat/methods guy on research projects from a wide array of areas.  For example, I have published in the literary journal, Style, on the linguistic structure of 17th century British prose.  I have recent publications on the genetics of prostate cancer, the workforce needs for neurosurgeons, and the prevalence and symptomology of PTSD in North Vietnamese veterans of the Vietnam War and victims of the 2011 earthquake in Japan.  My most recent work is with Lisa Gaynier in the Diversity Management Program.  We are examining the differential reporting of health information as a function of race and gender differences between patient and physician.
7.  What originally attracted you to CSU?
Cleveland has been an extraordinarily fine place to live, raise a family, and grow old.  CSU has, for the most part, been a great place to work.  There is no better way of life in my opinion than as College Professor.  I have welcomed the challenge of teaching here. CSU was my only academic offer when I received my PhD. and, I have never regretted coming to Cleveland or to Cleveland State University.
8.  Do you have a favorite memory from your 30+ years at CSU?
I have a drawer full of memories of students.  The ones that mean the most to me are those involving an anxious or struggling student on whom I have had some significant impact that carries with them into the rest of their life. 
We have the opportunity to "turn the light on" for CSU students.  Sometimes it is simply being willing to spend time with them.  Other times it is a matter of modeling the academic life of research and reading literature. There is nothing more satisfying than seeing a student blossom at these times.
I describe my early days at CSU as "the wild west days" of the late 1970's. The University was rapidly adding faculty in efforts to cope with explosive enrollment growth and few facilities.  Faculty were asked to do it all: work registration, advise, teach extra courses, and do all the other tasks of an academic.  I recall many classes were held in temporary classrooms. 
Not long ago a student from the 1980s sent me the following message: 
You told my stats classes that, with the advent of personal computers, we would never have to do calculations by hand again and you focused, instead, on our understanding of what formulas were used for and what they meant. Here we are 28 years later and I still come back to this idea regularly, both as a reminder to myself and as encouragement for students in my department at the University of Washington. Statistics is the only time in my life that numbers have made sense to me. I am a researcher now, and am grateful every day that I had such a great perspective to carry with me through my doctoral program and into my professional life.
9.  Describe your attempts at retirement and what drew you back to CSU.
After a few short months in retirement, I was asked to return to CSU on a part-time basis as PI of the large multi-year DOE grant in support of Learning Communities and in the transfer of students from Tri-C Metro to CSU.  I served in that role for about 18 months, then re-entered retirement.  Later that same year I was asked to assume the role of Interim Director of the School of Social Work.  They needed someone familiar with the University to take the reins until a permanent replacement could be found.  I held the position for a year and retired yet again.
I answer when CSU calls me! I am a people person who enjoys the interactions with faculty, staff, and students.  Whether that is in the classroom or hallway, I find that humor is a great stress alleviator for all so I try to leave everyone with a smile.
10. What do you do to unwind at the end of your day?
My interests are rather mundane.  I like being outdoors, reading trash mysteries and philosophy/history of science, taking care of my two grandsons, and hanging out with my wife, Christine. I was born and raised in Idaho, earning a BS and MS degree in Psychology from Idaho State University.  I miss the west with its "real" mountains.  However, Cleveland and CSU have been good to me and after 40 years, I consider it my home. 
Steve Slane, Ph.D.
Dr. Slane earned a Ph.D. from the University of Nebraska Lincoln. He trained in Social Psychology and Statistics and Research Design with research interests in the areas of interpersonal relationships, perception/use of time, and diversity issues. Slane has held a variety of positions at CSU and in the Department of Psychology, including chairing the Departments of Psychology, Health Sciences, Speech and Hearing and serving as Director of the School of Social Work. He also served as Associate Dean for Faculty in the College of Sciences and Health Professions. Slane returned from recent retirement to serve interim leadership roles in the School of Social Work, and currently, as Director of the School of Health Sciences.  He is also one of the founding faculty members of the Diversity Management Program at Cleveland State University.