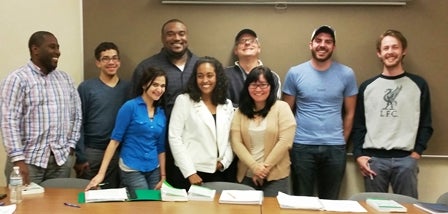 PSC 501: Seminar in Applied Theories of International Relations, MAGI
Celebrating its fifth anniversary this fall with a cohort of 37 students, Dr. Neda Zawahri, Associate Professor and Program Director, looks back on the success of the Master of Arts in Global Interactions (MAGI) in the Political Science Department.  Zawahri discusses the design and development of this interdisciplinary master's degree and explains how it was customized to meet the needs of the local economy, as well as the global marketplace, and how it has served the goals of both students and local employers.
As described in its original proposal to gain Ohio Board of Regents' approval for the new master's program, "The interdisciplinary nature of the program will give students an education they cannot get in other master's level programs. MAGI was developed in consultation with firms who seek professionals with specialized and technical skills in addition to analytic, cultural, linguistic, communicative, and workplace skills." The Master of Arts in Global Interactions was unanimously approved by Ohio Board of Regents and signed by Chancellor Eric D. Fingerhut in August, 2008.   CSU's first MAGI cohort enrolled in fall semester of 2009. 
International Relations faculty and Chair of the Department of Political Science, in the College of Liberal Arts and Social Sciences, directed the concept development and sought expert advice to design a program curriculum in response to regional demand for commercial, political and economic global experts.  The curriculum was designed using four basic principles: problem-solving and practical experience, interpersonal and communication skills, interdisciplinary and inter-college coursework both in the core and concentration, and development of a cohort to facilitate cooperative problem-solving, teamwork, and crisis management. Local and regional firms conducting business abroad contributed to focus group discussions during program development.  These firms included: Greater Cleveland Partnership,  Arrow International, Deutsch Group, Lincoln Electric, Exel Global Logistics, Diebold, Arial Ventures, Sherwin Williams, and World Trade Center of Cleveland.
The Master of Arts in Global Interactions degree can be completed in 3-4 semesters totaling 36 semester credit hours.  It includes two possible areas of concentration:  Global Business Interactions and Global Political Interactions, plus a required exit project and a cross cultural awareness course along with either an internship or international study experience.  Courses, led by faculty from Political Science, Economics, Communication, Business, Modern Languages and Law, are designed to prepare graduates for the global marketplace and to address Ohio's need for professionals trained in international trade, security, finance, investment, international security, politics, governmental and non-governmental organizations. Among other skills, the master's degree program will give students valuable insight on the international economy, world politics, international negotiation, dispute resolution and issues impacting national along with international security. 
Unique aspects of MAGI involve the hands-on training opportunities provided to students,  along with an experiential learning option outside of the United States:
Internship or International Experience: All MAGI students will take a three-hour internship or will engage in an international learning/study experience equivalent to a three semester hour course. Wherever possible, students can gain experience with business, government agency or non-governmental organization conducting global transactions. Students will be expected to develop a specific project with measurable results.
Exit Project: All MAGI students will take a two-hour course designed to stress team problem solving skills. Students will design and implement a project involving commercial transactions or address a global problem from a service-oriented approach.
Cross Cultural Awareness: Employers have consistently pointed to the need for master's program graduates to gain an enhanced capacity to interact with and live in foreign societies and cultures. In the MAGI program, you will have ample opportunity to enhance your cross cultural awareness through a specialized course on this topic.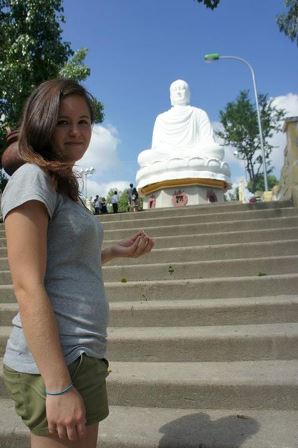 Summer '14 MAGI graduate, Morgan Barnes, shares her perspective on the Global Interactions program:
"There are the engineers, and the nurses, who are absolutely essential when it comes to technical skill-based work. Then there  the chameleons: those that can slip in and out of different environments with relative ease and can lend their diverse experiences toward the innovation that is needed to drive growth in the workplace. This, I believe, is what the MAGI program seeks to build. Those adaptable, globally minded individuals who are able to use critical thinking to solve global problems, be it locally or internationally."
"I started the MAGI program after completing my bachelors degree in English/TESOL. I gained a repertoire of skills, knowledge and abilities that could lend themselves to any number of careers: politics, international business, international relations, education, social work, etc., but what will really sets MAGI students apart is the internship requirement." reflected Barnes who completed internships with the U.S. State Department's  EducationUSA and with the Institute of International Education (IIE)."  Barnes is pictured above, visiting a temple in Central Vietnam.
The Master of Arts in Global Interactions remains the only program in northeast Ohio designed to meet the growing demand for commercial, political and economic global experts.  MAGI provides students with a comprehensive skill set beyond business and political science and is targeted toward "mid-career" professionals who seek to upgrade their skills and toward students seeking graduate level study to expand their training and studies in social sciences and business. 
Originally developed for an initial cohort of 10-12 students and with a goal of 18 in each cohort by year five, MAGI has exceeded expectations.  In the past two years, MAGI admitted 30 and 17 students respectively and this year the program admitted 21 new students.  The program has recruited students internationally, accepting 16 students to date from across the globe.  A total of 44 students have completed the program since its inception. 
In the spring of 2014, a survey of the graduates was conducted to collect data on employment prospects after completion of the MAGI program.  Zawahri notes, "The survey revealed a very successful employment prospectus for our students—including employment with the Federal Bureau of Investigation and Peace Corps.  Some graduates have also used the MAGI program as a stepping stone to continue their higher education in doctorate program and law school.  Given the program's young age and the economic recession of the past couple of years, we are very proud that our graduates have demonstrated success in securing employment."
For further information, contact Dr. Neda Zawahri at n.zawahri@csuohio.edu or visit online at: http://www.csuohio.edu/class/political-science/master-arts-in-global-int....