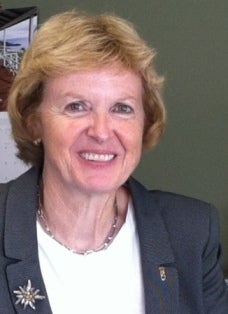 Graduate students are one of the greatest assets of a university.  They push us as faculty to continue reaching and be responsive.  We learn a great deal by listening to our graduate students.
Deirdre Mageean joined Cleveland State University as provost and senior vice president for academic affairs on July 1, 2013.  The Ireland native earned a bachelor's degree from Queens University of Belfast, a master's degree in sociology from the University of York, England, and doctorate in geography from the Open University in England.
She most recently served as Dean-in-Residence for the Council of Graduate Schools, a national organization dedicated to the advancement of graduate education and research.   Prior to that, Mageean was Vice Chancellor for Research and Graduate Studies at East Carolina University. 
Provost Mageean will be the first to admit that it is not an easy task to find an open slot in her busy schedule.  While most were headed home for the weekend on a recent Friday evening, Mageean found time for a "10 Questions!" interview with Graduate Student News.

1.  What attracted you to Cleveland State University?
I had not traveled to Cleveland prior to my first visit in early 2013.  What I knew was that I had been a fan of the Cleveland Orchestra for as long as I could remember so that made visiting Cleveland very exciting for me.
I liked that Cleveland State is a relatively young university and an urban university.  I had worked in almost every type of university, from a land grant to an open university, but never an urban university.  Also, I felt humbled by the thought of working at a university that is younger than me. Truly, as a young institution, we are more nimble and in a better position to navigate the changing higher education environment. 
I was very impressed by the role CSU held in relationship to the city and region.  Now and throughout its 50 years, CSU has been a relevant and transformative partner within the city- a partner that holds an obvious commitment to the city.

2.  Describe one major accomplishment for which you feel most proud since joining CSU?
The conversion from a four to a three credit-hour curriculum.  I was very proud of the faculty and the administrative partnership that developed from this project and the hard work of all involved.

3.  Which University initiatives or plans do you look forward to leading?
We have been working all year to fill the open positions in the office and I am pleased to say almost all the positions are now filled.  My team will focus on:
Program prioritization - reviewing and prioritizing academic programs.
Positioning ourselves fiscally based on our current budget and enrollment.
Being responsive to the city and the region and to workforce needs from the industrial to the creative economy.
Our ongoing and successful partnership with NEOMED.

4.  In your opinion, what is the greatest challenge CSU could face in the next decade?
I recall a speech I heard not long ago about hard-working Clevelanders being described as having grit.  Grit is what defines us.  That's obvious looking back at CSU's transformation over the past 50 years.  CSU seems a lot like the "little engine that could."
I think that lies in the midst of a challenging fiscal and demographic environment defining our product and finding the best ways of delivering it; by looking hard at course delivery options and developing points of flexibility.  We all know we can become obsolete with rigidity.

5.  Three words which you feel best describe CSU faculty: 
I hope to spend this year getting to better know our faculty.  Words that come to mind are committed, diverse and successful.

6.  What is the most unusual or exciting appointment on your calendar this month?
The most exciting thing about my calendar is finding a blank space!  That alone is very rare. 

7.  Your career has taken you from Ireland and England to U.S. locations in Maine, North Carolina and Washington DC.  How does Cleveland compare?
I feel fortunate to have arrived here at a time when Cleveland is rebuilding so successfully.  
We have the Cleveland Orchestra and the City Club, both of which I support regularly. 
I love the variety of the neighborhoods and diverse cultures as seen from the windows of our campus buildings.
I do enjoy the "foodie" aspect.  I cannot say I have any one favorite Cleveland restaurant.  I enjoy the variety and find that I have many, many favorites.
There are big sports in Cleveland.  My first home in the States was in Maine so I must admit that I am still weaning myself from the (Boston) Red Sox and (New England) Patriots.  I have been to several Indians games and who couldn't be delighted at the success of the Cleveland Browns!

8.  What is your favorite memory as a graduate student?
A.  Having time to read!  Truly, having the freedom to read is one of the greatest riches of life.  It was an ideal world for me as a student where it was my job to read.  I could follow articles and books like a detective and I look back at it as the most precious time for me.

9.  Growing up near Belfast in County Down, Ireland, what were your dreams for your future?
I grew up in quite a volatile religious, political and social climate.  My mother and father always encouraged us (myself, my brother and two sisters) to explore and to pursue our interests. 
Coming from a family of doctors and dentists, early on I was somewhat intrigued by the idea of working in medicine.  I think I was naturally drawn to professions that would allow me to help others. 
I have always loved music and, while good enough to sing in the choir, I would have loved to have been a successful mezzo soprano.  I also imagined myself as an orchestra conductor, leading expert musicians to produce beautiful sounds.  I guess it's a bit like my job now.  Our faculty is like a team of great musicians who excel in their field.  Hopefully, working together we can produce great things.

10.  Graduate Student News is delivered to all CSU graduate students and faculty.  Do you have any final thoughts to share with our readers?
Grad students are one of the greatest assets of a university.  They push us as faculty to continue reaching and be responsive.  We learn a great deal by listening to our graduate students.