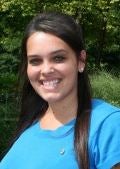 "It is exciting to work among friends and like-minded, passionate individuals.  There is rarely a meeting I attend that does not have a CSU alum in the room.  Being able to go to work each day knowing that I not only get to work with some of the most talented people in the community development field, but also work with peers from school adds to the element of fun and collaboration."  Andrea Bruno, MUPD '12.


The Ohio Community Development Conference (CDC) selected the St. Clair Superior Development Corporation (SCSDC) as recipient of Community Development Corporation of the Year at its 31st annual conference.  Under the theme of Igniting Collaborative Innovation, the 2015 conference was held in Kent, Ohio on October 1st-2nd.  The SCSDC staff was recognized for designing and developing innovative programs that change the conversation about what is possible in Cleveland and other Rust Belt cities,
Five of the 13 SCSDC staff members are graduates of the Maxine Goodman Levin College of Urban Affairs, Master of Urban Planning and Development (MUPD) program.  Andrea Bruno, SCSDC Housing Manager, described, "Our office is a CSU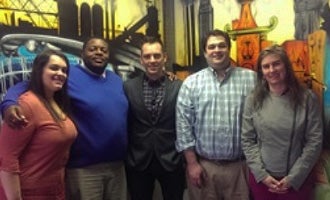 family in its own right.  Michael Fleming '11, our Executive Director, was a Graduate Assistant in the Urban Design class I took at CSU.  Our Assistant Director, Jamar Doyle '06, who interviewed me for my position, and James Amendola '06, our Commercial and Industrial Manager, were also MUPD alumni.  We recently added another notable CSU alumna, Morgan Taggart '10, as Director of Ag|re|culture.  About the team, Bruno shared, "I think our honor, as 2015 Ohio CDC of the Year, is in part, the result of how well we mesh and feed off of each other's energy."  (Pictured above from left to right- A. Bruno, J. Doyle, M. Fleming, J. Amendola, and M. Taggart.)
The Ohio CDC award highlighted the notable achievements of SCSDC:  From simple strategies like Urban Lambscape – using sheep to maintain vacant land in the city at a fraction of the cost of traditional mowing, to more complex approaches such as UpCycle St Clair – a comprehensive arts-based strategy showing how creative reuse can lift an entire neighborhood , SCSDC has challenged traditional notions of the scope and limits of Ohio's community development agencies. As it now unrolls its Ag[re]culture Project, SCSDC is exploring new ways to engage its constituency through establishing a food culture in one of Cuyahoga County's worst food deserts. In every program SCSDC undertakes, they begin by changing the conversation: from one of decay or lack of resources into one of possibilities. They then work with their well-developed network of partners to drive those possibilities until they become reality.
Serving the many neighborhoods of St. Clair Superior in one of Cleveland's most diverse and historic communities, the SCSDC mission is to drive neighborhood development & transformation for residents and businesses in our community.