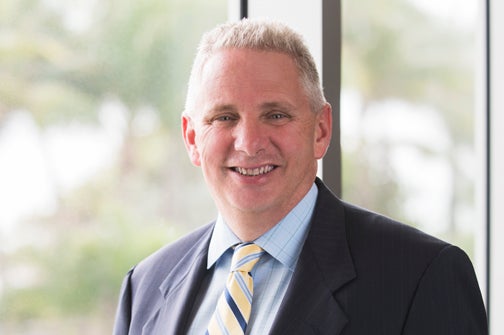 Timothy J. Cosgrove, BA '83, JD '87
Partner, Squire Patton Boggs (US) LLP
In 1978, a young man from Cleveland's Collinwood neighborhood made his first visit to the growing Cleveland State campus.  He stood in the shadow of the "University Tower," and now recalls that he could not wait to be a student there some day.  By 1987, that young man, Timothy J. Cosgrove, Esq., had attained two degrees, a Bachelor of Arts degree in Political Science and a Juris Doctor degree in Law.  Cosgrove went on to practice law in Ohio and never forgot about his alma mater.  He generously provides dedicated service and leadership to Cleveland State University and to Cleveland-Marshall (C-M) College of Law as a distinguished alumnus. 
Today, Tim Cosgrove continues to enjoy a daily view of the tower, now known as Rhodes Tower, from the law offices of Squire Patton Boggs where he is a Partner.  He now looks down at the tower from the 49th floor of downtown's Key Tower with an enviable view of Lake Erie, the neighborhood he grew up in, and the expansive CSU campus.  Cosgrove makes it a priority to find time in his schedule for Cleveland State.  He speaks openly with Graduate Student News about the ongoing influence CSU has had on his life and about what is most important to him as a former student, an attorney, and member of multiple University boards and committees.
 
Importance of Education
Cosgrove worked his way through law school in downtown restaurants, local country clubs, and at Cleveland City Hall.  He credits CSU for giving him a curiosity and love for learning.  As an undergrad, Cosgrove developed an appreciation for learning and being in an academy.   He considers that to be one of the most important lessons of his undergraduate years.  He recalls, "From an early age, I knew I wanted to become a lawyer and attending law school was my focus since day one of undergrad.  There was something about law that attracted me.  It might have started with my love for history and enjoyment of local politics.  Law is the glue that keeps all systems working and that still fascinates me."  His first C-M professor told Cosgrove that a law education was nothing more than a lesson in reading and writing.  Cosgrove found brilliance in that concept and still credits C-M for helping him develop his analytical thinking and reasoning skills that have fueled his success.
 
Importance of Mentors
Cosgrove attributes his success to great mentors and to CSU faculty, beginning with his first history professor, "Dr. Holm (John D. Holm, CSU Professor Emeritus) inspired me by helping me see things that were not obvious in the world I came from.  Professor Cohen (Hyman Cohen, C-M Professor Emeritus) shaped the way I approached law school.  His passion came through in all he did and made me passionate about my studies.  He was demanding but left a lasting impact."  He continues, "My success is the result of being surrounded by smart people and CSU was an integral part of that.  Tell your students not to rush through school- stop to absorb it and recognize the potential mentors that surround you."
Quick to recognize all those who helped him on his journey from inner-city kid to internationally recognized Public Policy Attorney, Cosgrove loves to speak of his valued relationship with CSU, "My fortune is a result of the relationships I have made - the people I have had the privilege to work with as a student and as an alumnus.  I am so proud of my alma mater and the quality of education.  The last 10 years have been remarkable, working with former President Michael Schwartz as he laid groundwork in CSU's transformation and seeing President Berkman keep the momentum going and raise it to higher levels."
 
Importance of Service
Cosgrove is very passionate about his CSU service, and he states, "The greatest gift CSU gives me, beyond the education, is the people I have had the opportunity to work with.  That gift keeps on giving in many ways.  It is hard to pay back what an institution has done for any of us; but, we have an obligation to keep trying."  Along with membership on the University and the Foundation Boards, Cosgrove has been involved with numerous CSU projects and in many volunteer positions, including  visiting committees for C-M Law and Levin College of Urban Affairs and committees for presidential and provost searches. 
He feels strongly that if he were not practicing law, he would love to teach.  Cosgrove explains, "Teaching is so noble- like mentoring.  I could pass along what I learned from others who have helped me through the years.  I have seen first-hand how important good faculty are to a university.  A strong relationship with a professor can transform a student's experience."
 
Importance of Family
In honor of his parents, Cosgrove established the James and Elizabeth Cosgrove Endowed Scholarship Fund in 2009.  He shares, "My parents had little to give but gave me so much - a sense of faith and family, and an understanding of right from wrong. Neither went to college and I was never pushed to go to college.  Mentors opened that world to me and it made my parents thrilled."   Cosgrove fondly recalls his commencement in the CSU Woodling Gym, "I had the best moment of my life watching my mother looking down at me so full of pride.  The thought that a deserving student earned a scholarship in my parents' name honors all that they did for me." 
A true Clevelander, Cosgrove never forgets or strays too far from his roots.  He remains an active member of St. Jerome Church in the neighborhood in which he was raised and likes to travel to Jimmy Buffet concerts when he can.  Cosgrove resides in Kirtland, Ohio with his wife and three children.  He also serves the Kirtland community as a member of the Board of Education.

Timothy J. Cosgrove, BA political science '83 and JD '87, Cosgrove began his career in Cleveland's Department of Community Development.  He went on to serve as Executive Assistant to Cleveland Mayor George Voinovich, followed by director of legislation and policy for Governor Voinovich.  A respected public policy attorney, he is a partner with Squire, Patton Boggs LLP, the international law firm he joined in 1993.
As a member of the Cleveland State University Foundation Board of Directors, his efforts are focused on growing endowment and scholarship support.  As co-chair of CSU's Radiance event since its inception in 2010, he has been instrumental in raising $3.6 million to provide scholarships to keep students in school and on track to graduation. Cosgrove also served 10 years as a member of the University's Board of Trustees, including two years as treasurer and four years as chair.  This past fall, he received the Distinguished Alumni Award, George B. Davis Award for Service to the University, Honoree 2015.
Cosgrove was awarded the Honorary Doctor of Laws Degree in 2008. He is a member of the Cleveland-Marshall College of Law National Advisory Council and a former member of the Alumni Association Board of Directors and C-M Law Visiting Committee. He also serves on the Leadership Cabinet for ENGAGE: The Campaign for Cleveland State University, which seeks to raise $100 million for student success.