Lieutenant Beverly Pettrey, CSU Police Department
1.  When did you realize you wanted to become a police officer?
Watching Charlies' Angels as a young girl is my first memory of wanting to be a police officer.  My father always told me I could do anything I wanted. I knew I wanted to be in a service–oriented line of work. Many odd jobs from hair stylist to insurance broker, to running my own business, led me to where I am today.  After a long conversation with one of my insurance clients, a retired police officer, it resurrected my earlier desire to become a cop.  I joined the police academy, trained and graduated while raising my three young children.  It was one of the biggest and most fulfilling accomplishments in my life. 
2.  Describe your favorite and least favorite aspect of the job.
Providing service to others and service to those in need is what originally attracted me to this line of work and that is what still gives me a feeling of reward every day. I just celebrated my 10-year anniversary here at CSU. I would have to say that the stress of the job is my least favorite part.Fortunately, I work well under stress so it suits me in my work on the police force. I also feel challenged at times by the fact that I am a female in a male-dominated law enforcement industry. That figure, however, improves every year with almost 13% of the industry now comprised of female officers.
3.  What is the most important safety tip a student can practice right now?
Actually, I suggest two important things to do right now:
Add the CSU Police Department phone number in your speed dial, 216-687-2020.
Download the Rave Guardian app for smart phones. It is free and easy. 
4.  Is a cell phone a help or a hindrance to personal safety?
Use your phone for the Rave Guardian app and certainly use it to call the police, if necessary. Otherwise, tuck it away! Do not walk down the street anywhere with a cell phone in your ear. It is a theft temptation. Using hands-free phones are a little better but not ideal. Conversation distracts you from being aware of your surroundings and earbuds indicate to a potential thief that there is a phone in your pocket. These cell phone tips apply to all public locations.
5.  Some graduate students have heard of the Safety Escort Service but really do not understand how it works. Please explain the escort service.
Any member of the CSU community may call the Police Department to request a Safety Escort at any time, day or night, so they do not have to walk alone. Students are walked or driven to their vehicle or to a nearby destination depending upon the distance and/or time of day.
Depending on time of day, escort distance, and proximity of staff, students who call for assistance will quickly receive one of three types of trained escorts:  Campus Safety Officers (who are specially trained CSU students serving on campus only and during business hours), CSU Security Officers, or CSU Police Officers.  All escorts carry radios for safety purposes and to keep them notified of caller needs.
Officer Pettrey notes that officers usually arrive in 3-5 minutes with a goal of no more than a 10-minute wait.  This may vary slightly based on campus activity. Call 216-687-2020 on any campus phone or use the Rave Guardian App (see Q. 3).  This service is available to all students, staff and faculty. You will be asked to provide your location and student ID.
6.  What can you advise graduate students about personal safety, particularly due to their late hours and weekends on campus? 
The two most frequent calls our officers receive are related to opportunity theft from leaving items unattended (even for a few seconds) and vehicle break-ins. My safety advice applies to the entire campus community and is the same whether it is daytime or nighttime. This is good practice in any location or situation:
Walk with confidence and purpose. Remove any distractions and always remain aware of your surroundings.
Use the safety escort service, 216-687-2020 (see Q. 5).
If not using the safety escort system, use a buddy system at night and be sure to arrange it before leaving the classroom.
If you drive to campus, be cautious about where you park and do not leave valuables unattended and/or in plain view.  This only increases the chance of your car being broken into (especially if you park off campus).  Always walk with others to reduce the risk of being victimized and follow the three safety tips listed above. 
Keep your keys in your hands or within easy reach when approaching your car.
7.  How are you preparing for the arrival of the Republican National Convention this summer?
The security for the Republican National Convention will be handled by the City of Cleveland and the U.S. Secret Service.  The federal government is also bringing in out of state Law Enforcement officers to assist and CSU is housing 450 of those officers. CSU Police Department's focus during the RNC will be the safety of the CSU campus; however, Chief Gary Lewis has offered our K-9 unit and a few officers for the Cleveland Police Department's mounted unit and bicycle unit.  At this time, we have not heard of any scheduled events on campus around the RNC; however, that could change in the coming months. 
8. Speaking of K-9 Officer Rex, how are his days spent on campus?
Rex spends lots of his time in training. He is a German Shepherd that came to us from the Czech Republic and follows commands in German language. He has his own small space in the police station and spends a good deal of time in the K-9 unit or on-foot assisting with campus patrol.  His primary training is focused on bomb detection.  He may be called for something as simple as sniffing an unfamiliar package or for patrolling the Wolstein Center before, during or after events.  Off duty, Rex lives at home with his handler, Officer Stoltz.
9.  What do you suggest to those who may have a similar interest as yours in helping others? 
As an officer, I was very involved in the Crime Prevention and Safety Programs and Services in my early career and I am very proud of what CSU offers in these areas. We have employee and student involvement opportunities related to safety and police work and we have academic offerings:
The Community Emergency Response Team (CERT) training is available to CSU Faculty and staff who have an interest in helping in emergency or disaster situations. Approximately 15 current CSU team members participate in training, refresher courses, and drills on a regular basis. Begun in 2009, CSU was one of the first universities to offer this national program. 
Campus Safety Officer (CSO) positions- openings are posted in Career Connection on the CSU Career Services website.
General Internships, Auxiliary Officer Internships, and shadowing opportunities are also available with the CSU Police Department.
New this semester, the College of Liberal Arts & Social Sciences and Levin College of Urban Affairs offer a 3-credit internship with the Police Department for criminology and public safety majors.  (Check with the specific academic department or Career Connection for details.)
10.  As a recent graduate who will soon begin your graduate degree at CSU, do you have any words of advice for our students? 
Stick with it no matter how complicated your life gets. I had to skip a semester, here and there, to attend to family matters and I always made it my goal to return the next semester.Like many of our students, I juggled so many things between work, family and school.It took me almost nine years to complete my bachelor's degree but I finally did it in 2015 (with honors)! I am currently applying to the Cleveland-Marshall College of Law and look forward to starting the Master of Legal Studies (MLS) program in the fall.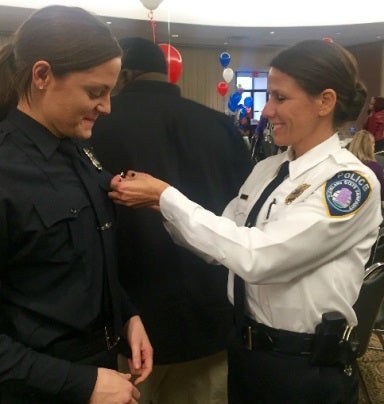 Students should keep in mind that earning their degree is an accomplishment in itself but also that education is something that no one can ever take away from you. Completion of a degree is even more rewarding when you stop and think about all that you had to juggle to reach that accomplishment.
Officer Beverly Pettrey joined the CSU Police Department in January of 2006 and was promoted to Lieutenant in November 2014.  She currently serves as the University's second female Lieutenant. Her advice to all:  Be aware! Think mean but be nice - you never know when or where you are being sized up!
Pictured at right, Lt. Pettrey honored one of her former student interns, Nadine Ellis, during her recent installment to the CSU Police Department.