Research Impacts of the Faculty Scholarship Initiative (FSI) Award Program
November 16, 2018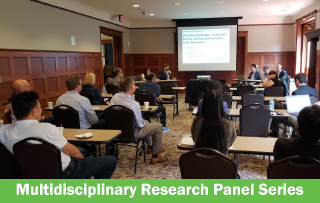 The Office of Research created the CSU Multidisciplinary Research Seminar Series to promote an environment that enables, encourages, and rewards multidisciplinary and collaborative risk taking to solve the broad challenges in our increasingly complex world. This month, Myong Chang (CLASS Associate Dean) will moderate the panel Research Impacts of the Faculty Scholarship Initiative (FSI) Award Program.
Abstract: This panel will feature faculty who have received Faculty Scholarship Initiative (FSI) awards, who will discuss the postive impacts that the FSI funding had on their research and scholarship activities.
Panel Moderator: Myong Chang (CLASS Dean's Office)
Panelists: Kelly Wrenhaven (History), Adam Sonstegard (English), Kathy Curnow (Art & Design)
Location: Parker Hannifin Hall 104
Time: November 16, 2018 from 12:00-1:15 pm.