Multidisciplinary Research Opportunities in University and K-12 School Partnerships
May 3, 2019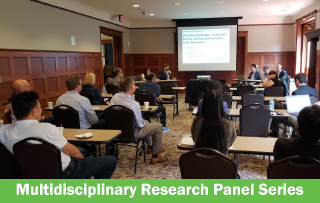 The Office of Research created the CSU Multidisciplinary Research Seminar Series to promote an environment that enables, encourages, and rewards multidisciplinary and collaborative risk taking to solve the broad challenges in our increasingly complex world. This month, Grace Huang (Teacher Education) will moderate the panel Multidisciplinary Research Opportunities in University and K-12 School Partnerships.
Abstract: The panel will discuss the research opportunities through the university and k-12 school partnership.  An example (action research initiative) will be introduced to feature the collaborative effort among faculty from different disciplines and k-12 schools.
Moderator: Grace Huang (Teacher Education)
Panelists: Molly Buckley (Teacher Education), Nigamanth Sridhar (Graduate Studies/ Electrical Engineering), Alyssa Lane/Alexis Solet (Occupational Therapy)
Location: Parker Hannifin Hall 104
Time: May 3, 2019 from 12:00-1:15 pm.